Our latest eBook is NOW available!
13 Steps You Should Take
TODAY

To Grow Your Inbound Marketing Agency

TOMORROW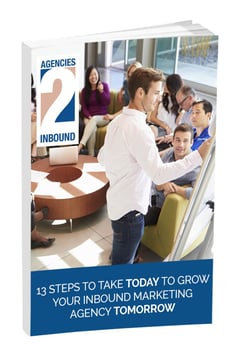 So much to do and so little time. The pressures of running and owning an inbound marketing agency can feel overwhelming at times. The key is picking and choosing the most impactful changes that require the least amount of work.
In this eBook, you'll see never before published and highly impactful action steps that you can take today to positively impact your inbound agency tomorrow.
In this e-book, you'll learn:
Why hiring your top candidate today propels your growth much sooner than you think
How focusing your attention on either sales or service immediately improves both
Optimizing your agency's inbound marketing program is the difference between success and failure
Understanding your magic numbers drives revenue and profit
If your agency isn't remarkable, it might just be invisible
Getting your agency to the next level isn't impossible if you have the right guidance and you apply solid thinking. Get started today!
Download Your eBook Today!