Finally, A Single Set Of Resources For Agencies That Want To Grow!
Introducing....The Operations Manual and Playbook for Agency Growth
The Operations Manual and Playbook for Agency Growth includes 88 pages of printed content and 11 video segments. Each chapter includes an action plan checklist, and there is specific guidance for agencies of different sizes (under $1 million, $1 million to $2 million, $2 million to $4 million and over $4 million).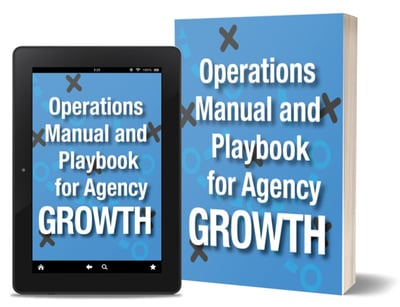 Never have agency owners had access to this level of advice, guidance, recommendations and ideas in a single multimedia resource like this one.
In this resource, you'll learn:
How to structure your agency so it grows past all the breakpoints
How to build processes at your agency so your people stay longer and work smarter
How to use your agency as a lab to learn innovative marketing and sales techniques
How to price your services to optimize profit and get full value for your work
How to hire, how to manage finances, how to add new service offerings and more
Every time you double your agency, it's going to break. Trust me, we know. We broke our agency over and over again, getting to $6 million in sales. In this material, I'll help you to NOT make the same mistakes we made.
PLUS, for a limited time, if you purchase the Operations Manual and Playbook for Agency Growth, I'll give you unlimited email access to me for any questions, challenges or issues you're dealing with for six months from the date of your purchase. All you have to do is email me, and I'll help you with any of your agency challenges.
Watch the video here to see how this Operations Manual, Playbook and Video Series will help you get your agency to the next level.
Other agencies are raving about the Operations Manual and Playbook for Agency Growth.
"Mike has always shared the knowledge and insights with other agency owners. This manual is another example of how he truly wants other agencies to be successful and elevate the entire industry. I'd buy this immediately if growth is an objective for you this year." Perry Nalevka, CEO, Penguin Strategies
"The chance to see what Square 2 does, how they do it and how that insight could be replicated at your agency is amazing. You don't see industry leaders sharing like this and owners who want growth should take advantage of this opportunity while it's still available." Eric Baum, CEO, Bluleadz
"This content is worth thousands of dollars to me. The experience sharing and the insight into how Mike grew Square 2 into one of the leading agencies in the world is all here in the pages of this document. You can't get information like this anywhere else." Kade Wilcox, CEO, Primitive Social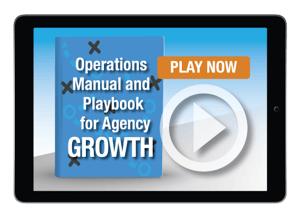 Complete the form below to get instant access to your 88-page Operations Manual and Playbook for Agency Growth, the 11 video segments, the action plan checklists, the agency size guidance and, for a limited time, six months of email access consulting with me.
Investment for this Playbook and Videos PLUS 6 months of coaching is ONLY $199, but its only available for a limited time.