Work With Me And Other Agency Owners To Quickly Solve Your Most Complex Agency Challenges
Join a group of fellow agency owners with similar challenges and spend time each month working on team structure. pricing, sales process, project management, client engagement models, improving profits, and other mission-critical issues.
Work With Me In A Cohort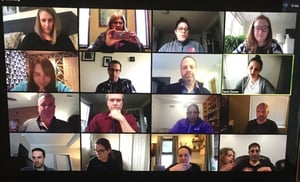 Each agency owner joins a cohort of fellow agency owners. You're welcome to join an existing cohort and jump right in or wait for a new cohort to start from the beginning.
Every month, we meet on the same day, at the same time, on a video conference call. This allows you to schedule critical time to work ON your business instead of IN your business.
There currently FOUR (4) different types of cohorts so everyone can find what they need to grow their agencies.
Basic Agency Cohort
Ideal for agencies who are dealing with growth-related challenges. If you're having trouble closing new clients, generating your own leads, hiring the best people, deciding on pricing, agency structure, and leaving project work behind this is perfect for you.
Below is a sample of the 12-month program we work through in this Cohort, click here to register for the next Cohort. Dates and times for this Cohort are flexible depending on the people who sign up. This program is $399/month.
This Cohort Includes:
Session 1: Goal Setting, Core Values, Mission, and Vision - Key building blocks that helps almost every aspect of the agency
Session 2: Sales and Sales Process - If you can't get new clients at a fast pace, you can't grow
Session 3: Building The Agency Marketing Machine - How to fuel your own inbound marketing to grow the agency
Session 4: Structuring An New Client Engagement - Setting your team and your client up for success
Session 5: Setting and Managing Pricing For Profit - Key's to making sure you're charging enough to grow
Session 6: Analytics and Metrics for Clients - What to track, how to track, how to report, and how to show value to clients
Session 7: Managing The Inbound Agency - How you, as the owner, need to manage your team
Session 8: Hiring, How, Who and When To Hire - Everything you need to know about hiring A-players
Session 9: Adding Sales Enablement Services - Help clients close the leads you're getting them
Session 10: Account-Based Marketing - One of the hottest tactical approaches at larger companies
Session 11: An Intro to Points Based Pricing - How to set it up, talk about it and use it to control over-servicing and profit optimization
Session 12: What's Working, What's Not, and An Action Plan For Improvement - Review of the year and an action plan for our agency
NEW - The "Next Normal" Agency Cohort
This new Cohort is perfect for anyone who's been in a previous cohort, any agency owner struggling to find their footing in 2021, owners who want to get out in front of the massive changes coming to our industry, and leaders proactively trying to grow their digital agency.
Dates and times for this Cohort are flexible depending on the people who sign up. This program is $399/month. Click here to register for this NEW Cohort Program.
This Cohort Includes:
Session 1: The Agile Agency – How to make sure you're

optimizing

Agile in your agency

Session 2: New Agency Models – FTE's are so last year, how to structure your agency for profit

Session 3: Protecting Your Agency from Any Economic Downturn – Building your agency to weather the storm

Session 4: New Pricing Models – Pay for performance and other out of the box thinking

Session 5: Mergers And Acquisitions – Growth through M&A; pluses, minuses, and missteps to avoid

Session 6: New Engagement Models – Retainers are out, what's in, and what's next

Session 7: Leveraging The Gig Worker – Marketers are on the market, how to get them to work for you

Session 8: Growing Clients vs Finding New Clients – There's revenue buried in your current clients, how to mine it

Session 9: Building Your Technology Practice – Finding passive income in tech partners and tech services

Session 10: Marketing Operations, Sales Ops, and Revenue Ops – Ongoing revenue with low cost of delivery, you'll want it when you understand it

Session 11: New Ideas For Agency Content – Podcast, videocast, live shows, research, and content you need to thrive

Session 12: Is Your Agency Different?

– If you're not different, you're dead
Advanced Agency Cohorts
For agencies who have advanced challenges and advanced questions. This 12-month program includes workshop sessions and is typically only 5 to 7 agencies. Here is a listing of the sessions we cover in the Cohort.
Session 1: How To Install Continuous Improvement, Kaizen, and Ongoing Iteration at Your Agency – making it part of your culture, building process, and systems
Session 2: How To Predict Performance For Your Clients – Live Client Portal Review
Session 3: New Services To Round Out Your Agency Offering – Training, MOPs/SOPs, Video, Buyer Journey Mapping, Intent Data
Session 4: Handling Challenging Clients – Communication, Rhythms, Setting Expectations, Reporting
Session 5: Customer Service Enablement Services – What to deliver, how to deliver, price and sell it to clients
Session 6: How To Move To Points Based Pricing – Selling it, delivering it, and tracking it
Session 7: Agile, Scrum, Kanban and Delivery of Services - Team Structure, Rituals, Rhythms, and Rites
Session 8: Advanced Delivery – Partners, delivery, services, and support structures
Session 9: Driving Net Profit – How To Go From 2% to 20%
Session 10: Getting Your Agency To The Next Level – Leadership Teams, Scalable Hiring Practices, Performance Practices, Communication, Culture 2.0
Session 11: Teaching Your Team Analytics - Data and The Science of Marketing And Sales
Session 12: Your Exit Strategy - Building Your Agency To Sell It
If this sounds like you, click here to apply for the next Advanced Agency Cohort. This program is $399/month
Agency Mastermind Group
Looking for something more issue or challenge-specific? The Mastermind Group might be right for you. Each month we process real issues from agency owner members.
This gives you actionable advice you can use in your shop the same day and the other members hold you accountable for the actions you say you'll take. It's like having your own advisory board of agency experts. For more information and to sign up for the Mastermind Group, click here. The Mastermind Group is $199/month.