Work With A2I And Other Agency Owners To Drive Improvements More Quickly
Join a group of fellow agency owners with similar challenges and spend time each month working through specific challenges, such as pricing, staffing, sales, engagement structure, reporting, tools and other mission-critical issues.
How The Cohorts Works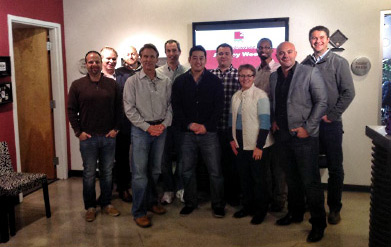 Each agency owner joins a cohort of fellow agency owners. You're welcome to join an existing cohort and jump right in or wait for a new cohort to start from the beginning.
Every month, we meet on the same day, at the same time, via conference call and/or video chat. This allows you to schedule critical time to work ON your business instead of IN your business.
There are FIVE (5) different types of cohorts so everyone can find what they need to grow their agencies.
Agency Cohort - ideal for agencies who are dealing with growth related challenges. If you're having trouble closing new clients, generating your own leads, hiring the best people, deciding on pricing , agency structure, and leaving project work behind this is perfect for you.
Below is a sample of the 12-month program we work through in this Cohort, click here to register for the next Cohort. Dates and times for this Cohort are flexible depending on the people who sign up. This program is $399/month.
Session 1 – Goal Setting, Core Values, Mission and Vision
Session 2 – Sales and Sales Process
Session 3 – Staffing The Inbound Agency
Session 4 – Structuring An Inbound Engagement
Session 5 – Setting and Managing Pricing For Profit
Session 6 – Analytics and Metrics for Clients
Session 7 – Managing The Inbound Agency
Session 8 – Hiring, How, Who and When To Hire
Session 9 – Adding Sales Enablement Services
Session 10 – Account Based Marketing
Session 11 – Evaluating Your Own Inbound Marketing Performance
Session 12 – What's Working, What's Not and An Action Plan For Improvement
Advanced Agency Cohorts - For agencies who have been working on inbound for the past two years and have advanced challenges and advanced questions. This 12-month program includes workshop sessions and is typically only 5 to 7 agencies. We focus on topics like Inbound Tactic Selection to Drive Leads, Creating The Agency Performance Culture, Evaluating Your Own Inbound Marketing, Points-Based Pricing, Agile/Scrum and Kanaban, Reporting for Clients and Dealing with The Most Challenging Client Engagements. If this sounds like you, click here to apply for the next Advanced Agency Cohort. This program is $399/month
New Business Development Cohort – This cohort focuses entirely on getting and closing new clients. We'll rework your sales process, share subtle ways to increase the close rate, shorten the sales cycle and make your sales process the reason clients choose you instead of competitive agencies. We'll work on your proposals, email communications, how you use references and share innovative ways to drive leads today. Every month you'll have upgrades you can apply that will drive new leads and new clients. Click here to get started closing more new clients.
Sales Enablement Cohorts - if you're considering or have already started to add sales enablement services to your product catalog then we'll work though everything Sales. This six-month program includes sessions on How to Sell Sales Enablement Services, How to Deliver Sales Services with Your Current Team, How to Price Sales Consulting Services, How To Work With Clients On Sales and more. If you're interested, click here to apply for the next Sales Enablement Cohort. This program is $399/month.
Inbound Agency Mastermind Group - Looking for something more issue or challenge specific? The Mastermind Group might be right for you. Each month we process real issues from agency owner members. This gives you actionable advice you can use in your shop the same day and the other members hold you accountable for the actions you say you'll take. It's like having your own advisory board of agency experts. For more information and to sign up for the Mastermind Group, click here. The Mastermind Group is $199/month.