Download Our Free eBook, "The Top 11 Secrets To Growing A Profitable and Successful Inbound Agency"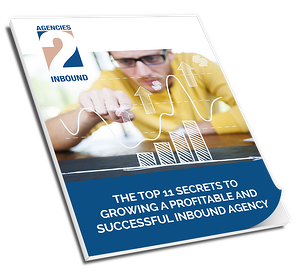 Growing an inbound agency isn't easy and there are very few resources available to help you learn from people who have already done it. Now you have a guide with all the shortcuts and fast forwards you need to avoid costly mistakes.
In this e-book, you'll learn:
The biggest mistake we made that you're going to avoid
How to know exactly when to hire your next team member
How culture and core values help you hire, grow and get clients results
How to build a results-oriented team
The keys to keeping clients satisfied and happy to pay you more
Download Your Free eBook Today!