Hiring Consultants Is Risky, Don't Make A Bad Hiring Decision in 2020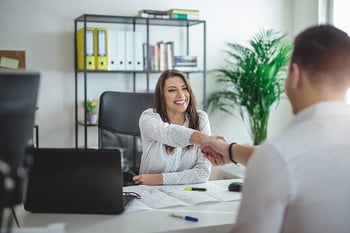 A lot of agencies are growing and that means hiring. But hiring the wrong person can set you back months. Even worse, hiring someone who is mediocre can put you in this weird position where they are too good to fire, but not good enough for you to be 100% comfortable that they'll take wonderful care of your clients.
Both of these conditions are bad for your agency. In this article, we'll talk about how to avoid this.
The digital marketing industry is booming, and professionals with skills in digital marketing are in high demand. A 2018 survey by LinkedIn reported a shortage of 230,000 people with marketing skills in the 20 largest metro areas polled.
With a limited number of amazing candidates and a high risk for making a hiring mistake, what should you be looking for in 2020 when hiring new consultants for our digital agency?
In-House or Agency?
Before we look at specific skill sets, it makes sense to cover the age-old question. Do I hire someone from another agency or someone who has been on an in-house team?
It's a good question and the right question. The answer is more complicated.
The answer is - It depends. It depends on exactly what they did at the agency or as part of the in-house team.
For example, if they were an account manager at another agency and all they did was manage the client relationship, I'd pass. At Square 2, our consultants (while responsible for the relationship) are much more hands-on with regard to insights, recommendations, strategy, advice, and guidance than straight forward account managers.
But if in that role, they were actively engaged with a variety of clients and they were providing strategic insights based on the campaign performance, I would be interested in that person for our team.
Generally, I like in-house people over agency people.
First, I don't want to re-train agency people on how we do it vs. how they did it at their old agency. I hardly ever find people from other agencies who handle clients like we handle clients and if I do hire agency people, I like to be able to learn from them. This means they need to come from larger, more sophisticated agencies than Square 2.
The right in-house people come knowing how to generate leads. They have the pressure of having to hit metrics and create programs that produce leads. I'm specifically looking for people who are excited about the idea of moving from helping one company to helping a few companies. These are people who like the diversity of working with a software company in the morning and a manufacturer in the afternoon.
Those in-house people need to be analytical and creative. That mix is hard to find but I find it more often in people with in-house experience. I'm also looking for people who respect the strategy side of our business and are willing to go head to head with clients to help them understand the importance of strategy. This includes understanding the difference in program performance with strategy vs. without.
If they've had previous experiences that support this position, they generally thrive at Square 2 and I think they'd do an amazing job at any agency.
Now, here are the skills you should be looking for in your consultants.
Experience With Analytics
The first and most important skill set in successful consultants is being able to quickly analyze a program or campaign and then being able to come up with a handful of insights that drive additional recommendations to improve performance.
This specific skill set is part data, part analysis, part creative and part experiential.
Today it's not hard to get access to the data. The data lives in platform software like HubSpot, in dashboards like Databox and in reports created by individuals. Getting access to data, charts, and reports are easy.
Knowing what that data tells you, what insights it uncovers and how to act on that data is what you're looking for in your consultants.
Here's one way we try to uncover if candidates have this skill set. First, we'll show candidates two different wireframe websites and ask them which one they think should be recommended to the client. Both wireframes are acceptable. What we're looking for from candidates is can they ask the right questions to help them come up with an answer, do they understand testing, and what data they would be looking for to help them make a recommendation.
Next, we show candidates a few dashboards and ask them to give us three insights they derive from the data. In both cases, there are no right answers but we're looking for thought processes, experiences they can pull from and their ability to understand the context of the data.
Positive conversations related to these two behavioral interview questions generally produce strong consultants.
Worked with Technology
We don't run any engagements that don't have an element of technology in them. None of our clients run marketing without some marketing automation platform and none of them run sales without a CRM system. Having experiences with at least a few marketing tools and CRM tools is a requirement.
Consultants don't have to be technical experts, but they do have to know their way around a platform. They have to know what these tools can and cannot do. They have to be able to hop in, from time to time and look at data, fix something small or set up a campaign component.
Again, this isn't their full-time job, but having that skillset makes taking care of the client much easier.
When it comes to interviewing, I do what I call "rapid fire." I ask the candidate to score themselves from an expertise perspective. One is they don't know much and ten is they consider themselves a master. We'll run through tools like HubSpot, Marketo, Drift, Engagio, Google Search Console, Salesforce, Facebook Ad Platform and maybe five or six more. It gives me a good baseline for how much experience they have with a wide variety of technologies.
Top-Notch Communication
Communication is everything. The services agencies provide to clients are both complicated and complex. It's not just about what we're doing, but how and why we're doing it. Add on top of this that clients are easily distracted and influenced by many outside voices contradicting what we're telling them.
This demands that your consultants be excellent at communication. They need to be clear, concise and consistent. They need to educate, guide and advise your clients. They need to do it in a friendly, helpful and respectful manner.
This means using your hiring process to test their communication. Do they follow directions when communicating with you during the hiring process? Do their emails and verbal communications come off as clear? Can they answer your questions directly and succinctly? Do they ask good questions? Can they tell a story?
We specifically put our consulting candidates in a position to uncover their ability to share their communication capabilities in a wide variety of formats as part of our interview processes.
An Understanding of Strategy
Our industry is suffering from a dramatic lack of strategy. Agencies are quick to jump into tactics. Clients are happy to skip the boring strategy conversations to get leads faster. Both approaches ALWAYS produces disappointing results.
You should be looking for consultants who have done strategy work, who understand the importance of strategy, and who can help clients gain an appreciation for strategy.
This includes working with clients on their target personas and prioritizing those targeted audiences. They can't be everything to everyone. This means focusing on creating disruptive, compelling and emotional messages. It is also telling a remarkable story and making sure their company is differentiated.
Consultants need to be looking at their expectations, creating metrics for their marketing and sales efforts, measuring their performance and connecting the performance with campaigns and investment levels. These are all complicated, strategic conversations that your consultants should be able to have with your clients.
---
A new Advanced Agency Cohort is launching this month. You can still join, click the button below to apply. Join three other agencies and work on advanced topics like points-based pricing, agile delivery, high-performing sales process improvements, client results workshops, mergers and more.
---
A Background In Sales
Twenty years ago, marketing had nothing to do with sales. Marketing ran the ads, got ready for the trade show and made brochures. That was it.
Today, marketing is equally responsible for helping sales hit or exceed their revenue goals. This means generating enough high-quality leads and then working with sales to help the reps close enough of those leads to exceed their sales goals.
People who have a background working in sales, supporting sales, and being in a marketing team that was aligned with sales is mandatory in my opinion.
Marketing people who are intimate with the sales process will help your clients turn leads into sales opportunities. Marketing people who are comfortable with CRM tools will help your clients leverage educational content in the sales process. Marketing people who understand the metrics associated with "click to close" and the Cyclonic Buyer Journey will create dashboards that offer your clients a more data-driven perspective on the performance of marketing, sales and customer engagement.
Empathy
Finally, we haven't talked much about personality traits, but I think this one is important. Empathy is the ability to understand and appreciate the feelings of another. In this case that means your clients. They're nervous, they anxious, they're distracted, they're influenced by many other voices, they've never done some of the things you're asking them to do and it's possible they've never spent the kind of money you're asking them to spend.
Having empathy for them introduces an entirely new perspective for your consultants that makes them better consultants. They ask more questions, they take their time, they slow down, they're more patient, and they work more closely with their clients when they empathize with them.
This isn't always easy to do, and this is why you should be hiring for this, as opposed to trying to train empathy.
One way to try to find out how empathetic your potential consultants might be is to ask them about personal or professional experiences where being empathetic produced positive results or outcomes. Ask them about the details like what they did and why. How did they demonstrate empathy and what were the specific results?
These behavioral questions during the interview process are key. They can help you get a better understanding of your candidate by forcing them to tell you more experiential stories as opposed to answering basic interview questions.
Once you think you have a solid consulting candidate, I still recommend giving them a project to do as part of the hiring process. You would be amazed at what we've learned about candidates during the project phase of our hiring process.
When you get your hiring process locked down and you're clear on exactly what you're looking for, you should be able to hire and scale your agency as needed. Always keep this process going. Having a bench of potential candidates prevents you from making an emergency hiring decision such as hiring someone because you must, not because you are excited and want to hire them.
Hiring is one of the most important aspects of running, growing and continuously improving your agency. Always treat it with care and pay close attention to it.
Start Today Tip – Make sure you know what you're looking for. Start with a description of what success looks like for your new prospective consultant. We don't do job descriptions but rather Success Profiles. We provide descriptions of what a successful consultant is doing all day. Then make sure you're screening your candidates properly for both communication, background and experiences. Use behavioral interviewing techniques to cut through the typical interview questions and get to their actual experiences. Don't ignore your Culture and don't be shy to put the candidate through a series of experiences that mirror what it's like to work with your clients. This should ensure you get a quality candidate and don't set your agency back by hiring the wrong person.
Agencies 2 Inbound – Helping You Grow Your Agency Beyond All Your Expectations!