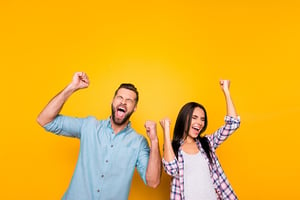 I'm not giving up on my belief that strategy before tactics is the secret to success when it comes to any type of marketing engagement with clients. I've talked to far too many companies who are unhappy with their current agency and upon further review, we found there was little or no strategy.
However, I'm not ignoring the fact that many agencies tell clients they don't need strategy and clients are hesitant to pay for or value strategy work. While we look diligently for clients who understand and value strategy and we work hard to help clients understand the value of strategy, I'm ready to offer clients what they want to buy, instead of what I want to deliver to them.
What I'm NOT willing to do is leave strategy behind. It's the wrong advice and only sets you up for a challenging conversation later when results don't show up. But there might be a way to do both. Give them the strategy they need and the quick wins they want.
Delivering Clients Quick Wins
It's a very compelling value proposition and it's also why so many agencies are moving in this direction. While it might not be the "right" advice, it's hard to ignore this approach.
Who wouldn't want quick wins? It appeals to most clients and their microwave approach to marketing. Just get me results fast! Then you might be asking why I think this is NOT the right advice.
Here's what's extra challenging with the quick wins approach. Let's do a little role play.
It's day one of our new engagement. The client wants quick wins. Where do we start? The best place to start is with their existing assets. How many people do they have coming to their website? Can we turn any of those existing visitors into leads? How many email addresses do they have? Can we warm them up or drive revenue from existing customers? Can we launch some paid ads on Google or Facebook?
It's very likely that these questions and this approach is a solid one. But let's play this out. We're going to add some existing content to their current site and we're going to launch a Facebook ad campaign too. All in month one as part of our quick wins plan.
First, we have to use their existing content. It's not optimal, it's not aligned with their prospect's pain, it's not SEO optimized, and the title is not exactly compelling. But, we'll create a new CTA, landing page, delivery email, confirmation email and lead nurturing emails. We'll get the entire campaign up and running in a week.
Next, we'll get the Facebook ad campaign up. We'll create the targeting and audience matching profile, build the campaign, use the content we discussed above (not optimal, but available) and we'll create a new landing page, delivery email, confirmation email and lead nurturing emails. We'll get this campaign up and running in week two.
Not bad right? Except for one thing- we've done nothing to address the company's mediocre website, nothing to address their vanilla messaging, nothing to address the dramatic lack of content and conversion points across the rest of the site, and nothing to address the sporadic and self-promotional blog.
The lack of strategy is GOING to impact the performance of the two quick start programs. How much, we won't know. What I do know is that if they waited a month or two for us to fix everything wrong with the rest of their marketing, these two quick start programs would perform at a much higher level.
Do you see the inherent challenges in the quick start approach?
Creating A Process
When it comes to identifying, prioritizing and operationalizing quick wins for clients. I think you need a process. In my experience the more process you can build at your agency, the more efficient and the more profitable.
If you continue thinking about the typical client, like the one described above, you could likely create a long list of mini-projects that could be done to help them drive more leads and new customers.
In the case above, it would be a much longer list than the two items we discussed.
Here's a starter list.
Run a Facebook Ad campaign
Add a piece of current content to the site as a conversion point
Optimize the existing landing pages for conversion
Add chat to the site
Execute an email campaign to the current customers to cross sell
Run a LinkedIn Paid campaign
Just to name a few….
At two quick wins a month, you now have a year's engagement to work on. As I said above, these quick wins will produce results. Would the results have been better if there was over- arching strategy work done too? Of course. But for the client starting from scratch, it's likely that these quick wins would produce results and that's what they're paying for.
Pricing This Kind of Engagement
Without much strategy work and limiting the execution to one or two of these quick wins (depending on the win selected) these types of engagements should be in the range of $5,000 to $7,000. This is probably similar in price to most full inbound engagements that produce little or no results. The big difference is, of course, the results.
No pricing should ever be finalized until you know exactly your cost to deliver. Most of the quick wins on the list is work you've done before. Uncovering the cost of these services should not be difficult. Once you know the cost, mark it up and then value engineer it accordingly.
The biggest risk here is not pricing, but in managing the client to only two quick wins per month and having them understand the scope of the engagement. Of course, if you execute effectively, there should be opportunities to add to the engagement, accelerate results, or move to a more comprehensive and strategic approach to their marketing.
Giving Clients Options
Your goal is to help your prospects feel safe. For years, we've all be working on ways to make the 12-month retainer feel safe. We give clients 30 days to cancel, we make the retainer flexible, we remove the renewal and now we're getting rid of the retainer completely.
Another way to help clients feel safe is to give them the power of choice.
They can take the traditional 12-month retainer option. They can take the quick wins option, or they can take an accelerated 30-day option. Which one makes the most sense for them?
We'll give them our suggestion based on their goals and what they shared with us about their specific objectives but in the end, they're picking the engagement that's right for them.
Tread Carefully With This Approach
I think it's important to be aware that sometimes options can add to the confusion associated with picking an agency, kicking off a marketing engagement, and doing something for their business they might not have done and invested in before. Confusion does NOT make people feel safe.
The trap here is that your options make it more confusing and not less.
Three options are the absolute most you should ever present. There is a lot of psychological consumer behavioral data that shows when presented with three options people tend to pick the middle option. Not wanting to buy the most expensive and not wanting to be cheap.
Regardless, the more options you have, the more clarity you have to back into your sales process. You have to ensure that they are crystal clear about the benefits and risks associated with EACH option, so they remain feeling safe and educated.
If you can be flexible in the configuration of their engagement, you'll have a better chance of winning the business. It shows you listened to their concerns and requirements. You didn't simply force them into a package, and you didn't rush out their proposal before getting to know them.
This is about closing more new clients and setting expectations correctly, accurately and realistically with prospects before they become clients so that they end up having an amazing experience with your agency.
Start Today Tip – Interested in offering clients more flexible engagement options? Start to build them out. The more defined you can get the engagement and the more details you can figure out in advance, the safer your prospects are going to feel when you share their options with them. One of the keys is asking the right questions to understand their goals, thinking and concerns. Are they looking for low cost? Are they looking for a short engagement? Do their goals support a long or short engagement? You still have to know as much about your prospect as possible and don't forget to co-create the recommendations with them during your sales process. Dropping a proposal on a prospect's email box without context is a recipe for NOT getting the work.
Agencies 2 Inbound - Focusing On Helping Agencies Who Want To Grow