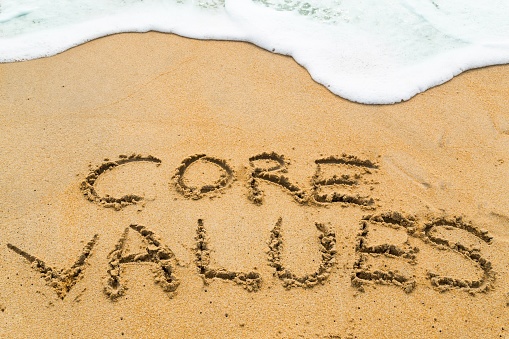 If you've worked with me or spoken to me, you know that when it comes to growing your inbound marketing agency I like to start at the beginning. So before we get to talk about your website, sales process or inbound marketing program we have to talk about mission, vision and core values.
This is so often overlooked and it's so important that without discussing this first, I feel like the foundation of your agency has the potential to crumble under the weight of what you're about to take on.
Mission, vision and core values touch so many aspects of your business that if you get this wrong, you're going to be challenged to do almost everything else. Seriously, how you hire, how you select your clients (yes, select your clients), how you pick your partners, and how you build your teams is all impacted by the big three—mission, vision and core values.
Mission – why you get up every day, why our team comes to work and what your clients should expect from you, at the highest level.
Digital agencies are a dime a dozen. Website shops are everywhere and today being inbound marketing agencies isn't even differentiating any more. Having a compelling mission helps you tell your story in a way no other agency can tell it. At Square 2 Marketing, our mission is to generate 1 million leads for all our clients. It's not to build beautiful websites, or help clients with marketing strategy or do email marketing for them. While our mission includes all of that, almost everyone talks about those things while we talk about a bigger mission—to generate 1 million leads.
Missions are big. They're emotional. They're usually the "why" behind your business. Square 2 Marketing was started because businesses were getting bad advice from marketing consultants, agencies and vendors. We wanted to end all that. Our mission is not to deliver a single tactic, but to give you the right advice over the right period of time so that you get the leads you need to grow your business. That's it. What's your agency's mission?
Vision – its where you're going. If you don't know where you're going, how are you ever going to know when you get there.
Lots of agencies are lifestyle businesses. Businesses that support the lifestyle of their owners. They don't want to grow, they don't want to innovate, they just want to get by so the owners make enough money to be happy. Is it you? It's ok if it is, but everyone who works with you should know that. You need a vision to help answer this question. At Square 2 Marketing our vision is to be the first $20 million purely inbound agency.
Everyday our decisions are based on that vision. We often ask ourselves, "would a $20-million-dollar business do that?" Or what would a $20-million-dollar business do in this situation? This changes how you think about your business. Vision is critical for your team. You're on a journey and you want people with you who share your passion and want to be on the same journey you are. If you're growing your business, you want people who are happy with a growing business. That might mean changes and challenges. They have to be ok with those types of issues.
Core Values – think of these as navigational points on a compass. They represent the guide posts on the road and help you make day to day decisions that keep you moving in the right direction. Core values need to reflect the type of business you want to have.
Our core values are Every Client Is A Raving Fan, No Fluff, Remarkable or Nothing, Always Teaching, Practice What You Preach and Team Equals Family. Today our team asks themselves as they work on client work, "is this going to make them a raving fan?" If the answer is yes, they're done. If not, they might have more work to do. That's how core values help people navigate within your company.
When setting your core values, include your team in the process. You want core values to reflect your own personal principles, but you also want them to reflect those of your current team. Once you have that, now you bring in new people who already connect with your core values. This makes onboarding new team members and building your inbound team much easier.
Now you're ready for the hard work. This doesn't mean creating a poster and putting a few up around the office. Mission, vision and core values need to come alive within your organization. This is going to take communication, rewards programs and constant recognition when you see people behaving within your core values.
Everyone in your company needs to be able to quickly and easily recite your mission, vision and core values. This is going to take time and energy to remind them and to help all three come alive in the minds and actions of your team.
Start now and you'll see quickly that the team you have today might pale in comparison to the team you'll have in just a few months. The results will also be better client experiences, more renewals, more new clients, better performing programs and happier clients. Not to mention happier team members because everyone's finally rowing in the right direction.
Start Today Tip – This might seem easy on paper, but once you get into it you might find setting mission, vision and core values for your agency harder than you thought. Remember, you don't want to copy another agency's story. You want to create your own. You don't want to sound like all the other agencies, so you're going to have to be creative. It's going to have to resonate with you and your current team, so this might take a few iterations. Be patient, get it done and then put a plan in place to continuously communicate and remind your team of your new mission, vision and core values.
Agencies 2 Inbound – Helping You Go ALL IN ON Inbound!