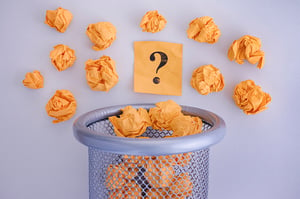 I often look back through old blog article to make sure that I'm always covering new ground and writing about new topics, but this topic is so common and its been almost three years since I talked about strategies behind hiring, that it seemed like a good starting point for 2019.
Today a lot of agencies are growing. I've spoken to several agency owners recently who shared with me, they've grown from $300,000 to $600,000 in the last year or from $700,000 to $1.5 million over the past 18 months. A lot of agencies are growing so their obvious question is, "as we grow, who do we hire, in what order and into what role?"
The answer might be simpler than you expected and with some thoughtful planning you'll never have to ask this question again. You'll always know who is next to join your agency.
Think Longer Term
Hiring always crops up as a short-term need. You just landed a few new clients and you need help, or your one big client asked for something new and you're shorthanded, or worse, someone quits, and you're left holding the client bag.
But hiring is rarely a short-term issue, its just feels like that. You should be able to get out ahead of all your hiring needs if you're thinking more strategically about your agency.
Hiring is one of the most strategic and important aspects of growing your agency and you should be very good at it. You need a designed process and one that you stick to religiously. Then you need to be executing this hiring process every week, which means you're posting jobs, looking at resumes and screening highly qualified candidates.
If you're busy, meter down the energy spent on the hiring process, but don't let it go for more than a couple of weeks before you get into it again. Since you already have your mission and vision for 2019 and since you have your company goals for the year, you know where you're going, and you know what you need.
You might not need that new Marketing Strategist this month, but if you know you need one later this year, the sooner you start looking the pickier and more selective you can be. Start looking now for new people you'll need later in the year.
Create A Series of Org Charts
Not sure what you need? There are a couple of ways to remedy this situation.
The first option is to create an accountability chart. Traction and Rock Habits, two entrepreneurial operating models, recommend you do this at least once a year. These charts list out all the functional areas of your agency and allow you to put names in each of those functional areas.
This exercise highlights when your name is in too many boxes or if you have team members names in too many boxes. Both present challenges to growth.
But I recommend to agency clients a slightly more productive exercise. To start, create an org chart with today's team and the roles they serve. This should be easy.
Then create an org chart for what you want the agency to look like in six months. What areas do you expect to grow and what does the new team look like? Then do the same thing again for 12-months from that six-month mark. In essence, 18 months from today.
You'll have three org charts. One for today, one for six months from now and one for 18 months from now, each one should be bigger than the earlier version because you're planning to grow.
During this exercise, don't just think about new hires, think about who you can promote into new roles too. Career pathing is challenging at small agencies and this gives you the ability to start doing some career pathing for the people who you value and who have shown an ability to grow inside the agency.
But what this is really designed to uncover, is who you need to hire next? And then who after that and so forth, you should never have to wonder who you want to hire next again. If you follow the forward-looking org charts and keep these updated over time, you can look for people with the roles in mind, adjust your hiring plans based on the great candidates that show up and grow your agency proactively, instead of reactively.
Evaluate The Agencies Current Service Offerings
Part of your org chart planning effort should include a holistic look at the agency and an honest evaluation of what you're currently providing and what you aspire to provide going forward.
For example, if you're only a HubSpot shop and being more technology agnostic is part of your growth plan, then you want to be looking for people with skills outside the HubSpot platform. If you've only been providing marketing services and you have sales services as part of your growth plan, then looking for people who have both marketing and sales consulting experience should be part of your hiring plan.
It should be clear that these hiring decisions are tuned into your long-term growth strategy and not just about replacing Consultant A or adding a new writer. Knowing what services you ultimately want the agency to deliver should have a big role in deciding who to hire next.
What Are You Great At? What Are You JUST Good At?
Another way to strategically look at the agency and position your hiring strategy to support growth is to honestly evaluate what your agency is already great at doing and what they're just good at doing.
In this scenario, you might have a person in a role, but you know they're good, not great. Now you have to prioritize upgrading that role vs. hiring someone new to fill a new role. But again, we've eliminated the question about who to hire. You might have to choose between two roles, but that choice is strategic and should be guided by which area is in more pain.
When you're done with your org charts and you've strategically assessed your current service offerings and your current team's ability to deliver, you'll have a clear path forward around hiring, both skill sets and prioritized timing.
Don't Ever Forget About Culture and Core Values
I would be remiss if we didn't talk about culture and core values again as it relates to hiring. The reason I make such a big deal about culture and core values is that you MUST use it as a filter for all your hiring. In fact, if you don't have well defined cultural imperatives and core values then I'd suggest you NOT hire anyone until you have this established for your agency.
I would also encourage you to, as you're building out those org charts, to think about replacing people who are not aligned with your culture and core values. There again, having a continuous hiring process is going to put you in a much better position to continuously upgrading your team both from a skills and expertise perspective and from a culture and core values perspective.
This article is not about hiring processes or systems, we still run the same "always hiring" process we've been executing for years and it still works in an amazing way. A few months ago, we replaced a client facing team member in 15 days. That is unheard of and the clients affected were extremely happy they didn't have any lapse in coverage around their engagements.
This is about gaining laser focused insight into who you need to hire next and why. No agency owner should be unclear about who they need to add to their team and in what order. It's never been a question for me and it won't be a question for you either if you simply do some forward-looking planning around your agency strategy and your agency structure.
Agency Growth Guidance – Almost everyone teaches entrepreneurs and business owners to boot strap or make it hurt. I'm not sure that is the right advice when attempting to grow your agency. Every time we've stretched a bit to grow our agency, the hire has resulting in a new growth spurt, which taught me that it's more like a snake shedding its skin. You need to push through a stage to emerge as a bigger, better agency. If you think you could use a new team member, hire them. Hire them with a plan and never hire because you have to. Take your time to find the perfect person who fits on the attitude (culture and core values) and on the aptitude (skills and experience) side. That's how you'll grow.
Agencies 2 Inbound – Focusing On Helping Agencies Who Want To Grow