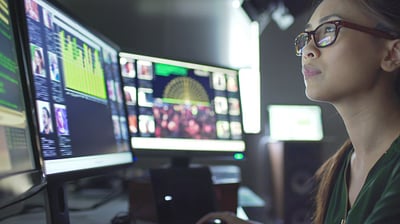 You're a HubSpot Shop and while the community is great, the platform versatile and the ongoing retainers make the agency business much easier, is that it?
What I mean is, if you can grow your agency by working with HubSpot, can't you grow even more by working with other technology companies too?
The answer is a resounding yes. If it fits your agency mission and vision, then yes. Of course, this means your mission or vision is to be the biggest or most successful HubSpot Partner than that helps you answer this technology question.
But if your mission is to be more than just a HubSpot Shop, then adding new technology partners to your portfolio is a NEED to have, not a nice to have.
Here's how to expand beyond HubSpot and offer your customers a wider range of technology options.
Test New Software On The Agency First
We've always used Square 2 as a lab and we've always tested new software on our agency before rolling it out and offering it to clients. This is the best way to learn new software, be positive the new software can help clients and operationalize the software before offering it to clients.
More good news, if you can get the software to help your agency generate more leads or improve efficiencies then you can be sure it's going to help your clients too. Even the bigger clients are still novices when it comes to adopting new software and their industries are rarely as hyper-competitive as the digital agency space.
Any gains you see in your agency are going to be 10x as good with your clients. By using the software internally first, you can get the expertise and use cases you need to help your clients. In essence, its how you operationalize software at the agency to be able to deliver similar value for your clients.
Learn How To Operationalize New Software
This is the secret almost no one tells you. When you build HubSpot into everything you do, it becomes easier to sell it, use it during delivery and help your clients get similar value from their use of HubSpot. You have to do the same work for every other software tool you choose to help your clients with. Here's an example of how MAXG recommends agencies operationalize MAXG to help agencies find insights and provide recommendations to their clients.

This is why most agencies stick with one or two software tools. Why most agencies are all HubSpot or all Marketo. Why they use Drift and no other chat tools or why they recommend only Seventh Sense for smarter email marketing. But you could easily create this operationalization plan for ANY of the software tools you want to help clients with.
What I would recommend is that you're smart about this effort. You won't have the time, energy or budget to represent all of the tools out there. But you can create a collection of recommended tech stacks for a variety of different clients and then represent those tools for your clients.
For example, small to mid-size company, unsophisticated marketing, limited budget for tech and limited resources in house—this is the perfect company for HubSpot. But if you have a bigger company, with more sophisticated marketing needs, more expansive budget and a bigger marketing team—then Marketo/Adobe is the right tool for them.
Another example, chatbots. You can use the HubSpot chatbot tool for your HubSpot clients but if you have a client with more sophisticated chat requirements then Drift might be a better option for them. If you're not familiar with Drift, you'll never have the experiences, services, and playbooks to use Drift to produce the client's chat program.
Make Sure You Never Lead with Software
A ton of agency owners ask me when we do a HubSpot presentation in our sales process. The answer has always been NEVER. We're not selling HubSpot, we're selling the agency, lead generation, and business growth. HubSpot and any other software we use, or sell are just parts of the overall delivery.
The same is going to be true for any of the software tools you use and help your clients with. You shouldn't be leading with any of this technology. But they should be part of the story. When you move from one tool too many tools, one of your storylines will be helping your clients select the right software for your clients.
Shifting gears for a minute. One of our jobs as CEO of your agency, no matter how small, is to mitigate risk for your business. Having only ONE technology partner is risky. What if HubSpot gets acquired and the relationships with partners deteriorate? What if HubSpot crashes and every client is unhappy? What if they change their product direction and the new direction is not supportive of agencies? What if they start offering their own services that compete directly with agencies?
While this is unlikely to happen, protecting your agency and having contingency plans should be part of your strategic planning initiatives. Putting some eggs in another basket is smart business.
Look For Software That Improves Lead Generation
I'm not suggesting you run off and start working with every new software under the sun. Your mission as an agency is still the same, help your clients generate more leads, close those leads and grow their companies.
This means the software you are working with have to align behind that mission—lead generation and revenue growth.
If it helps you get better results for your clients, then it should be considered. If it helps you deliver services that get better results for your clients, then it should be considered. If it helps you more efficiently work with clients, then it should be considered.
If you can generate more leads, more sales opportunities and more customers for your clients, you'll be a better agency, you'll be able to charge more and you'll clients will have a better experience with your agency. The more software you can leverage the more valuable you'll be to your clients.
Look For Software That Delivers Efficiency in Delivery
Yes, it's about lead generation for your clients but its also about doing more for less inside the agency. Databox is a great example. Instead of creating reports, now you build dashboards once and use them over and over again for clients.
This software should be part of every agency's technology practice because it makes deliver less expensive and more valuable to clients. While you won't get a commission on sales of Databox licenses, you can charge your clients for use of the software.
MAXG is another example of a tool that adds a massive amount of efficiencies around delivery. Instead of having your client services team spending hours weeding through data and reports to find insights, MAXG analyzes the data and presents prioritized insights along with recommendations.
Now a much less experienced client services team member or account manager can look smart in front of your clients, armed with insights and recommendations from MAXG.
Create A Portfolio of Software And Collect Commissions
Very few companies have partner programs that pay commission perpetually like HubSpot. It's one of the secrets to the traction they generate from their partner program. But most of the other software companies working with agencies provide similar commission plans.
Drift, SEM Rush, Conversica, SnapApp, and Wistia all pay agencies to bring on new clients to their software. By collecting the right portfolio of products, actively working with clients to understand the advantages and helping them operationalize the tools you can create a stream of revenue that requires little or no work. This is commonly referred to as passive income and it's the kind of income that takes companies from one level to the next.
This is how traditional ad agencies pushed their revenue per full-time team member up over $200,000 per employee and why traditional inbound agencies typically run around $100,000 to $120,000 in revenue per full-time employee. These agencies got paid to purchase advertising for their clients. They had a single media planner generating hundreds of thousands of dollars for simply planning and purchasing media for their clients.
You can have something similar at your shop. The more software you work with the more passive income from commissions flows into your agency giving the ability to hire that HR Director, internal marketing manager for the agency or Director of Client services that let you focus on sales or being the CEO you're supposed to be.
It should be a core part of every agency. Technology isn't going away, it's going to be a more and more important part of marketing, sales and customer service. It's going to be a requirement for revenue generation and growth, just like QuickBooks is to finance.
If you execute this correctly the benefits are extensive.
You'll see more passive income from commissions on software sales.
You'll see leads from companies you need your help using the other software tools.
You'll see services revenue from helping those companies who use these tools.
You'll find efficiencies in your delivery which will improve profit
But most importantly you'll have more comprehensive set of experiences you can leverage to help your clients grow their companies.
In an environment where agencies look similar, sound similar and offer the same services do you want to be just another HubSpot shop or do you want to bring the best software solutions and the right services to your clients to help them grow?
---
If you're looking for a one-stop resource with hours of video and over 88 pages of operational guidance to help grow your agency, look no further. For just $199, you can start working to grow your agency today. Agency owners all over the world are using this resource and talking about how helpful these tools have been to their agency. FInd out for yourself now before prices go up on August 1.
---
Start Today Tip – When I look back at the last 10 years my biggest regret is not working more closely with other software companies. While the relationship with HubSpot has been great if we had similar relationships with four or five other companies our company would be stronger, more profitable and have a more diversified client base. Now is the time to start expanding your technology prowess. The best way to make this move is to take a simple first step. Pick a second technology provider. It could be a platform like SharpSpring. It could be an add on offer like Drift or and expansion move like Conversica for sales execution. Regardless of your direction, your agency will be more interesting, have more opportunities to help clients and your skill sets will be more advanced. More good news, these other software tools attract a larger, more sophisticated client with bigger budgets. Everyone could use bigger clients with bigger budgets.
Agencies 2 Inbound – Helping You Grow Your Agency Beyond All Your Expectations!