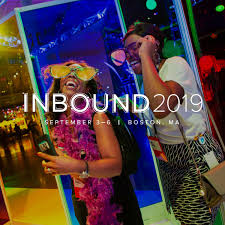 This time next week, most of us will be walking the halls of the Boston Convention Center enjoying Inbound '19.
This will be my eighth time attending Inbound, so I have some experience getting full value for the week of sessions, meetings, parties and exhibits.
The more you come back, the harder it is to get that real value. Inbound is specifically designed for HubSpot customers and as they add more customers, more people flock to Inbound. The content is specifically designed to help these new, unsophisticated customers get the most out of HubSpot.
Somtimes that means agencies have to dig deep to find value in the week long event.
Gone are the days where HubSpot Partner Agencies had their own track at Inbound. Next Tuesday is carved out for HubSpot Partner Agencies, but with just one day and just one or two sessions running at the same time, the content there is limited.
So, all the more reason to have a plan when you come to Inbound. There is value for agency owners buried in the event and you just need to know how to find it.
Create Goals
Knowing what you need and what you want to learn before you show up is key. Inbound can be overwhelming. The venue itself is massive. The sessions are all over the convention center. They include a wide range of content for the novice all the way up to those experts. The speakers also range in their ability to engage an audience, tell a story and yes, there are speakers who are simply doing commercials for their product or company.
There are over 25,000 people at the event, and this is often where some of the hidden value of Inbound resides. If you know what you want to accomplish it's not hard to get introduced or even set up a meeting with someone who you want to chat with during the conference.
You might have a goal to learn more about how the bigger agencies are structured. Look for those agency partners at the top of the food chain and make time to visit them at their booth (we have a booth) or reach out to them on social media to set up a brief meeting.
If you're planning to run into them, meet them at a party or leave it to chance then you're probably NOT going to get to talk to them.
The evenings are filled with HubSpot organized events, team-oriented events and some people simply trying to relax after the day's activities are over. Being proactive and reaching out guarantees you get to talk with the people you want to talk to.
If you want to learn more about the HubSpot product suite you are at the right conference. There is a ton of HubSpot product information, HubSpot product sessions and HubSpot product experts. This might be one of the best objectives for anyone coming to Inbound.
Expanding Your Technology Offerings
If you want to learn more about other technology, there are a ton of HubSpot Connect Partners at the conference. This is probably the second-best objective for attendees. These companies are looking to make connections with other HubSpot agencies, and you just might find the next HubSpot in the mix.
Tuesday's Partner Day has some Connect Partners exhibiting. Take a few extra minutes to chat with Accello and MAXG. Mention my name to the Accello team and they can consider an extra discount for your agency.
Unfortunately, if your goal is to help improve agency operations your options are a bit more limited. There are only a handful of sessions during inbound and the Tuesday Partner Day program is fairly limited too.
Meet Other Agency Owners
If you are interested in agency growth, agency operations, agency finances or anything related to growing your agency then your best bet is to reach out to the people you think might be helpful and ask them for some time. This community is very helpful, very accommodating and very open to providing up and coming agency owners with guidance and advice.
One caution for you, take everything you hear from other agency owners with a grain of salt. I listen to a lot of agency owners talking about their agencies and I rarely hear them talking honestly. Every agency has challenges, every agency has issues, no agency is winning every deal, keeping 100% of their clients and not having team members leave.
Ask good questions, collect information and then process what you learn as it relates to your agency, your goals, your team and the type of agency you're building.
This year HubSpot has an app that allows you to connect or match with other agency owners. This might also be a good way to try and meet with the agency owners you respect or would like to talk to. A few people have reached out to me on the app, but a simple email request to me is still probably the best way if you want to chat.
On Thursday at 1 PM in the Food Court, I'm hosting an Agencies 2 Inbound Meet Up. My past clients, current clients, and other agency owners who have been fans of Agencies 2 Inbound will be spending an hour or so together. You can come by and talk to me there, as well as meet other agency owners who have been working with me over the past four years.
At least you'll know where a cluster of smart agency owners are going to be if that is one of your goals.
Choose Your Session Wisely
As you go through the agenda looking for sessions, your best bet for getting full value is recognizing the best speakers. People who have delivered great sessions in the past generally don't disappoint. Sometimes the session speaker is more important than the topic or title.
Here are a couple you should consider for your week.
My session is Wednesday, at Noon, The Robots Are Coming—How to Use AI to Make Smarter Marketing Decisions, in the Westin at Ballroom Grand C. There many good speakers at this time, but this session isn't really about products, instead, it's about how to use AI to help you produce better results for clients. This includes how to operationalize the software which is how we achieved Diamond Status with HubSpot so quickly.
Then you should consider at 1:15 PM, HubSpot Analytics Mastery: Turn Data into Actionable Insights in 15 Minutes or Less in Weston Harbor 2 and 3. Gabe Wahhab has one of the records for the most requested downloads of his session from two years ago. He understands analytics and now runs MAXG, a software company that has insights and recommendations engine for HubSpot accounts. He's also doing an Encore of this session Thursday at 2:30 PM if you have a conflict at this time.
After some of the general sessions, the late afternoon session track has some good content options. But I think the best speaker of the track is Eric Keiles. He's talking about How to Create Remarkable Customer Service & Forget Traditional Marketing! In BCEC 104 West. His session is focused on how to help your clients and you create a remarkable service experience that gets your customers talking about your business to drive referrals.
This is a service you should be offering your clients and you should practice this and model this for them as well. It's a DON'T miss session and not being offered any other times during the conference.
On Thursday at 10:15 AM, Jon Miller, who is rarely seen in the HubSpot ecosystem is doing a session on ABM. He is one of the leaders in the space, someone who helped create the ABM category and I would NOT miss this if you're thinking about offering, already offering or have attempted to deliver ABM services (which you should be) to your clients. His session is The Secret Sauce for ABM: Maximizing New Business & Lifetime Value In BCEC 153 East.
At Noon on Thursday, there is an interesting session being run by Eric Pratt from Revenue River. It's an open-air, interactive session where agency attendees can talk about their challenges openly and honestly as a group. This type of session has never been done at Inbound and it should be interesting. If you're going, I'll be there too. The session is called Interactive Agency Talk – Unpacking What We Learned At INBOUND19 and it's in BCEC 109 West. Again, if your goal is to meet other agency owners, this is a session for you.
There are a ton more sessions to be considered. I can't possibly pick them all for you but consider my advice from above. If you're looking for product information, then drop in on any of the HubSpot speaker sessions. If you're looking for more advice and ideas on operations and execution, then consider some of the industry speakers.
Spend At Least 15 Minutes With Me
Anyone who has spent any time with me at Inbound knows I'll talk to anyone about anything at inbound. It's a great time to catch up, grab some quick advice or get your most pressing questions answered.
You can find me at the Square2/MAXG booth in Club Inbound. If I'm not there leave a business card with one of my team members and they will make sure I get it.
If you come to my session, stick around after it's over I always stay and chat with people after my session.
If you want to have a longer conversation, come by the food court on the upper-level Thursday at 1 PM where I'm having an Agencies 2 Inbound Meet Up. Current and past clients, fans of A2I and anyone just walking by is welcome to eat and chat with me and the other agency owners I've worked with or those I'm currently working with.
Finally, if you want to schedule something, that works too. You can click the link here to request time with me and we'll find a quiet place to talk about just your agency. I am happy to do it.
Inbound is a great opportunity to help your agency grow and a once a year opportunity to get access to people who can truly help you with some of the challenges and issues they've likely faced at some point along the way.
Start Today Tip – Get our plan together. Reserve your sessions. These sessions are going to fill up quickly and you don't want to be left standing in the hall looking for somewhere to go. Those sessions that are NOT filled are going to be the least helpful. Spend a few minutes working through the sessions and make your reservations early. Trying to get into a session that appears to be full. Keep checking back. They do move rooms to accommodate people who want to get reservations. Then look for those people you want to have personal conversations with and connect with them as well. This will ensure when Friday afternoon rolls around and you're heading home you had a productive, informative, helpful and fun week at Inbound.
Agencies 2 Inbound – Helping You Grow Your Agency Beyond Your Expectations!