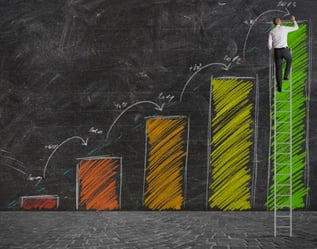 You're in hiring mode. Great news! You're bringing in new clients at a regular pace and you're retaining your current clients so revenue is up month over month and you see a trend.
Now the question becomes how do you scale this business so that you make more money, grow the team and continue to keep clients happy?
This is perhaps one of the greatest challenges facing inbound marketing agency owners. What you need to scale up in a manageable way is a system. This system consists of two parts, the numbers and the team model. Both give you the mechanisms you're looking for to help with the scaling process.
Let's start with THE TEAM because it's a little easier to explain.
Inbound Marketing Consultants
If you read the article from last week on hiring. You know that when you're starting out one of the lynch pins in the team model is the Marketing Consultant. This is going to continue as you scale. Once you strip away writing and project management from the marketing consultant you'll be left with an individual who should be spending 70% of their time working with the client, analyzing the client program, making recommendations and managing the deliverables.
What you'll see as you grow is that each of these consultants (working on only what we mentioned above) can only handle four or five full retainer engagements. If you give them more, you'll notice clients who feel ignored, diminishing results, or poor client service and mistakes. You want to try and proactively prevent this from happening. If your retainers are lower, say $3,000 to $5,000 per month, then your consultants might be able to handle more than four client, maybe six or seven clients, but I don't think this is sustainable for too long.
Keep in mind that in my opinion, lower retainer clients don't always translate into less work, in fact, often the opposite happens. Clients who pay less require even more work. So once you have a consultant who is full allocated this is your signal that you need to hire a new consultant. DON'T WAIT too long to do this, try to have a consultant 30 days before you think you're current team is going to be fully allocated.
Inbound Marketing Writers
Now that you're scaling your client services team based on clients and revenue per client keep the support team scaling too. Depending on the amount of content you're creating you probably need one writer for every consultant. The hiring for writers can lag the consulting hiring by about 30 days, because the consultant does much of the strategy work before any writing production gets heavy. However, having your writers participate in your strategy work is an advantage. So plan accordingly.
In the beginning, the team is going to be able to proof read and edit most of the copy the writers produce, but eventually the sheer quantity of content might overwhelm them. This is when you should consider a professional proof reader or editor. These people ensure that nothing goes out without an extra set of eyes and this is critical. I don't care how smart you and your team is, if you send out copy with typos, grammatical errors and mistakes, your client is NOT going to trust you.
Inbound Marketing Strategist
Once you get a team of three writers and three consultants handling 12 to 15 clients and about $120,000 in revenue per month, you're going to want some oversight and more experience on those accounts. This is where the Marketing Strategist comes in. Now you might be filling this role today, but you're going to want to get out of that role as soon as you start to get to this size. A strategist with 15 to 20 years of marketing and or account director experience should have little trouble stepping in and providing the guidance this team needs to keep the clients happy and the results moving up and to the right.
Inbound Interactive and Web Development
These resources scale a little differently. While we've aligned some of them with the client teams, you probably don't need to do that directly. Keep an eye on this work, make sure your team is responsive to client requirements and make sure your deliver schedules produce work that is delivered within reasonable time frames. If you start to see this slipping, you might need to add more resources to keep those projects flowing. Remember, that the sooner you get interactive work out of the shop and on the web, the faster the clients start getting results.
Now let's look at THE NUMBERS associated with scaling.
I've always wanted this magic number that triggers the next hire. It wasn't until recently that we found the collection of numbers that help make the decision a little easier. I wouldn't call them magic, but helpful definitely.
Average Monthly Revenue per Consultant
As we mentioned above, this is an important number and assuming we agree that for a client to get results from inbound in a reasonable time frame you need to be charging and doing work at about a $10,000 a month clip. So if a consultant handles four to five clients that's a AMR per Consultant of around $40,000 to $50,000 per month. This is a number you need to monitor. Any higher you're going to run into trouble. Trust me, we've done it.
Once you have a consultant at this level, you need another. A best practice is to bring in the new consultant before your current consultant gets maxed out. This helps you train the new consultant before they have any client responsibility.
Average Revenue per Employee
Be careful with this number. Ask general agency experts and they're going to tell you $200,000 per employee. That's not realistic for an inbound agency. I've spoken to hundreds of agency owners of all sizes and our number is closer to $100,000 per employee. If you run a $1 million shop, you have around 10 FTEs, run a $600,000 shop and you have 6 FTEs. A good agency might get that to $120,000 or $130,000, but nine times out of ten the numbers rarely come out any different.
Average Hours Worked Per Week Per Employee
I mentioned the outcomes if you give a consultant too many clients. The same holds true when overall you're asking your team to work too many hours. We keep an eye on total hours worked per week, working hard to keep that number between 40 and 50. Sure it bumps up some weeks, but then we proactively work with the team to reallocate work or make sure we have a new hire starting to better distribute the workload. Good people are hard to find, good inbound marketers are even harder to find and you don't want your people burning out and quitting.
Average Billable Percentage
While you're watching how many hours people work you also need to watch how many of those hours are billable. All you have to sell is time and that time has to be billed if you want to make money. Our target billable percentage is around 70% across the agency. There are people who are 95% billable and there are people who are only 50% billable. Having insight into this number helps you make sure your people are focused on client work and not internal stuff, personal stuff or worse under assigned. Keep an eye on this number and profitability shouldn't be an issue.
Client and Project Profitability
Speaking of profitability you're going to want to know which clients you make money on and which ones you don't. Set a profit target and monitor each client closely. Clients who are notoriously below profit targets are great candidates for a frank and honest conversation about whether they are going to continue to be clients. This also gives you the opportunity to increase your retainer for these clients or ask them to seek their happiness elsewhere.
Project profitability is equally important. When you move from hours to value based pricing you need to know which projects are profitable and which ones are not. For those that are under your profit target, immediately increase what you charge for those projects until profitability returns. You should also be looking at internal processes and internal costs. If you're losing money on a project, you might need to streamline how you deliver. Both of these proactive moves only come when you know which projects need attention and which ones don't.
These insights should give you a good place to start when it comes to hiring for inbound agencies. Don't be afraid to hire, keep an eye on your team, and make sure you have access to the data you need to be certain that what you're doing is the right move at the right time to grow your agency.
Start Today Tip – To scale up on the team side you need the organizational model and then manage the growth into that model. Watch the numbers, hire up ahead of the numbers and let revenue drive the growth. On the numbers side, keep track of these key metrics and your decisions around growing and scaling should be more comfortable and based on data instead of gut instinct. Building a bigger agency comes with challenges, but the result is a very rewarding team and a company that is prepared to help more and more people use inbound marketing to grow their companies. A rewarding proposition on many levels.
Agencies 2 Inbound – Helping You Go ALL IN On Inbound