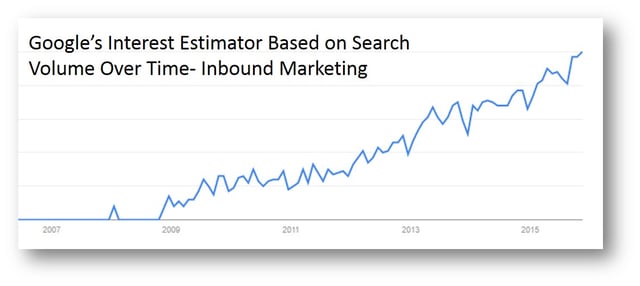 If you think you're busy today get ready for an even busier 2016. More and more people are realizing inbound marketing is what they should be doing. Here's a picture of inbound marketing's popularity from Google which is a fairly solid predictor of interest. The tide is turning.
Your job as an inbound agency owner is to turn this interest into revenue. So in this article I'll share with you the ten steps you need to be taking RIGHT NOW to get ready for the increase in interest from companies wanting help with their own inbound marketing programs.
1. Make sure you have a remarkable story that aligns with your culture and core values -
More and more agencies are going to be joining the ranks of inbound agencies. These agencies all look alike, sound alike and act alike. You're going to be competing against all these new inbound agencies for clients and for team members so the sooner you create a remarkable story about your agency to quickly explain why you're special the faster you're going to grow in 2016.
2. Make sure you're getting found when all these searches are taking place –
With more and more searches getting run you need to make sure your agency is showing up. This means your blogging and content creation efforts are going to need to be featured in 2016. If you're still blogging once a week, it's probably time to step that up. If you're not publishing new original thought leading content at least once a month, that probably needs to be stepped up too next year.
3. Make sure your website creates a remarkable experience –
Now that there are so many inbound agencies, your website has to help you stand out and create a remarkable experience for your visitors. Just think about the three or four other inbound agency websites your prospects are looking at BEFORE they even contact you. If yours isn't the best, you might never get the chance to talk those prospects.
4. Make sure you have offers for all three stages of the buyer journey –
Don't make the same mistake the clients make. You need offers on your site to grab the contact information for prospects at all stages of their buyer journey. Top, middle and bottom of the funnel offers are not the same. You need separate offers for each of these stages if you want to optimize lead generation for your inbound marketing agency in 2016.
5. Make sure you have a well-defined and remarkable sales process –
After a prospect becomes a sales qualified lead you need to continue the experience into the sales process. You should have this mapped out and planned out in great detail. The more specific this process the more comfortable your prospects will be during your sales process and the better chance you have of making them feel safe which is a requirement for them to say yes and hire your firm.
6. Make time for your own inbound marketing efforts –
Inbound marketing takes time and it's going to take your time. Going into 2016, dedicate some time each week to handle your own inbound marketing. As the leader of your inbound agency you should probably be one of the best inbound marketers in your shop and one of the best ways to grow into this inbound expert role is to do it every day, religiously.
7. Make sure your team is scalable so it grows as you grow –
Your business is going to grow, but if you don't have the team model in place now allowing you to grow in a way that ensures you make money and your clients get a remarkable experience your growth could end up swamping your ship.
Now is the time to set your business up for growth by creating the right model, culture, core values and other business assets you need to fuel your growth in 2016 and beyond.
8. Make sure your financials are in order so you make money as you grow –
If you're not paying yourself a respectable salary and your agency isn't doing 10% net profit at a minimum, then you have a financial model that needs an adjustment. Make sure that your charging enough and your costs are inline so that as you take on more new clients and hire more new team members your profits rise right along with that top line revenue.
9. Make sure you have the right people on your team to help you grow –
Our businesses are all about people. You need people to take care of your clients and you need people to run your engagements. Make sure you know what types of people you want in your inbound agency.
Make sure the people you hire have the right attitude and the right aptitude. Remember you can train for skills but not for culture, so lean into those individuals who fit your stated Core Values and let those who don't seek their happiness elsewhere.
10. Make sure you're spending your time on big, important, strategic activities –
As agency owners we all get pulled down into the weeds from time to time. Make sure you have the systems in place to prevent this from happening all the time. It's critical for the leader, owner and visionary of your firm that you get time to work on the most important aspects of your business—strategy. You should be working on this at least two hours a week if not more. You'll quickly find that this time is invaluable to helping you get your business to the next level.
2016 is going to be a banner year for inbound agencies but at the same time a good majority are going to squander the opportunity because they're not ready to take advantage of the market conditions. Don't find yourself and your agency in this boat. Take the time today to get your agency poised to rise with the growing inbound tide.
Start Today Tip – Take a hard look at each of these challenges facing inbound agency owners. Evaluate your own agency and score these items based on your current situation. Keep it simple A, B or C. Then start with the Cs and work on one C each week until the new year. By the time January comes around your agency will be ready to go and in a much better position to take advantage of the growing trend around inbound marketing.
If you need help with any of the items above, I'm happy to spend 30 minutes with anyone working through your agency specific challenges. Simply click on the button below to schedule a quick call with me. No worries, happy to help.
Agencies 2 Inbound – Helping You Go ALL IN ON Inbound!