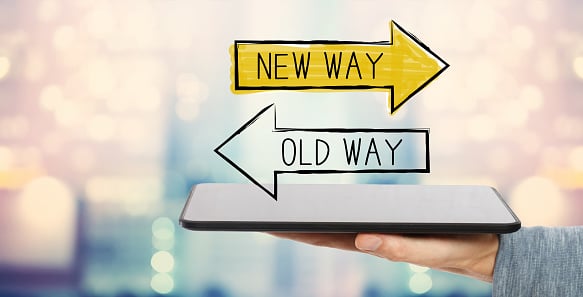 After taking a few weeks off from this blog to recharge and refresh, let's get back to working together to grow our agency. Today's post is about on of the biggest challenges facing digital agency owners in 2021 and beyond.
The writing is on the wall. The digital agency is quickly evolving and the roles you thought you needed last year might not be the roles you need this year.
Clients are asking for different help in new areas and you can respond with new skills, new services and new expertise or you can defer this business to other agencies who have built out teams to deliver on your clients requirements.
We chose the first option.
In December we always spend time reflecting back on the year and getting ready for the next year. That includes defining a few key initiatives for us to focus on. This year, one of those initiatives was to continue to build out and invest in our technology practice.
That quickly uncovered that we need new roles and potentially new people on the team.
Here are the roles we identified and ones you might consider as you get ready for the next wave of changes coming to the digital agency ecosystem.
Data Analyst
You need a data person who understands data. This isn't about your data and it's not about HubSpot data. This is about your client's data.
Here's an example that I'm sure you can all relate to. You're talking to a prospect and they tell you they have 10,000 names in their database but they also say that those names are old and inaccurate. You might blow right by that comment but you shouldn't.
Getting a new client's data cleaned up, organized and ready for import and use is a big step today. You're going to need someone who understands the ins and outs of data cleaning, data migration, data set up, and the accuracy and completeness of every client's data.
This skillset is going to become more and more important as your technical work increases, and it will if you want to do that kind of work.
Marketing Operations (MOPS) Specialist
You're probably familiar with the term Marketing Operations. Marketing operations includes the systems, techniques and technology that allow marketing to use strategy, tactics, analytics and software to run smoothly. This includes being able to scale and produce the desired business outcomes like lead generation.
More and more clients are needing the help of the MOPS.
They need nurtures updated in their technology platform. They need their CRM tweaked to reflect a change in their sales process. They need new email templates uploaded. They need ongoing optimization to their landing and website pages. They need new reports or dashboards. When stuff breaks (which it does) they need someone who can go and fix it quickly.
Client's don't typically staff for this work. They staff for content creation, campaign management, video production, paid media management and graphic design. The skill for the work of the MOPS is much more technical and again, you should be considering adding these services to your portfolio in 2021.
Marketing Automation Platform and CRM Technical Expert (HubSpot, Marketo/Adobe, Pardot, Salesforce)
No, this is not someone who can build a landing page, email template or a dashboard. This is someone who can set up a marketing hub, a sales hub and a service hub from scratch and someone who uses a specific methodology to help the client define their requirements prior to that set up.
That set up very likely includes the data migration piece. This means any integration with other software tools being used by the client. This is an understanding of the client's sales process, customer service workflows and ability to set up all the associated workflows and sequences.
There needs to be a QA element to this technical work as well. With your documented requirements, QAing the set up is essential to making sure the client's portals are set up properly and working to expectations.

Trainer
It's likely that over the next few years HubSpot and other software companies will be exiting the training business and leaving that to agencies who want to fill the gap.
There are very good reasons for wanting to be in the training space.
First, you get to meet clients who need help. While they might need help with training out of the gate, it's more than likely they'll need help after the training is over. Big projects, new initiatives, website redos and sales enablement work could all be legitimate outcomes from providing training services.
Next, consider adding a service that goes along with training. This is one that has you sticking around to provide guidance, advice and oversight after the training is over. This positions you as higher-level consultants, which should come at a higher rate and leave the commoditized delivery work to the client and the team you just trained.
Having training resources in the agency allows you to expand from one-to-one to one-to-many training services too. Now instead of getting paid by one client, you can get paid by many clients. Thirty people who sign up for a $99 training session is $3,000 worth of revenue for just an hour to two of training. This is very profitable and not so easy to find right now.
Sales Enablement Specialist
A lot of agencies have started providing services wrapped around the SalesHub CRM. However, if you haven't figured it out already, you will notice that these services need a different skill set than those of a Marketing Consultant, Growth Consultant or many of your Strategists.
Account managers shouldn't even be in the same room as sales enablement services. Talking and working with sales is a completely different set of motions and while you might be able to train someone to handle these services, our experience is that you need a sales person and an experienced one at that to deliver real value in this area.
It's not about setting up the CRM, even if that is part of it. Sales enablement is being able to help them redesign their sales process. It is to help create a set of remarkable experiences in that process. It is designing the qualification methodology, and helping them identify friction inside the sales process, removing it and replacing it with value added touch points.
Look at your own sales process. Does it reflect what we outlined in the previous paragraph? If you don't have it for yourself, how can you teach another company to do it?
Do you keep tabs on your close rate and constantly iterate your own sales process to get that close rate to 80%? If you can't answer yes to that question, then you need someone to help your clients with sales enablement.
You shouldn't be surprised here.
The agency continues to evolve and that evolution is happening very quickly. Today's agency handles much more technical work related to marketing and sales software. They handle more training and operations related work. They are doing far more teaching than ever before.
You need to make sure your agency team continues to evolve and it might mean retreating from certain service areas if you're not interested or not equipped to provide those services.
Keep in mind that design, copywriting, video and website work is getting easier and easier for clients to do on their own. This is making it harder and harder to charge what we need to charge to run a profitable business.
How are you responding to these changes?
One thing you will have to consider is how you find the right people for these new roles. The first challenge is these people are in demand. Not only are you looking for them, other agencies and companies are looking for them too.
The best way to find them is to create the role and then actively socialize the role within your team, your connections and across all your social platforms. Someone, knows someone somewhere and you want to get the word out.
In most cases, you'll probably have to pull these people out of their current companies. Be patient, be persistent, and be prepared to give them the opportunity, role and compensation they need to join.
With that approach, you'll quickly have the team you need to help the agency evolve and remain competitive in 2021 and beyond.
Start Today Tip – You'll have to make a strategic decision. Do you want to provide these services? If not, find a partner who does so you can refer your clients and trust they'll be in good hands. If you do want to provide these services, then start making plans to do so. First, you'll need to start recruiting a new group of people for your agency. Some of those roles are identified above. Start now because these people are already in high demand. Most of these people are not right out of college, so they'll demand decent-sized compensation. Make plans to absorb those costs now. You might have to shift some money from one part of the business to the other. Consider contracting in the beginning until you get your feet under you and are comfortable with these new services. The key is to start thinking about this now. You might already be a little late.
Agencies 2 Inbound – Helping You Grow Your Agency Beyond Your Expectations