It's Not Uncommon To Have To Adjust Your Plan Quickly, Make Sure Your Agency Is Capable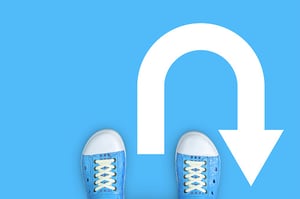 If you read the blog regularly then you know I like to blog about ways to get better results from your marketing and sales execution. I also like to share my experiences working with CEOs of growing companies, especially when those observations become trends.
One of our newer clients kicked off their engagement in March, early March to be exact. During the sales process, we create our new client's initial 90-day plan and this client was no different. Clients sign off on that initial 90-day plan and then we reinforce that agreed to 90-day plan during the kick-off.
All of this went down without a hitch until during the fifth week of the engagement I got an email from the client who was concerned about our progress.
After checking with the client team, we were right on track. In fact, we had started on some of the second 30-day plan already. However, the client remained concerned.
In continuing the conversation, it was agreed that instead of continuing the strategy work required to create solid messaging, content that converts, a website experience that engages with visitors and a search strategy that produces results; we would shift gears and get an outreach campaign up and out in the next four weeks.
An aggressive goal, for sure. But one we've delivered on many times before. We discussed the risks associated with holding off on the remaining strategy work and agreed we would get back to that once the campaigns were up and running.
Here's how we adjusted our plan, communicated it to the client and how our engagement structure was already designed to support this shift in tactics and strategy.
Agile Delivery
Planning for anything longer than 30 days is a waste of time. This means giving clients a 12-month retainer plan, buying a package of services, or thinking that every month is going to be similar from a work perspective is over. Those days are long gone.
You need a delivery methodology that allows your client team to pivot. Not only does it allow you to be much more responsive to the data and the results, but it also allows you many more opportunities to adjust your campaign tactics so that they produce better results and in less time.
Marketing agencies and marketing departments all over the world are looking at Agile as a way to be more data-driven, more responsive to customers (internal and external) and as a way to drive better results in a shorter time frame. Without a defined methodology like Agile, this responsive execution becomes much more challenging and much less effective.
30 Day Tactical Planning Cycles
You should be looking at rhythms for your marketing execution that start with 90-day strategy sessions and move into 30-day tactical planning sessions.
Every quarter you get together and review how the previous quarter executed. Did you hit your numbers? Why? Why not? Then spend most of the time looking at the upcoming quarter. What's going on in your client's business? Are there any changes coming down the path? Are there any obstacles? What are the business goals for the quarter and how are marketing and sales going to contribute to hitting those goals?
This gives your team the big picture they need to know to plan the tactics and execution, to coordinate with sales and to make sure their execution aligns with the company business goals.
This 90-day perspective then drives the 30-day execution. Just like it did in this case. We were getting ready to do our 30-day planning anyway, so pivoting away from some of the strategy work and moving into some campaign execution wasn't shocking to anyone and the planning effort allowed us to have a conversation about what letting the strategy work go meant to the overall program goals.
With that behind us, we shifted quickly into campaign planning mode and in just a few days got two campaigns spaced out and ready to present. It's important to know that campaign planning takes several conversations before the details are ready to get locked down.
You have to brainstorm, those ideas then need to be evaluated, outside people need to be contacted, creative needs to be engaged, budgets created and then these ideas need to be packaged and presented to the client for sign off. This must be done in days, not weeks.
---
A new Agency Cohort is forming for launch in June. There are already a number of agency owners interested and seats are limited to only five or six owners. If you think you might be interested, let me know. I'm happy to talk with you about the program. The next launch date for the next Cohort is likely October or November. If you're interested, act NOW!
---
Clear Expectations
After 16 years of client conversations both on the sales and client services side, I've learned that setting expectations is one of the most important aspects of client success. The ability to help clients understand what to expect is sometimes the difference between success and failure.
In this case, we had to explain to them what leaving the rest of the strategy behind might mean down the road.
In this case, it meant a delay in any organic visitor growth, it meant a delay in any of the website work that desperately needs to be done, it meant a delay in any new content creation and it meant there would be no new overarching messaging changes for the company in the short term.
However, in exchange for those delays, they were getting immediate outreach to customers, new customers, dealers, and new dealers.
We also spent time forecasting results that could be generated from the campaigns we were planning and their impact on the client's upcoming revenue projections. All in all, it seemed like the sacrifices were worth it. These would be the first organized, multi-channel campaigns for this company, and they were excited.
Communication
The final piece of the puzzle was around timing, cooperation and a sense of urgency. We wanted to make sure that everyone, on both sides (us and them) were clear that these were tight timelines and it was possible that any delay on any side could push back the planned delivery date.
As I write this, we are already seeing the timelines stretch out, so it was critical that we have this conversation now and make sure that everyone was clear on the various scenarios and the options should we see delays. Everyone was onboard.
Our engagement rhythms allow us to stay in close contact with the client, have regular status meetings once a week, and have additional ad hoc campaign planning calls. Our own internal creative meetings have kept the entire team (us and them) in close contact as we work on developing campaign assets, getting approvals and then preparing for the launch.
You can't underestimate the cycles and rhythms you build into your engagements when situations like this arise. Instead of a massive, agency-wide fire drill to get everything done, you're executing a systematic approach to planning, asset creation, campaign delivery, and tracking.
I'm sharing this with you because this scenario is happening more and more. Despite the planning, the agreed-on approach, sign off from clients and other attempts to get clients to agree, stay the course and be focused—they are quick to change course, quick to judge the value of your work and quick to fire you.
Being able to respond quickly with a different but equally thought out and effective set of plans is going to need to be part of your agency DNA going into 2020.
The only way to deliver this is to have the systems, processes, methodology and team proactively designed to handle this type of engagement.
Start Today Tip – The agency who can handle a shift like this and do so elegantly has a few key pieces in place. The sooner you start installing these pieces, the better suited you'll be to deliver a client experience like the one described above. Agile is non-negotiable. If you're not delivering like this, you're going to need to sooner than later. The smaller you are the easier it is to move in this direction. Flexible agreements and retainers. You can't be locked in contractually to a set of deliverables. It's too constricting. Your team needs to be trained in how to think, plan and execute in this way. They need to be able to quickly get your clients to feel like "everything is under control." That's how you'll keep your clients longer, drive revenue from existing clients and grow your agency.
Agencies 2 Inbound – Helping You Grow Your Agency Beyond Your Expectations!