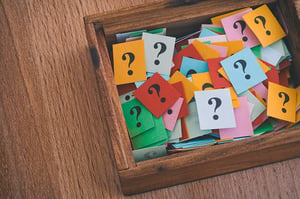 We got three new clients at Square 2 to help kick start April on the new business side. But it's not always so easy and over the past six months we've been working hard to make our sales process remarkable and an experience for our prospects.
One part of that process is the questions we ask our prospects during out Guided Sales Process. Some of those questions are not so easy to ask but we've found that they help us qualify, uncover key issues buried in our prospects' business and help us have more strategic conversations with our prospects.
Here are the six secret questions that add big value to our sales process and they'll help you add the same value to your sales process.
Question 1 – How will you be deciding how to move forward and who will make the final decision?
Your prospect's decision-making process and whose going to be involved in that process is very important.
First, you must be talking to the decision maker. Any conversations, any information, any guidance you're sharing with a non-decision maker is content you're hoping gets passed along to the decision maker and the chance it gets passed along in the best way possible is highly unlikely.
Even more importantly, you're looking for a strategic relationship with this company and their leadership. If their top decision makers are not going to have the time or find it important enough to participate in agency selection and strategic conversations about the company's revenue generation plan, how good a fit are they for your agency?
Finally, there are people who think they're the ultimate decision maker and they might, in the end be the ultimate decision recommender. To find out who is the actual decision maker, we ask who will be signing our agreement or who will sign our checks each month. This extra question almost always uncovers the identity of the true decision maker and then they need to be included in every step of your sales process.
Question 2 – How big a priority is this initiative? If you don't move forward, what are the business consequences?
It's important to know where this initiative ranks with everything else going on at your prospect's business. It's also important to get your prospect thinking about the consequences of NOT doing something.
When it comes to not doing anything, you might have to encourage them to talk about what those consequences could look like. Losing ground to competition, missing revenue projections, having to downsize their teams or missing other financial milestones are all consequences of NOT getting their marketing and sales moving forward productively.
The consequences does wonders competing against your toughest competitor, "doing nothing." It's actually the safest option. It doesn't cost anything and doesn't require anyone to do anything. However, it does mean nothing's going to change either.
If the revenue initiative is not the top priority that might be a signal to your team that the company might be premature in their search for a new agency. You might want to suggest that they re-engage with you when this becomes the top priority.
If you want to continue to pursue the opportunity, knowing it's not the top priority allows you to better forecast for your own revenue projections. Instead of projecting the new client might start this month, push that back 60 or even 90 days because they are not likely to move quickly if it's not their top priority.
Question 3 – How will you measure if this is successful after 90 days? If it's successful would you be willing to be an advocate for our agency?
Setting expectations and understanding how you'll be measured is critical during the sales process. If your new prospect is expecting 1,000 leads in 90 days when today they get 10 a month, this is good to know.
Negotiating business outcomes and settling on a definition of success is one of the most important parts of getting an engagement off on the right foot and maintaining a healthy relationship with your clients.
There is also a direct relationship between investment and results. The more they spend, the more you can do and the better the results. Prospects and clients need to understand that connection.
Agreeing on the expected results and the timeline around those results is key to onboarding clients and aligning their investment with their expectations. If that can't be agreed to in the sales process, you should consider moving on to other opportunities.
Question 4 – Have you worked with an agency before? In what capacity? How did it go? How did it end? If badly, what happened and what could have been done differently?
Today, a lot of companies have a tendency to hop around from agency to agency. The reasons for their wanting to move around frequently are important to you limiting the movement of clients. You want clients who are going to be with you for years, not months.
Understanding what they didn't like or what they thought wasn't great about their old agency is important. If you don't think you can do better, consider other opportunities.
Sometimes clients are just difficult. Their previous agency might have been fine and the prospect could be the issue. You want to try and uncover this as quickly as possible.
Question 5 – What is your budget?
This isn't exactly a secret question, but it's a challenging question. In a lot of cases, prospects don't want to tell you their budget or they don't have a budget. But these answers are not good enough.
You have to push harder in this area. What did you expect to spend on marketing? This is another way to ask the same question. While they might not have a budget, they definitely have some idea of what they're thinking or what they're prepared to pay for marketing services.
Part of this uncovers how much they value marketing. Someone who says they expect to spend about $1,000 a month clearly doesn't value marketing the way they should.
This question is one that should be asked very early on in your sales process to prevent you from spending too much time with someone who doesn't value marketing, someone who has misaligned expectations as it relates to their investment and who is simply looking for the cheapest option.
These are all major warning signs that should encourage you to move on quickly.
Question 6 – How did we do?
This is a question we're getting much better at asking clients during an engagement at Square 2. How are we doing is a question I'm encouraging the client services team to ask clients frequently. Because of this we're not starting that motion during the sales process.
After each of our sales meetings we want to start to model that idea of continuous improvement. How are we doing? What could we do better? We want to work closely with you to get better and exceed your expectations.
At the end of our sales process we ask it again and have found that those prospects who tell us you did very well, end up choosing us to work with them. It shows we care, and it sets them up for a positive and collaborate relationship with us when we get started.
We ask a lot of questions during our sales process and we do it by design. The more questions we ask, the better we get to know the prospect. The more questions we ask, the more tailored the recommendations. The more questions we ask, the safer our prospects feel with our team. The more questions we ask, the smarter we seem and the more questions we ask, the more it looks like we care about them, their business and their goals.
If you're jumping from initial call to proposal development, you don't know enough about your new prospect to provide them a valuable set of recommendations and that will become clear to a savvy decision maker.
The more questions you ask, the better your chances to get the deal.
Need help closing more new business? The Operations Manual and Playbook for Agency Growth has an entire section and a video dedicated to Agency Sales.
Start Today Tip – In previous articles, I've talked extensively about designing your sales process. The questions are a key part of that process and having some strategic questions like the ones identified here can be the core of your new, more strategic sales process. If you're not asking these questions start and notice the response you get from your prospects. I'm sure you can come up with other important questions as well and the combination can become a significant differentiator for your agency. This can improve your close rate and shorten your sales cycle—two very important metrics for any growing agency.
Agencies 2 Inbound – Helping You Grow Your Agency Beyond All Your Expectations!