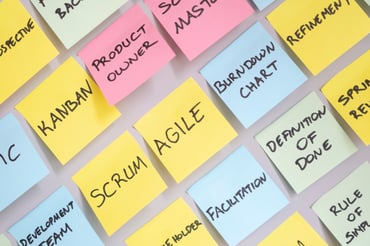 We started transforming Square 2 into an agile agency back in September of 2014. As one of the first agencies to adopt the Agile Methodology (back then there were only two other shops that I was aware of who ran agile), today we have buckets and buckets of experience making agile work.
Last week at HubSpot's Partner Day in Boston, being agile was again noted by a few of the presenting agencies as one of their "secrets" to success.
But the agile we practice is not even close to the agile we rolled out in September of 2014. Almost five years later, the way we use agile to service our clients has changed dramatically.
Here's what we learned and what we did to adapt agile to work at our agency.
The Traditional Team Model Didn't' Work
Most people know that Agile was originated in the software development industry. Instead of working on a product for years and getting it perfect, rapid and frequent product upgrades driven by user feedback allowed developers to get products to market faster and then iterate on those products based on user feedback. Thus, Agile was born.
But Agile was designed for the software developers. When marketers and agencies got a hold of it, it needed to be tweaked.
For example, when we first started rolling it out, we realized we couldn't staff an entire team for every Hive. Your agency might be different, but we had four teams and only two designers, so putting a designer on each team was impossible.
We simply didn't have enough design work to keep a designer fully allocated on every team. We needed ½ a designer per team. Good to know and not a show stopper for sure, but how do you split a designer across two teams? Good question.
We also learned that generalists, people who could do a variety of work, was better than specialists. Again, back to the designer example. If they could also do some low-end HubSpot Work or some conversion rate optimization, the team worked more efficiently. However, we weren't set up like that.
Also, Agile recommends small teams. We found we needed larger teams. Both of these situations presented challenges that we needed to fix in order to make Agile work in a marketing agency.
The Sprints Were Too Short
As Agile recommends, we started with the standard 1-week Sprints. Planning the work in shorter bursts was fine but the clients often prevented the planned week to execute as expected.
You know how this goes, the client said they would provide feedback on their landing pages by Wednesday, so we planned to work on those changes Thursday, but when the client doesn't provide that feedback or had shifting priorities, there isn't additional work that can be planned and executed in that short window.
The clients play an active role in the Sprints that run at a software development company. The clients are not interested in being part of our agile processes, so the consultants must stand in to represent the clients. That's fine and works well, but it's not truly agile. It's Agency Agile.
We do get client feedback more frequently now, but without the client the pure Agile Methodology has to be adjusted again to fit the agency model.
The Planning Was A Burden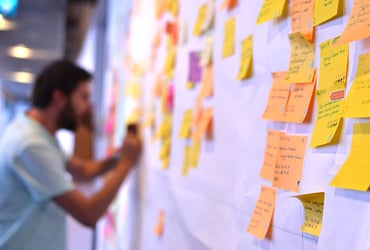 Every agency has to find a way to document the work to be delivered. Agile is not different. You use Cards to create the work tasks and those Cards are moved from Lane to Lane and person to person.
One of the benefits of Agile is there are clear definitions of how and when you can move Cards. This keeps the entire team on the same page. Everyone's expectations are clear and agreed on.
But the creation of these Cards was taking our Consultants too long. They were spending their days creating Cards instead of working with clients on their marketing,
Every week they would create Cards and load them into our project management system Jira. This was also a factor of the client load, which at the time might have been too heavy too. Remember this was almost five years ago.
Agile comes along with a fair amount of rituals and meetings. Cycling these weekly puts too heavy a burden on the team. In essence, it took them away from work too frequently. These meetings include Backlog Grooming, Retrospective, Sprint Planning, and weekly client planning/prioritization meetings. It was too much and too frequent.
The Retros Weren't As Effective As They Should Be
Speaking of Retrospectives, which are the meetings when you review the previous Sprint. What did we do well? What could we have done better? What do we have to do to make the next Sprint better? This was something I was most looking forward to. A team that kept working on getting better, week after week.
The reality was that these retrospectives were challenging. People sometimes used them to complain, which brought down everyone's morale, they were focused on the company (sometimes) and not the previous week's Sprint and most disappointing, they rarely fixed what was wrong, just kept bringing it up, week after week.
Don't get me wrong, there was a ton of value in those sessions too. People would identify issues from the previous Sprints and talking about what we did well is great after a long week.
But these were designed to be continuous improvement sessions and getting that value from every session was challenging.
I wasn't expecting everything to work perfectly right out of the box. Most processes rarely do, so over the past few years, we've been adjusting Agile to work in our agency.
Here's what we did about it.
We Use A Shared Team Model
We quickly adjusted to a shared team model. We found a way for our designers to attend both of their team meetings in a way that was both productive and collaborative for everyone involved.
We had similar situations with a handful of other roles and applied the same approach there. Basically, if people are on more than one team, they switch back and forth on the less frequent meetings and we staggered the daily huddles so that they could spend 15 minutes with one team and then 15 minutes with the other team.
These adjustments were simple but effective in allowing us to share resources across teams. Our Project Managers or Scrum Masters also worked in slightly different ways to make sure that they understood the work requirements from each team and that shared team members were not over allocated.
On the flip side, this allowed us to highly optimize our team and push our allocation and billable numbers up and to the right. This contributes to highly effective team members and highly profitable engagements.
We Transitioned To Kanban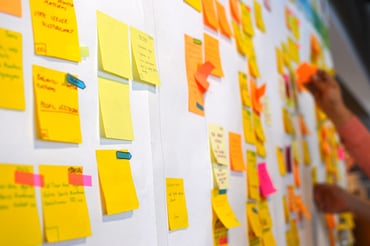 The weekly Sprints were challenging as I mentioned above. The clients were one of the biggest impediments to success when it comes to sprinting weekly. We then moved to two-week Sprints, also acceptable within the Scrum configuration.
After more challenges, we moved to Kanban. Kanban allows you to plan in 30-day chunks and allows you to plan a more flexible set of agreed on work.
This allows team members to revisit the set of agreed on work and pull work out as needed. Now when a client delays or a project gets reprioritized there is enough work in the 30-day Sprint for the team to keep pushing other projects forward.
This also aligned with our we work with clients. Doing 90-day strategic planning and then breaking that down into three 30-day sprints. It makes sense for the client and for our team to work like this and allows us to plan resources in larger chunks too.
We Lean On PMs To Handle The Planning
One resource I see missing in most agencies is the role of Project Manager. At Square 2, we have two project managers who are both Agile Certified. They get the 30-day plans from each of our consultants for every single client and they build the plans into our new project management software, Accello.
This means our Consultants aren't spending their time building plans, they're spending their time working with clients on their marketing, sales and revenue generation. This means our PMs are spending their time building the plans in our PM software, assigning tasks to other team members and then actively managing the projects to make sure they are on time, at or under budget and everyone has what they need to be efficient during the month.
This runs very well for us.
We Run Less Frequent Retros But Make Them Action Oriented
When it comes to Retrospectives, they are critical but we needed to make some adjustments to the frequency, the expected outcomes and the way those meetings are run.
Today we do company-wide retrospectives every month. Teams do still meet more frequently but that's just to make sure there are no critical impediments to delivering their work. The company retrospectives are run by senior leaders and tightly managed to have a focus on the original agenda.
What did we do well over the past 30 days? Those items are logged and discussed at the beginning of every session. Agencies tend to focus on the handful of clients who are unhappy when most of the clients are very happy. This gives everyone an opportunity to reflect on the successes and what we did well. What we did that went so well and then make sure we do more of it.
What didn't we do so well? It's important to focus on this conversation. This is not about the overall agency, but about the delivery experiences from the past 30 days. What parts of our process over the past 30 days didn't work as well as expected? Why not? We collect these issues and make sure these are not isolated instances or anomalies in delivery.
Once identified the team spends the rest of the time talking about what can be done to correct those issues, who is going to be working on it, expected outcomes and timing.
These tasks are then assigned to individuals and part of their upcoming Sprint. This ensures we always have people working to improve how we deliver, to improve the client experience, and improve our ability to get clients better results. Assigning people to work on this and giving them the time to do this work was a big change we made to the retrospective component of Agile.
Your key takeaway from this article is that the agency business is constantly changing. What worked last week might not work this week. Your ability to quickly adjust your agency's delivery model is key to providing services at a high level, getting clients results and doing it profitably.
When you're talking to other agency owners or listening to agency owners present on how they deliver, keep in mind that you're only hearing about the positives. Rarely are agency owners sharing the negatives or challenges associated with their delivery experiences.
Every agency is different, every agency is unique. Your job as owners, CEOs and leaders is to listen intently on what others are doing and then take those elements that you think are going to work for you, blend those elements into your own recipe and (this is the most important) iterate on your processes until you get it working well for you and your team.
Agile is no different. How we do it is different than other agencies. How you do it SHOULD be different.
If you're looking for more information on agile and how you can use it to drive efficiencies, increase profitability and give your clients a better experience, consider the Operations Manual and Playbook for Agency Growth. This includes a section on Agile, with an accompanying video segment. In it, I go over in much more detail how we use agile, how we adapted agile and the benefits that came from moving all in on agile marketing delivery.
Over 20 agencies have downloaded and used these tools, you're missing out if you don't have this tool kit.
Need more direct support, in July, we'll be launching an Advanced Agency Cohort that has two entirely dedicated sessions to Agile, and Points Based Pricing. If you're interested in the Advanced Cohort, click here to see if you're agency qualifies.
Overall, agile marketing has transformed our agency and others like it. Today we have happier team members, happier clients, more profitable engagements and a much more efficient team.
Start Today Tip – Moving to agile isn't something you do over a weekend. It's going to take a couple of months to change your processes, change your systems and train your team members. The smaller you are, the easier that entire process becomes. If you think you're too small or don't need this, think again. If you want help, let me know. While I'm not an Agile expert, I know people who are and even Square 2 hired a consultant to help us with the transition. I'm happy to refer you to one of them. If you can afford it, they'll take a lot of the heavy lifting off of your plate and I highly recommend it. Make the decision first. Are you all in on Agile? The changes, execution, and benefits are quick to follow.
Agencies 2 Inbound – Helping You Grow Your Agency Beyond All Your Expectations!