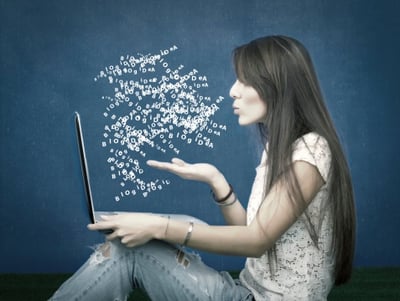 Did you know not all inbound marketing agency blogging is created equal?
Have you already figured out that it's difficult to make money and I mean real money blogging? Are you charging your clients what it's costing you plus margin to produce all their blog articles?
Unless you're charging your clients $1,000 per blog you're either losing money, not making enough money or looking at your blog as a loss leader while you make more margin on your other services.
Break it down. How long does it take to produce a high quality blog that's search engine optimized and optimized for social too? Remember, it's not just the writing.
Your blog costs have to include the research, the first draft, the revisions the client provided, the handling and strategy contribution your marketing consultant puts into it, the posting, the image selection, the formatting, the QA for all the HubSpot criteria and that's for a 600-word article. What about the 2,000-word article?
So are we looking at 2 hours, 4 hours, 6 hours or more when you look at all your time? If you're hourly rate is $150 an hour, are you charging clients $300, $600 or $900 for every blog article? If you're not, you're losing money at the worst and at the best cutting into your profit margin goals.
But who's going to pay $900 for every blog article? Instead here are a couple of clever ways to blend your blogging rate and present a more reasonable package of blog articles to your clients. One that allow you to make money and deliver as many blog articles as you need to drive results for your clients.
Regular Blog Articles
Nothing fancy here, all inbound marketing blog services need the standard 600 to 800 blog articles. In fact, these probably make up about 50% of the total blog articles most clients are going to need. Keep in mind every client, every industry and every company will need to have their blogging strategy adjusted accordingly, but this type of blog article is very straight forward.
Curated Blog Articles
One of the biggest challenges of blogging is that clients spend a lot of time reading, editing, adding, subtracting, obsessing over the 600-word blog article. All this back and forth quickly elevates the costs associated with blogging without impacting the potential results from blogging. We have no problem spending more time if the results get lifted too, but changing a few words rarely drives better results.
To limit this, try taking blog articles from other long form content. First, this content has already been reviewed and approved by client so there is no need to review or approve these blog articles. EBooks can contribute eight to 10 original blog articles. Whitepapers three to five original blog articles. Curating these from other content could take as little as 20 minutes.
If you like this idea, it gets even better. By publishing curated blog articles from original long form content, you can promote that content in the CTA within the curated blog. Now you've connected your blog article strategy with your long form content strategy in a well-orchestrated way. This connection is one of the keys to getting inbound to work and work efficiently.
Client Created Blog Articles
Most clients think they have the ability, desire and talent to write some of their own articles. In some cases, they do. In other cases, not so much. But you can empower your clients to contribute their own articles if you wrap support services around them.
Your goal is to publish high quality, SEO optimized blog articles it doesn't matter who writes them. Clients who want to write need to get the strategy and guidance they need and then you need to provide the optimization, editing and publishing support they need to participate in the blogging efforts.
Again, this type of support requires a lot less time allowing you to improve your profits on blogging efforts. It also allows the client to participate, improve their own skills, learn how to create blogs that rank and feel collaborative with your team.
Long Form Blog Articles
There are people who think longer blog articles produce better results. Unfortunately, longer blog articles cost clients more money. The good news is even the most novice client understands that longer articles take more time and should cost more. But what if your 2,000-word blog article takes 10 hours to research, write and publish. Is $1,500 a fair price? It might be if it ranks and drives visitors.
Take an experimental approach to this type of blog. I've seen some clients benefit from it and others not so much. Don't think that every client needs long blog articles. If they produce, do more. If they don't why spend the client's budget when one of the shorter article formats works just as well.
Updated Blog Articles
HubSpot started testing the concept of republishing updated high performing blog articles as a way to impact results with minimal effort. Their tests were productive and we've seen similar performance on our site and the sites of our clients.
Again, this effort takes a lot less time compared to creating an original article yet it produces dramatic results. One single blog article on our site has generated over 30,000 views over the course of the last 12 months.
Once you start blending your blogging efforts, producing some that take longer and some that take less time you end up with a portfolio of blogging services that can be configured to meet your client's program goals, budget and expected performance objectives.
More importantly now inbound marketing agencies can charge a fair price for blogs and be able to make an appropriate margin on this blended package of services.
Start Today Tip – You need to know your profit margin on individual services. Make sure your financial and project management system can produce this type of data. If you're planning on adding new blogging services, add these to your system. Help your client understand the value of blogging and the value associated with the different types of blog article. Then make sure you have the testing protocol necessary to evaluate blog performance and configure your client's services based on data and over time. This is one way to improve the profitability of your agency and the results you get for your clients.
Agencies 2 Inbound – Helping You Go ALL IN ON Inbound!