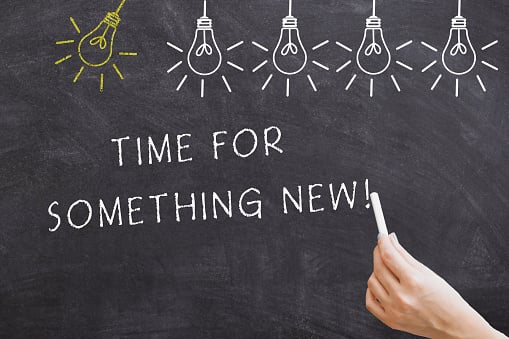 Every few years write a similar article on the new services that agency owners should be considering. This might be a little overdue.
I don't want to scare anyone but if you look out far enough, you might see a world where content, emails, and even websites are built by bots and automation tools. If that future has even a remote possibility of coming true, then what services would a digital agency deliver?
When you're playing a lot of defense, it's hard to devote the time to create look ahead and make sure the agency is positioned for the future. It's hard to do the research and talk to enough people to help inform your decisions around vision and new services the agency should be considering.
But it has to happen. Hopefully, you'll find a little inspiration and a little motivation to push your vision based on the ideas I share here.
Sales Enablement
I've talked about sales enablement, sales operations, and sales execution services before. This isn't new news here.
This is worth reviewing again. What exactly is included in sales enablement services? Where does this stop and where does sales coaching start? How far do we take these services? Should we be calling prospects? There is a lot to unpack here.
For us, sales enablement is probably better described as sales operations. Those services that help sales execute better as a team.
Services in this category include; sales process redesign, sales emails, sales workflows designed to nurture leads, lead scoring models, sales dashboards, content for sales, and of course setting up the sales technology like CRM.
This category of services might also training. When you're rolling out a new CRM, sales reps need to be trained.
I think its important to draw a line and talk about what's NOT included. Sales rep coaching on traditional sales skills like objection handling or closing. We're not sales rep coaches and there are plenty of quality sales coaching companies out there.
Many companies need a lot of help with sales enablement as we defined it here. This is an area that you can expand into if you're not already there. This is also an area where far fewer agencies provide services.
Marketing Ops
We've been providing MOPS (marketing operations) services to our Marketo clients for years. Just like above, these services include making adjustments to their marketing automation platform, fixing it when it breaks, adding new elements to it as part of new campaign launches or optimizations that need to be installed.
Reporting, dashboards, technical syncs, and integration adjustments are also included in MOPS work.
It's highly profitable, largely ongoing work that clients don't want to do on their own.
What's interesting is that this type of work has always been relegated to Salesforce, Marketo, Pardot, and Eloqua clients but now we see more and more HubSpot clients needing similar services.
It's not surprising. As HubSpot has made its product more configurable, client instances have become more complex and in need of MOPS support.
As HubSpot moves upstream and gets more and more clients with more complex technical requirements, MOPS work is going to become more and more common for HubSpot agencies.
Data Services
Just a few years ago, when we asked prospects to tell us about their prospect databases, we dismissed almost all of their comments around poor quality, incomplete records, or lack of segmentation. Today, almost every client gets a data workshop to kick off their engagement.
In this workshop, we go deep into their data. What's missing and why? Where did the data come from? How old is it? How accurate? Is the company and contact data connected? Has segmentation been done and to what level? Are they using any supplemental data?
Why bother with all this data stuff? The short answer is everything we do spins off this data and if it's bad, incomplete, or outdated we need to act to correct it early in our engagement.
Going forward data is going to be even more important.
If you start working on ABM campaigns then using intent data and building behavioral modeling based on off-site and on-site prospect signaling is going to rely on data at the core of these advanced lead generation and lead qualification services.
Having processes, systems, people, and technology to help your clients with their data issues are all going to help you position the agency to be prepared to handle 2021 challenges and put you in a position to charge for this work.
Just being able to talk about data from a process perspective is going to be a requirement. Clients are going to want to know how you help clean up and supplement their data, how you help leverage their data into lead scoring and lead qualification models. This is going to put you well ahead of most of the other agencies.
Migrations and Integrations
These services are going to be more and more important this year and for many years to come. HubSpot's ability to customize its database is going to open the door for larger, more complex and more significant migration and integration work for the agencies who want to do this type of work.
This work isn't going to be available at all of the partner agencies. Only a few will be interested or capable of delivering this type of work. Right off the bat you've improved your positioning against a big chunk of the HubSpot partner community.
HubSpot's new complexity means companies who would have not considered moving from Marketo to HubSpot or Salesforce to HubSpot are now looking into it.
Companies that would have passed on an integration project are now looking for help connecting HubSpot to Salesforce or HubSpot to their ERP system or their industry CMS to HubSpot for Marketing.
The different configuration options are fast expanding around HubSpot's new feature set and enterprise offerings.
This means you'll need systems, processes, and people that can do this type of work.
Square 2 recently revised almost all our workshops, playbooks and processes associated with defining requirements, documenting desired behaviors, evaluating technical requirements, and creating the instruction manual for migration or integration work.
We've been evaluating the people and the extended team members we work with and ensuring that we have people with data, migration and integration experience available to help our clients with this new set of challenges.
This work is much less competitive. There just aren't enough people who do this work and do it well. It's usually highly profitable because it's not as competitive. It almost always leads to additional work because it uncovers issues.
More importantly, once you know the inner working of a client's tech stack and marketing operations requirements, its easy to continue talking about traditional marketing services, campaign support, or sales enablement upgrades.
For example, by cleaning up a client's CRM, creating new workflows and building the right dashboards we uncovered a large build-up of sales qualified leads that were being ignored by both sales and marketing.
By working with the client to make necessary sales process adjustments we helped them break open that blockage, triggering a huge flow of sales opportunities and new customers for the client.
The blend of technology, process, optimization, and data driven action planning is going to be key to helping clients with this advanced set of technical needs.
Onboarding and Training
It's no secret that HubSpot is using agencies to do onboarding and training. The better you get at providing these services the better your chance to provide ongoing marketing and sales services to the companies you're training.
Onboarding is probably a service you've already been providing when your clients select you to buy HubSpot from and use you instead of HubSpot for their onboarding. Now you need to productize this onboarding and offer it as a service.
This includes training as well. Most of us already do training for clients, whether it be training as part of our engagements or training as extra services. You'll want to package up and productize these services too.
I think every agency is going to need to look in the mirror and decide who they want to be and what services they want to offer. Being everything to everyone is like being nothing to anyone.
I'm not suggesting you provide all these services. I am suggesting that as the visionary for your agency you continually review what services you're offering, consider new services, test those services and make sure they align with the strategic direction of the agency.
Keep tabs on the future too. Eventually, some of the services you currently provide will be provided by AI-powered SaaS apps that your clients subscribe to. What happens to the agency then?
Make sure you're investing enough time thinking about the services you clients will want to buy from you five years from now?
Start Today Tip – You want to skate to where the puck is going to be, not where it is now. What services do you think your clients will want five years from now? Those are the services you should be testing today. It's easy to fall back on what's comfortable. It's hard to cut a new trail through the brush but you have to do the work to come out ahead. Migration and integration services. Data services. Complex behavioral profiling and lead scoring. These are all services only a handful of agencies provide. You have to start now. Develop the people, processes, and playbooks to deliver new services like these. That's the only way your agency will stay relevant and ahead of the curve.
Agencies 2 Inbound – Helping You Grow Your Agency Beyond Your Expectations