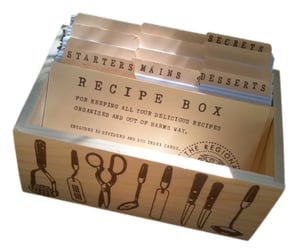 While inbound marketing is amazing, people aren't practicing inbound simply because it's what all the cool kids are doing. They're practicing because of the expected outcomes—leads and lots of them.
So if that's the case then ensuring you know how to deliver the results might actually be the most important part of inbound marketing. Inbound is a lot like cooking a gourmet meal. You create a menu or plan, follow a recipe, taste as you go, adjust accordingly, serve the meal and then do it all over again.
In fact, the first time you serve the meal it's not going to be as good as the 100th time you serve the meal. You're going to learn something every single time you make the meal and that influences how you prepare the meal the next time. This is one of the most important aspects of inbound.
Here's how you ensure you know the recipe for inbound marketing results and how you adjust the recipe over time.
Apply A Systems Approach To Everything
Start thinking like McDonalds. They have a playbook for every aspect of their business. Time to wash the windows? Pull out the Window Washing Playbook. Time to make the fries? Read the How to Cook French Fries Playbook. You need to think the same way about your business and everything your team does related to inbound.
At Square 2 Marketing, we have over 100 playbooks for all aspects of our engagement. We have playbooks for blogging, email marketing, lead nurturing, and every aspect of managing a client at Square 2 Marketing. Systematizing the way you deliver your engagements is a major milestone in your agency's ability to operationalize how you ensure your clients get results. In addition, this strips out waste, inefficiency and typically adds at least a point or two to your net profit calculation.
Teach Your Team How To Manage Process Improvements
It's one thing to set this up, it's another to get your team on board and have them own the process. You need people who are willing to work within the bounds of your process yet not be a slave to process. This balance is important and not always easy to communicate to your teams. Monitoring their ability to apply your process is important in the first few months so that your team knows how to adjust process when the results are short of expectations.
Modeling how to apply the adjustments goes a long way, so does encouraging them to work process improvements into their day to day. As long as they share those improvements with the entire team and those improvements become standard operating procedures your engagements should improve quickly. Assigning an owner to the playbooks also ensures that your documentation is updated as process changes.
Install A Testing Environment
If you only have a handful of engagements, then you don't have a choice, you have to run tests within your client engagements. I've been vocal about how important it is to have an inbound engagement running for your own agency, so that you test on your agency and not on clients, but the reality of time and money is most agencies are NOT running full inbound efforts on their own agencies. This means testing on clients is required.
If you have to test on clients, I'd suggest sharing that with the clients. Clients typically like being part of innovative strategies and any testing can certainly be positioned as an exciting opportunity to see what results we can create for you. With an understanding that it there's a potential for failure. Again, read my article about the positives of failing at inbound. If you position it properly and isolate the tests so they don't significantly impact results, you can test with your clients.
Share Successes AND Failures
One of the keys is quickly getting your successes operationalized, acting on your failures and turning insights into actionable adjustments. You're going to want to consider a variety of methods for sharing this type of information. You want group sharing, individual sharing, documentation and you want to foster ongoing conversations (online and offline) so that the team is constantly THINKING about how to improve your engagements. Try rewarding people when they create and share improvements that impact client' results.
Get Help Early
Since most agencies don't have a lot of inbound engagements there are ways to see what's working in other agencies and apply that thinking to what you're doing. Most of the agency owners in the inbound community are very open to sharing what works and what doesn't. There are also a variety inbound marketing agency consultants that would be more than happy to help you cut a few corners on your quest to solid, repeatable results for clients.
When it comes to agency consultants look for people how are deep experience with inbound. A lot of the general agency consults don't really understand the inbound model enough to dramatically impact your quest to profitability.
Unfortunately some of this just comes down to scale. If you have two or three inbound engagements then you'll get experiences, knowledge and improvements based on data from those three engagements. If you had 30 engagements, you'd be learning 10 times faster. This is one of the best reasons to go all in on inbound and get as many experiences as possible as fast as possible.
If you don't have enough inbound engagements to accelerate learning around inbound then consider supplementing that with a more deliverable approach. This might mean including your entire team in the engagement, creating more regular huddles and downloads to look at performance. While this might requires an investment in time, you'll find it well worth it long term.
Start Today Tip – Creating a culture of continuous learning and operational systems isn't easy for many creative firms. It takes a shift away from creative and moves towards stabilizing the ability to deliver results client after client. Start by getting your team on the same page. Explain to them how repeatable and scalable inbound marketing is and the change in thinking required to ensure clients get the results. Then start building the systems and processes required to capture and share key learning across your organization, make sure the mechanisms work to deliver this information on a weekly basis.
To see how we operationalize an inbound engagement consider working with a Cohort. A new cohort is launching on June 18th and it's filling up fast. To join, click the button below.
Agencies 2 Inbound – Helping you GO ALL IN On Inbound