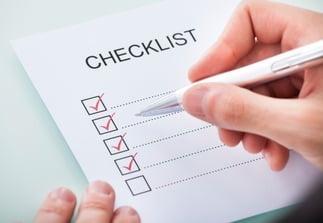 You went to Inbound15 this year and you've returned to your office all full of vim and vigor. You're finally ready to do it.
You're ready to go ALL IN on inbound and transform your entire agency into something that one day can be a Diamond Partner for HubSpot.
You wake up Monday, look in the mirror and say to yourself, "now what?" "I don't have the faintest idea how to start taking my company from (a ___________ agency--fill in the blank) to being a full inbound agency that's ready to compete with New Breed, Impact, Kuno and Square 2 Marketing."
Here's some good news. You don't have to compete with any of these companies. You just have to get out of your own way.
There are plenty of opportunities for your inbound marketing agency and you just need to be yourself. Here's more good news. If you do these six things included here you're on your way to being your own inbound agency, one you can be proud of and one your clients enjoy working with.
Step One – Leave Your Old Mind Set Behind
Transitioning to inbound is as much a mental exercise as a physical one. You need to be clear in your own head around what you're doing and your passion for doing it. I've seen really smart consultants struggle because they weren't bold enough in their advice to clients and I've seen not so smart consultants thrive because they spoke with confidence and their client's flourished.
You need to have your head on straight before you do anything for anyone. You won't be able to help your team. You won't be able to help your clients. You won't be able to help any of your partners if you don't have a clear vision, mission and path forward for your agency.
Dance like no one is watching and show everyone who's watching you that you're passionate about the new buyer behavior, passionate for inbound, passionate for your clients as they embrace inbound and passionate for your team that's now delivering inbound to all your clients.
Step Two – Start Doing Inbound Marketing For Your Own Agency
This always seems like a monumental challenge to inbound agency growth and I understand why, the cobbler's kids scenario almost always prevents our own agency from doing what we suggest our clients do. That has to change. When prospects are visiting your website, if they don't see today's best practices in play, how are they going to trust you to take care of them?
If they look you up on Twitter and you have 200 followers how are they going to feel about hiring you to help them with social media engagement. If you can't do inbound marketing for your own agency—you can't do it for anyone else's company either. This isn't an opinion, this is a fact.
More importantly, you don't want to be learning inbound marketing on your client's dime. It's just not right, honestly. Instead, you can test, experiment, trial and learn how to do inbound on your own agency without any risk and a lot of reward. Do this well and you're going to end up with a marketing machine that's driving inbound leads for your business. You might even end up with an dynamic inbound sales process that converts a lot of those leads into new clients for your agency. Either way, this seems like a major upgrade in a lot of the most important agency areas.
Step Three – Create An Exciting Mission For Your Agency
Your team needs a mission. They want to be excited about what you're doing and where you're going. Your clients want an agency that's on a mission. Think about it. Would you rather work with someone who is passionate, excited and driven or someone who is simply going through the motions?
If you're a website design shop, what's your mission? If you're a PR or branding agency, what's your mission? Now compare that to an agency on an inbound mission. Inbound agencies are typically about changing what's not working. Inbound agencies are carrying the ball around thought leadership in the marketing space. Inbound agencies that do inbound well are also putting compensation at risk because they know they're capable of delivering real lead generation results.
You need to step out on the ledge too and create a mission for your agency.
Step Four – Get The Right Team In Place
If you're transitioning from something traditional to inbound then you probably need some new people, new skill sets, and new experiences to deliver inbound marketing to your clients. You might also be looking at a new corporate structure, organizational plan or new roles that have never been needed at your agency before.
All of these transitional challenges are consistent for most agencies evolving to inbound agency structures. You're going to need to proactively manage this team transition. The good news is change gives you the opportunity to remove low end performers from the team and replace them with people who are more equipped to be do what you need to do and better aligned with your new mission.
Step Five – Set Achievable Goals and Track Your Progress Weekly
You don't have to do everything this week, but you do have to do everything. So setting goals and thinking through the entire transition as a long term plan with more frequent milestones or smaller goals is the correct way to think about this transition.
For instance if you made one small change each week, you could accomplish 52 smaller changes over the course of the year. How different would your agency look if you made 52 changes over the next 12 months? The answer is dramatically different and that's what you're going for here.
Step Six – Get Help
Finally, regardless of whether you just started your evolution into inbound or you've been working on this for the last few years, what you're doing is a very complicated exercise. Today more than ever there are people and resources to help make this effort less challenging.
You don't have to tackle this on your own and bringing in experts to help you with different parts of the process is smart and something you should be considering as part of your plan. Don't wait too long to bring in people who have done this before or have knowledge and experiences that are going to help you get to your goals faster.
You might feel like I write about this stuff a lot and I do. However, I do because I believe, deep down inside, that these are the major issues holding most of the agency owners I speak with back from realizing their own dreams. These might seem simple when you read about them, but I still see agency owners preventing their own progress with legacy thinking.
Moving to inbound doesn't take a rocket scientist, but it does take a leap of faith. If you truly believe that inbound is the future of marketing then starting on these six steps today should be at the top of your to-do list.
Start Today Tip – It might be the simplest tip I've every provided. Just jump in. I promise the water is fine and every other agency who has also jumped in has found that while the water might be chilly to start you quickly warm up, learn how to swim and once swimming—the experience is very rewarding. Yes, you are going to need to learn a few new tricks. Yes, there tasks you used to do might be different and yes, the experience you have to deliver you clients is definitely different you're going to have to get there eventually—your clients are going to demand it.
Agencies 2 Inbound - Helping You GO ALL IN On Inbound!