Everyone At Square 2 Is Working From Home
Last Wednesday I sent this chat to our team: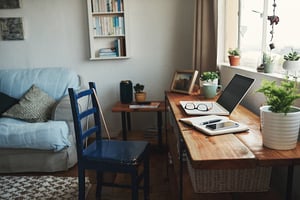 Square 2 Team Members, I understand this is an uncertain time for all of us. We are in uncharted waters. I think it makes sense to be proactive instead of reactive and I want our family and our extended families to be as safe as possible.
So, I'm asking the Philadelphia office folks to work from home for the rest of this week and all next week too. We'll suspend any travel to client sites for the time being as well. Our company is well-positioned to work remotely. We've been working like this for the past few years, so all meetings will go on as planned via Zoom.
Since the situation is changing daily, we'll reassess toward the end of next week and I'll share the next steps as they become clearer. If you have any questions or concerns, please drop me a line. I'd be happy to discuss it with you.
Two days later, the entire County where the office is located and where most of us live went into lock down. A few days after that most of the Philadelphia Tri-State area went into a similar lock down. The only places open are grocery stores, gas stations, and pharmacies in addition to hospitals and urgent care clinics of course.
I wish I could say I saw it coming, but I was just trying to think about the health of our team and their families.
This isn't a big deal for us. We've been distributed (remotely) for the past seven years. The first few years were bumpy, but we're fully equipped to work like this for an unlimited amount of time.
If you're going remote for the first time, here are some secrets we learned over the past seven years.
Try NOT To Change How You Work
You might change how you talk to your team and your clients. You might change how you meet with your team and your clients. But DON'T change how you work with your team and your clients. Any process you've established should be good to go, remote or not remote.
What you do need to consider is how to move those interactions into a new environment.
Here's an example: If you have a daily stand up, keep having it, but use video and chat to make the meeting run efficiently even though everyone is remote.
If you have a company meeting once a week or once a month, keep having it, but create a tight agenda, send it out in advance, test your systems to make sure everyone can hear and see you on your video conference tools, and have the same meeting.
If your client services crew gets together weekly to talk about issues and clients, run the same meeting, but do it remotely via video.
Remote meetings do require a different discipline. The agendas need to be tight, people need to know how to be heard, documents need to be shared, and you might even have to stop and ask certain quiet people if they have anything to add. However, you can do it and it won't take long before you're remote video meetings are just as good as your in-person meetings.
Set Up Regular Meetings And Use Video
A lot of agencies are run by putting out fires. Every day the team gets together and decides how to tackle the work and put out the fires. That's not how you run an agency, but that's an article for another day.
If you do have an agency where you stroll into the office and say, "Let's meet in the conference room," you might have to change your approach.
Companies are just like people and we all run better when we have rhythms that we can lean into. People often get up at the same time, eat at the same time, and go to bed at the same time. We all feel better when our lives run smoothly.
Your company needs rhythms too. We huddle each morning at 9 AM. We have a company meeting every week at 12 Noon ET on Friday. I sit down with our COO on Monday afternoon at 3 PM and go through every single revenue opportunity with new and existing clients. There are regular meetings like this all week at Square 2. Everyone gets comfortable and they know what to expect and when. It works.
Now you're running these rhythmic meetings with video. Everyone turns on their camera. Everyone shows up on time. Everyone participates. Everyone adds value. If there are documents to share, they get shared in the application. It might take some getting used to, but it works.
Stay Connected To Everyone With Video
Video gives you, the agency owner, an excellent opportunity to stay close to your people. Of course, there are some standard best practices. When I want to talk to someone on video, I ping them on chat and ask if they are available.
Our chat tool gives us an indication if people are on the platform, off the platform, in a video meeting or free to talk. If I see people are busy, I shoot them a chat and ask them to call me when they are free. If it's early on the east coast and I need to talk with someone on the west coast, I ask them to connect with me when they start their day.
I do recommend you set some boundaries when it comes to your team's use of video.
What do you expect them to be wearing? I've seen people wearing baseball hats on video. We don't allow that. I had two team members on a video call with a prospect last week and because the prospect wore suits, they had their suits on. Our team always matches the attire of our clients and prospects, even when we're on video.
A lot of people have kids home now that schools are closed. Make it clear how you want your people to deal with their children. When our team members are home and their kids are home, they are supposed to be looked after by someone else. When our people are working, they should be working, not taking care of their kids.
The same goes for pets, especially dogs. I have a dog and I understand how cute they are and how much we all love our dogs. But my team shouldn't be stopping a call to deal with a barking dog. If you have a call with your team or with a client, make sure the dog is in a separate room.
Set these expectations early and make sure you reinforce them. This means talking seriously to people who are not abiding by your expectations.
Set Expectations With Clients Early
Expectations are important for clients too. Let them know, confidently, that you work remotely with all your clients. Now more than ever, people will be OK and maybe even excited to see what that feels like.
Send them agendas in advance and make sure those pre-meeting notes include a link to get into the video meeting.
If this is the first time your clients have used video conferencing, ask them to come a little early. No matter how you set it up, it's inevitable that there might be issues. This might mean you can't hear them, they can't hear you, the video isn't working right. Testing it makes everyone feel better.
Turn your camera on and encourage your clients to turn theirs on too. When they don't it's not a video meeting, but rather it's just a call. You want to see your clients faces. You want to see their facial expressions and even how they interact with each other.
Some people are uncomfortable with video but once they see how easy, informative and helpful it is, they all love it.
Lean Into Chat Too
Working remotely demands more than video. One of the reasons we love Zoom is it includes video and chat, chat rooms, and messaging capabilities. It is one platform that has everything we need to run our agency remotely.
Chat dramatically reduces the amount of email we get and it's wonderful. Conversations that used to be in long email chains, now run in simple chat conversations that everyone can see and participate in as needed.
We set chat rooms up for clients, we set chat rooms up for projects that need collaboration, we have departmental chat rooms and we have chat groups for the entire company, individual teams, and even office locations.
Chat has streamlined our communication dramatically over the past few years.
I do make an extra effort to use chat to check in on team members. I also try hard to make my chat interactions with team members friendly. I can be very direct, but I almost always start chat conversations with "How are you doing? How is your family? How was your weekend?"
I had a team member who was sick last week, and I checked in on him every day until he was feeling better. Honestly, I'm not sure I would have had that interaction with him if he worked in the office with me.
Chat doesn't have to be impersonal or cold. It can be friendly, encouraging, and collaborative if you make the effort.
Give Your Team YOUR Equipment
I get asked this question a lot. Should we give remote team members our equipment or should they use their own? Specifically, I'm talking about laptops or desktop computers. I want our people to use our stuff. That ensures I know what's on the machines, what shouldn't be on the machines and what they use those machines for.
When it comes to other devices like smartphones or iPad, those are on our team. While I do give them a stipend each month for office supplies, internet and the use of their cell phones (clients get everyone's cell phone numbers for access), using their own smartphone has always been perfectly fine.
I know this is an expense, but it's one worth investing in. This eliminates any complaints about not having the right software, not having the right tools, and not having the right computing power.
We outsource our entire IT support to a company who sets up laptops with our specced configuration and sends them out to new team members. If team members leave, those laptops are returned to us 100% of the time. Sometimes we send old ones out again after they've been reconfigured, other times we sell them back and purchase new ones. It works well.
Set Up A Virtual Environment
This might seem obvious and I'm not going to spend a lot of time on this, but consider using a virtual tool kit like Google Apps. We use the full suite of Google products, including Google Drive where everyone remotely logs in to find files, assets, client work, etc.
Gmail and Google Calendar both work well with the other Google Apps we use as our tool kit. The cost here is also extremely low and worth every penny.
Know Your Numbers
There is a tricky aspect of having your team working remotely. As a guy who has spent all of his career going to an office, it was hard for me to not have my team in my office.
However, with access to data, some of that concern around "What are they doing all day?" did go away. We track time, we track productivity, we track allocation and billable hours. By actively tracking this data it's very clear if anyone is not working hard, not working enough hours, or not working productively.
This insight means I don't have to worry about what people are doing all day. I have visibility into it and my leadership team also has visibility into it. This visibility is not optional. You MUST have it.
It's a tricky time for our agencies. It's also a tricky time for all our team members and their families. Our clients are also in a precarious time too. The more empathetic we can all be, the easier it's going to be for everyone.
This article isn't really about our clients, but this is a time when staying in close contact with your clients is critically important. First, you should be proactive.
You need to be proactive around helping clients with their challenges. They might have trade shows canceled so you can help them supplement the leads they expected from those shows with additional digital campaigns. They might have a heavy reliance on in-person sales meetings. You can help them move those meetings to video.
They might be considering cutting marketing investment and you must be there to guide them to make a smarter decision.
In fact, this might be the best time to double down on digital and ramp up more online lead generation.
If you're proactive with your team and with your clients, you'll have a better chance to navigate the choppy waters we're in now.
Start Today Tip – Focusing on your agency team and agency operations should be your top priority. Make sure your crew has the tools they need to do their best work even if they're not in the office. Make sure what's expected of them now that they're no longer coming into work every day. Make sure you have what you need to keep track of them, communicate with them, and keep them calm over the next few weeks. If you can do this, your team will be better equipped to take care of your clients too. Any investment you must make in tools is going to be one that will continue to pay off long after this short-term situation ends. Don't worry about those costs. You will see certain efficiencies come back to you when people can start working first thing in the morning without having to commute and then again later at night because they have more flexible access to files and your software suite. Again, this is going to be short term. Be strong and lead your team through this with confidence, a solid plan and a proactive approach with your clients.
Agencies 2 Inbound – Helping You Grow Well Beyond Your Expectations!