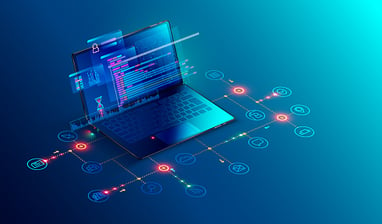 We first met HubSpot back in 2009. At the time, I pledged to Pete Caputa, that Square 2 would be HubSpot's best partner. Almost 10 years later, we get a lucrative commission check every quarter from HubSpot and every quarter I look back 10 years and kick myself for not pursuing similar deals with other technology partners.
While I can't go back in time and do it differently, I can try to look forward today at who might be the new HubSpot over the next ten years and make sure we have partnership agreements and an operational model that helps these new companies the same way we helped HubSpot over the past 10 years.
Before we dig into the new shiny software stars of this year and the next few years, let's take a break and look at the trends aligned with why we even want to have a technology angle at our agency.
Technology Is Getting More Prevalent And More Complex
At Square 2, I always want to be planning and in turn offering clients solutions that sell into a trend. As an example, is marketing and sales software becoming more critical to success or less? More critical.
Are there more marketing and sales software options coming out over the next few years or less? More, today there are over 7,000 martech and salestech options.
Are clients buying more marketing and sales software or less? More. Even smaller clients are adding lightweight SaaS products to their tech stacks.
Are clients having an easier time or a more challenging time building their tech stacks, evaluating technology options and integrating technology tools together? A much harder time. They don't know how to select, how to buy and how to integrate these tools together.
The answers to all these questions are obviously supportive of driving a technology focus within your agency, not to mention the revenue generation opportunities for passive income from technology sales through a partner program.
With the trend in our favor, you're going to want to look for technology partners today that you can start with now and grow into strong and lucrative relationships like we have with HubSpot.
Who Are Some Potential HubSpots?
Drift - If you follow the Drift storyline then you know these are guys who created Proformable, were then acquired by HubSpot and then left to start a new company. This time they're determined to NOT sell and build out their own place in the martech ecosystem.
What I love about Drift is they are practicing some of what I loved about HubSpot back in the day. In addition to selling and marketing software, they also created a methodology to use as a platform for the software. Conversational Marketing is what Inbound Marketing used to be.
This is an approach or methodology designed to help you deploy Drift in a strategic way. Eliminate the forms, make the prospect experience easier, connect with people the way they want to connect with you and shorten the sales cycle by putting salespeople and prospects together, in conversation, as soon as possible in their buyer journey. It all makes way too much sense.
Their product is excellent and while they didn't create the category (there have been chat software tools on the market for years before Drift came along), they did marry the software with the methodology and wrap a lot of operational ideas into their software.
If you are looking for a solid bet, Drift is at the top of the list. Start offering your clients chat related services for both marketing and sales, paired with Drift software and you'll have a compelling offering right out of the gate.
Also, when it comes to getting clients results fast, adding Drift to client sites with over 5,000 visitors a month is an immediate way to get clients qualified leads directly from their site without needing investment in additional content or any website optimization work.
Conversica - We're getting brought into more and more sales enablement, sales operations and sales consulting engagements. Today we're probably doing sales related work for roughly half our clients. It took a few years for this side of the business to pick up, but we're seeing that in 2019 and I expect this to continue to move up and to the right in future years.
Getting sales teams to do anything new is like herding cats so any technology that makes it easier for them to execute the new playbooks are going to be at the top of my list and Conversica is one of those tools.
Conversica gives salespeople an AI-powered assistant to handle all that related follow up associated with making sure prospects get a high touch, highly personalized experience with your sales team. It allows you to map out the experience and the scale it quickly and efficiently.
When today's buyer journey might require upwards of 20 sales touches to move a prospect through their buyer journey, automating this while delivering a highly personalized experience is key. This tool allows you to rest assured that everyone is getting the touches they need without worrying about execution from a diverse set of sales reps.
Again, build this into your sales operations engagement as you teach your client services people to recommend automation when they build out the sales outreach program for your clients. Combining the software and the services shows your client the relationship between the two and highlights the business results using software can deliver when its part of a bigger program.
Databox - In the pecking order, analytics is a top-four issue. How do we track the performance of our marketing and sales execution? How do we look at data from different systems so we can make knowledgeable decisions? How can we analyze what's working and what's not working so well?
While most of these products do provide some level of reporting, it's very likely that you're going to need more. Dashboard products like Databox make presenting data, analyzing data and using data to make decisions much easier for agencies and clients alike.
This product isn't going to make you rich. The partner program allows you to buy these subscriptions at low rates and then resell them to your clients but at roughly $100 a month per client. The extra revenue isn't going to compare to the HubSpot Partner Program.
However, there are other hidden benefits of embracing a tool like Databox. First, there are efficiencies from setting up standard client dashboards with standard data feeds and teaching your team how to analyze those results.
Second, there are developmental efficiencies delivered by having a product that's easy to configure and hook up to different systems allowing you to present data in a single dashboard view.
Finally, knowing what to do based on the data becomes clearer when you can see different perspectives associated with performance. I talk to a lot of agencies who have access to data but aren't as clear as they need to be around what the data is telling them they need to do.
MaxG - Speaking of knowing what to do, that's getting much easier. MaxG, an AI powered insight and recommendations engine will look at your HubSpot analytics and tell you what to do to drive improved program performance.
Now you can put more inexperienced team members on your client engagements, drive up your profitability and not have to worry about clients not getting insightful recommendations or results from your programs.
MaxG has a similar style Partner Program to Databox. As an agency, you get a free subscription and you get discounted rates to add clients onto the platform. It's easy to pass this cost along to your clients or market it up to make additional revenue. You can see their new Agency Partner Program by clicking here.
But the secret comes in how you use MaxG to get better results for your clients. MaxG gives you daily recommendations on how to improve your blogging efforts, CTA performance, landing page performance, email marketing campaign performance and more.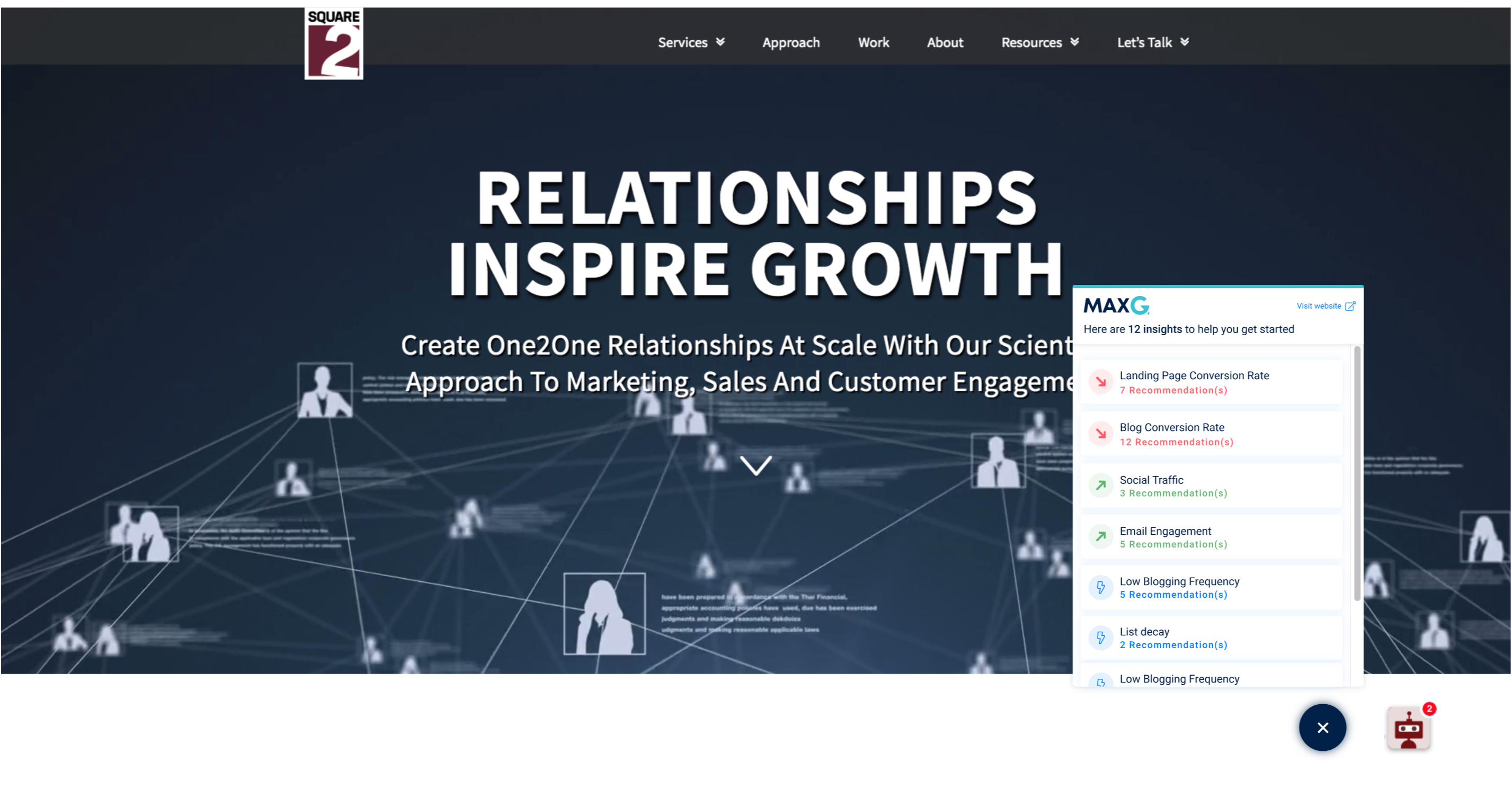 They're about to announce a Chrome Plugin that will show you on each page of your client's websites what you should be doing to improve performance. This is an exciting upgrade that makes using MaxG easy for any of your agency team members.
MaxG is going to improve client satisfaction by allowing your team to get clients better results in less time and it's going to limit the amount of training you need to do. MaxG is actually going to teach your consultants how to be smarter and more effective in driving results for your clients. It's a big WIN-WIN!
Seventh Sense - Email marketing remains one of the staples of most company's marketing efforts. Regardless of what other tactics are on the menu, email still enables you to quickly and affordably touch a ton of prospects.
It's not surprising that one of the tech tools I recommend helps you drive efficiencies with your email marketing campaigns.
Since almost all your clients are going to want to use and have ideas around email marketing campaigns, Seventh Sense can be one of those tools that you recommend to all your clients.
Email marketing is one of the areas that gets a lot less love than it deserves. Not because we're choosing to ignore it, but because it's hard to drive significant improvements around open rate and click through rate without a lot of heavy lifting, AB testing and campaign optimization.
Seventh Sense allows you to drive improved performance by using AI to decide WHEN to send out an email. Who says Tuesday at 10AM is the best time? Right now, that's when everyone is sending their emails.
Wouldn't it be better to have some intelligence that knows when a single person on your list opens their emails and then adjust your send timing to match their behavior? Of course, it would. Without doing any optimization, your open rate and click-through rates are going to increase.
This makes Seventh Sense a must have for your preferred software tech stack.
SnappApp - This is our second run through with SnappApp, a great conversion tool that allows you to build more interactive content items for your website and drive more leads from your client's investment in content marketing. The first time around, the tool was expensive for agencies to use but now it's FREE for HubSpot partner agencies.
If you're creating content and looking for more interactive content and conversion opportunities or if you have clients who are looking for improved conversion rates from their content or looking for more buyer journey specific content options, this is the software for you.
One way to leverage this tool is to look at middle and end of the buyer journey stages. Typically, people are more likely to provide additional contact information when the experience is more interactive. Graders, assessments, quizzes and other interactive tools allow you to collect a lot of data on prospects.
This data can be used for lead scoring, profiling the lead and proactively serving up content in context or even setting up a specific sales process based on the information you collect.
For example, we used SnappApp to launch a Content Grader. We asked a series of questions and provided prospects a "grade" on their use of content, along with recommendations to improve their content development, execution and optimization.
This became an excellent middle of the buyer journey offer that was only shelved because of the cost to use SnappApp in the previous iteration of their partner program. Now that SnappApp leadership has redesigned their partner program, we're going to bring that back.
Wistia - Video is one of the hottest marketing tools in the tool kit right now and there are several effective video platforms for you to consider weaving into existing agency operations. Vidyard and their tight integration with HubSpot is one of them but Wistia and their partner program does provide some additional options.
Wistia has a partner directory and partner tiers, just like HubSpot. Their tiers are based on the MRR you're managing through their product. With the tiers come an array of advantages as you move up the tiers.
Their support and training of their agency partners is very good, so if you're looking for some help with video services, delivery, pricing and an understanding of the differences between video products—they can help.
With over 7,000 martech and sales tech software options in play, you have to start somewhere. You can't be an expert with them all and more importantly, you can't operationalize them all inside your agency.
While I lament about not being more active with other software providers back in the day, focusing on HubSpot allowed us to really dig in, learn the tool and help clients when it came to implementation and optimization.
To make this work, your agency needs to be able to sell and provide services around any of the technology companies you plan to partner with. Everyone has to be ALL IN on the tools your agency is representing with clients.
Starting with a smaller list like this is going to allow you to tell compelling stories about the software in your sales process. Allow your team to be expert at just a few tools and then share that expertise with your clients.
But more importantly, when you bundle services around software you present business outcomes and the promise of business results which far outperforms simply selling software for the software companies.
As an example, over the past 10 years, we never sold a single HubSpot software license. We simply got clients excited to work with Square 2 and part of the engagement included them buying HubSpot. I want the other tools to work in a similar way.
We're going to generate these results and to do so, we need this tech stack. You should be thinking about your own technology solutions in a similar way.
---
We're launching a new Advanced Agency Cohort in JUNE. Interested in joining? Click the button above and select Advanced Agency Cohort from the drop down on the form. I'll reach out and discuss the curriculum and see if its right for you and your agency.
---
Start Today Tip – There are just too many technology tools to tackle them all at once. If technology is going to be part of how you serve your clients and it should be, then you'll need to identify a handful of key strategic technology partners and embrace those relationships. Build strong personal relationships with the companies you're starting out with. Then make sure you use the same tools. Eat your own dog food or as we say at Square 2, or practice what you preach. The more you use the tools, the better you'll be at helping clients with them. Finally, operationalize the usage, so that when clients buy the tools, you're active in either using the tools for your clients or training them to use the tools actively. This is how you build and grow at technology practice inside your digital agency. After you get the initial handful integrated, move onto phase 2 with a handful of additional partners. Before you know it, you'll be seeing commission and services revenue headed up and to the right.
Agencies 2 Inbound – Helping You Grow Your Agency Beyond Your Expectations!