AND How To Know How Happy Your Team Is AND What To Do About It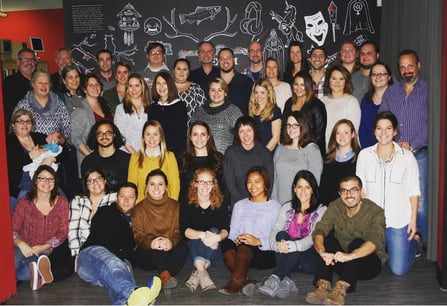 I've mentioned this a few times over the course of the last 12 months. Your team is one of the biggest factors in whether your agency succeeds or fails.
Hire the right people, nurture the right team members and you'll see major growth. Fail to bring on the right combination of team members and you'll feel like you're treading water.
If team member happiness is so important. What are you doing to make your team happy? What are you doing to keep your team happy? What are you doing to measure it? How are you responding to the data? What about the people who aren't so happy? It's an ongoing challenge that you need to be on top of day in and day out.
Here's what we do around the challenge of team member happiness.
We Track It Twice A Month
No matter the frequency, tracking team member happiness is key. You can use tools like tinypulse.com to track elements of happiness very frequently, in some cases daily. You can use standard survey tools like Survey Monkey to track happiness as needed or you can do what we do, which is tracking everyone's level of happiness after each of our Sprints.
Every two weeks, we're taking a pulse of our entire team's happiness during our Sprint Retrospectives. Part of that score is the success of the sprint, but that score also includes an overall feeling related to the company and everyone's experiences with us.
We Provide A Variety Of Channels For Communication and Feedback
Beyond the obvious access to leadership, we've learned that the more channels for communication and feedback the happier your team. I used to stand in front of the team and share our vision, mission, discuss changes and distribute information. I'd ask for questions, comments and feedback. Of course, there were a few who were comfortable asking questions but I thought we were done. We shared, we asked for questions, we didn't get any, the team must be fine.
Later I learned that while some people were comfortable in big groups, others were not. To give everyone access we added a variety of channels for team members to ask questions and provide feedback. We have an anonymous question and feedback submission tool that regularly gets one or two submissions per week. If appropriate, we answer them at our Friday Company Wide Brunch. This allows team members to ask questions anonymously and to hear them addressed publicly.
Make sure you have channels and vehicles for all types of team members and their preferred method of communication.
We Respond Quickly
It's one thing to ask for feedback, it's another to respond. More importantly, you're not going to be able to always be able to respond in a way that makes everyone happy. What's more important than trying to make everyone happy is helping everyone know why you made the decisions you did. By responding quickly, being open and as transparent as possible, your team will know what was behind the decision and the thinking you applied, even if they don't agree.
We Cut Out Cancers
This might seem like a strange topic regarding team member happiness. But it's not. If you have people within your company who are not happy, they can quickly make other people unhappy too. Identifying these people and removing them from the team quickly is critical to keeping the rest of your team happy.
This won't always be easy. There have been several team members who have been excellent at their jobs but horrible cultural cancers. Making that decision is difficult but once it's made and once they're removed, you'll wish you did it sooner. It will be a test of your culture, it will challenge your ability to lead your team, but it will send a message to the rest of your team that bad attitudes will not be tolerated. Soon your team will start policing itself and people who don't fit will weed themselves out.
We Feed The Eagles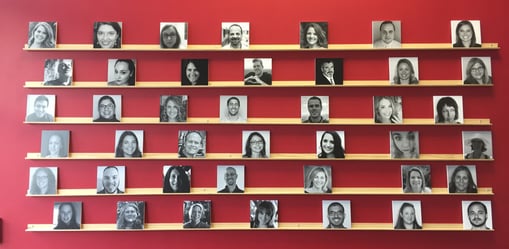 Finally, we like to give opportunities, advancement and financial consideration to the people we see soaring the highest. We call that feeding the eagles. The people with the best attitudes and the best aptitudes are usually easy to spot but how you nurture them is key.
You want to give them opportunities to work on high profile projects. You want to give them opportunities to work on challenging clients. You want to give them opportunities to move into more challenging roles and you want to recognize them regularly.
The more you give them the higher they should fly. I think you'll quickly find your eagles are your most valuable resource, however don't' expect to fill your team up with eagles. Just like you need Indians to work with your chiefs, you'll also need doves, parrots and owls to work with your eagles.
As a growing company, it's not easy keeping your team happy. Sometimes there are changes that need to be made and not everyone will be happy. Sometimes there are people who just need to move on, so the remaining team is happier. Managing a team of 50 people means working with 50 individuals and individuals come with their own sets of beliefs, opinions, attitudes and experiences. The best part of my job is working with 50 great people, the worst part of my job is working with 50 great people.
One of the keys for me is putting people in leadership positions who are excellent at the people aspect of our business. These leaders nurture the team, they train the team, they mentor the team and they provide them the individual cultivation required to keep them happy. I learned early on that you can't manage people the same way. If you have 50 people, you're probably going to need 50 individual management and leadership styles. High quality leaders understand that and provide that type of individual guidance and counsel to their team members. You want that in your shop.
Start Today Tip – I know most of you have between 3 and 20 team members, but the best advice I can give you is to start when you're small. Start working hard to get your team happy, keep your team happy and make sure you know how happy your team is, at all times. This is why Agency 2 Inbound cohorts spend the very first session talking about company core values, culture, mission and vision. You should know who you are, before you bring people onto your team and be 100% certain that your approach is going to keep them happy.
Agencies 2 Inbound – Helping You GO ALL IN On Inbound!