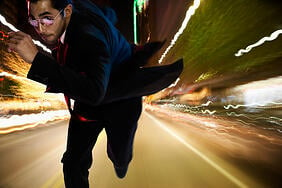 You've already made the mental move to drive your agency to be more inbound. But the steps required are time consuming and in some cases you're getting stuck with some of the major adjustments that need to be made.
In addition, you're busy running your business and it's hard to find the time to work ON the business instead of IN the business.
That all makes sense, but if you think time is on your side, think again. Agencies all over the planet have found this new kind of marketing, see its power and are moving their agencies towards being inbound agencies. One of the advantages is that you don't need to be geo located with your clients. For instance, we service clients in London, Dubai, Netherlands and Canada.
Today you're competing with agencies all over the planet, whether you know it or not. Technology has allowed and actually made it acceptable for companies to source the best regardless of their location.
While you've decided to move to inbound, now you have to accelerate that move or miss the chance to grab your chunk of the exploding marketplace. Once clients pick their inbound agency, it's going to be more difficult to displace them.
Here's how you fast forward your move from traditional agency to inbound marketing agency.
Build Your Own Inbound Marketing Program
One of the best ways to get really good at inbound marketing is to do it for your agency. First this has a huge impact on your business development efforts. The more visitors you get to your website, the more leads you get, the more sales opportunities you get. Right away you're going to see what has to go into an inbound effort. It takes energy, it takes cycles and it takes practice.
Next you're going to quickly see what works and what doesn't. What some people, agencies, companies are telling you to do isn't always the right advice. Once you know for sure, your confidence is going to rise and your prospects and clients are going to feel that, making you even more of a trusted advisor and coach to help them with inbound.
Go All-In Right Now
It's going to be hard to be good at inbound, drive inbound results for clients and keep up with all the changes if you're still doing old-school stuff for clients. This might be hard to swallow, but you have to go all in. You have to start to leave your projects behind as soon as possible. You have to help them understand that it's "not the right advice." It's not the right advice because those projects won't help them get more leads. Folders, brochures, post cards, even a standalone website project won't necessarily help them get more leads, but a fully integrated inbound program will get them more leads.
Again, the sooner you go all in, the sooner you get good at generating leads for your clients, the sooner they start referring you, the sooner you can grow your agency.
Demonstrate Thought Leadership
Inbound is still so new that this give you a perfect platform for thought leadership. We all know that blogging drives visitors and content drives leads, so now that you're all in on inbound, you're building out your own inbound program and you're creating your own content you can use inbound to educate your friends, followers, clients, partners, fans and prospects. It all works perfectly together.
Fix Your Sales Process First
Almost every single agency owner I speak with asks me, "where should I start?" My answer is almost always with the sales process. Why? Well, if you can't close new business, if you can't consistently bring new clients into your agency, if you can't make those people feel safe, then a lot of the other stuff you have to do to move to inbound is going to get more difficult and more challenging to afford. Plus, if you're getting paid up front for your inbound engagements, which all of you should be, then you'll have the money to hire, add tools, or whatever you need to do to take care of all these new clients. But without new revenue, there are going to be a lot of stunted starts.
Get Help, It's Out There
There are people out there who can help and who want to help. While I trust all of you are smart enough to figure it out on your own, you'd be better served to ask for help and get the solutions into your shop faster and with less pain.
The better everyone practicing inbound is, the faster inbound will move to be the defacto way you market your company, so it's in all our best interest to get good at inbound and drive results for our clients.
Moving faster than you planned can be scary. What if I make a mistake? What if loose a client in the process? What if I make a bad hire? The issue here is that fear is holding you back. Over the years, every time we responded on a contrarian manner the move has paid off. Should we hire a new consultant? Logic says no, but as soon as we did, work was redistributed and clients had a better experience.
Start Today Tip – If you don't have a plan and by a plan, I mean a written collection of thoughts associated with everything you need to do to get your agency to be an inbound marketing agency, then you need to do that first. If you do have that and your timeline is more than 6 months, you need to reconsider your timeline. The main reason to reconsider this is that you won't truly be great at inbound marketing until you get enough clients to practice enough times to find out what works and what doesn't within your process, methodology, engagement, team structure and financial model.
Want a little help or guidance now, click the button below to schedule a 30 minute chat with Mike today!
Agencies 2 Inbound – Helping Agencies Transform Into Inbound Agencies