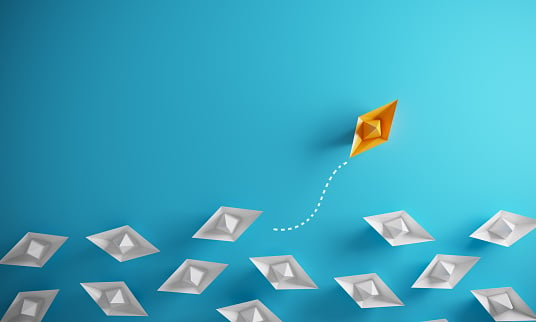 The Agency World Is Different Today, So You Need To Think About Your Agency Differently Too
Working with contractors, freelancers and part-time people isn't novel. It's been an agency staffing model for years and years. Almost every agency has at least a couple of people who help out in a pinch or do specialized tasks to act as support for agency owners. Some agencies are made up of entirely contractors.
But what might be a trend is looking at the agency as a combination of full-time and part-time team members who work together every day. What might be different is thinking about your part-time and contractors as equals to your full-time team members. What should be different is taking full advantage of smart people who simply want to be contractors.
At Square 2, we're trying something different and it's working.
There is a backstory here.
First, as I said at the top of the article, this isn't new and I'm not pretending that this is new in any way. But there are many differences between what we are trying to do than what most agencies do with freelance, contract and part-time team members.
A lot has changed over the past year or so. Prior to that, there have been some fairly significant signals that helped me look at our agency differently.
I'm happy to share a couple of the big ones.
The Freelance Community Has Changed
Freelancers used to have a stigma. They were the people who couldn't get a full-time job or couldn't keep a full-time job. Today the gig economy is making this a legitimate workforce that agencies need to tap into.
Right now more than ever, there are very smart people who only want to be freelancers because of the freedom, flexibility, and lifestyle it provides.
The gig economy is real. Here are some stats and if you want more details, check them out here.
It is estimated that the percentage of US workers participating in the gig economy will increase to 43% in 2020.

More than 90% of US workers would consider freelancing or independent contracting work.

Almost half of all millennials use online gig economy platforms to find work.

The total freelancing income is almost $1 trillion.

57% of contracting workers work more than 40 hours per week.
We aren't looking for people to do a job for us, we're looking for people to join our team. Whether someone works 40 hours with us or 20 hours with us, their contribution is equally important.
While there are certain labor and tax-related guidelines, these are easy to follow and you can still create excellent relationships with your freelancers and contractors. While relationships with your part-time team (or as we call them our Extended Team) might be a little different than the ones you have with your full-time team members, cultivating these can help you create a more innovative agency team.
For example, we have ongoing relationships with our entire extended team. Meaning we've worked with them in the past, we know what they can do, we know what they want to do, we've shared with them our expectations, they've delivered above and beyond and our client's have had amazing experiences.
This is everything you'd expect from a full-time team member, but from someone who works for you part-time.
Platforms Have Emerged
Another signal that convinced us to go in this direction was the creation of platforms to manage these relationships. UpWork, Comuno, and WorkGenius to name a few have become major players in the gig economy.
While most simply help you find good people, some like WorkGenius understand the requirements of agencies and building in features that help us manage, communicate, incent, and efficiently leverage our extended team members.
For example, WorkGenius helps us pay our extended team fast, as soon as the work is done. This allows us to create that positive relationship with them. If we pay them faster, they like working with us better.
This platform also handles all the paperwork associated with using a freelance workforce. We submit creative briefs and we put our existing contractors into the system. This means we manage current and new contractors in the same way.
When it comes to finding new people, when we need that, WorkGenius also lets us source work through their network, find a selection of qualified candidates and then selecting the ones we want from the list.
In short, platforms like this are making it much easier for agencies to consider having an extended team like Square 2 offers its clients.
Client Priorities Have Changed Too
When we started working with clients, they almost always wanted to make sure the agencies they were working with had full-time team members. I believe that is due to negative experiences with agencies who weren't using contractors correctly or didn't tell their clients the true configuration of their team.
But over the past few years, I've noticed that clients are less and less concerned about this.
They are more concerned about the value of the services they are getting. This is directly related to the growth of the gig economy. They know they can get more for less by looking at freelancers. That understanding is making it more acceptable for agencies to get clients more for less by leveraging a set of proven and vetted contractors.
I also think there is an opportunity to tell a story about your agency that shows your progress in leveraging the smart people who now work part-time. This story can be very compelling when clients see that they can get more for less.
But there is more. The clients actually get a better team, a more experienced team, and they get better results and outcomes. Why? Because when I build a team now, I'm pullin from a wider collection of people. I'm not limited to just who's a full time team member at Square 2.
If I need a Salesforce expert, an expert in a certain industry, an expert with a specific set of tactics, or an expert in analytics I have those people at my fingertips. I don't need to put a round peg in a square hole (no pun intended) simply because that's who I have on the team ready to go.
Downward Pricing Made This Inevitable
There is a legitimate trend that is putting significant pressure on pricing for agency services. While we might charge $800 for a blog article, there are agencies out there who would charge $200 for the same blog article.
Yes, our work is going to be better. It's going to be connected to strategy, keyword research, social media conversations, and be written in a way that tells a story, engages the reader, and drives them to conversion at the end of the article.
It's very likely that the $200 article will be fine, but not nearly as valuable. However, for most clients, it's difficult to see the nuanced differences. As agencies continue to low ball pricing, every agency is impacted by this.
I don't see this trend reversing. Even if 10% of agencies go out of business during these difficult times, it's only going to force the remaining agencies to discount to gain market share and keep the doors open.
In our case, we're splitting out strategy and delivery. We're getting paid well for our consulting and looking at the more commoditized delivery services with a different lens. This approach allows us to charge less for the delivery services and pass those savings along to our clients.
When this plays out, clients get more work for the same money, not less work for less money. We're delivering more value by leveraging our extended team.
Want to watch me share this story with WorkGenius CEO Marlon Rosenzweig, click the image below.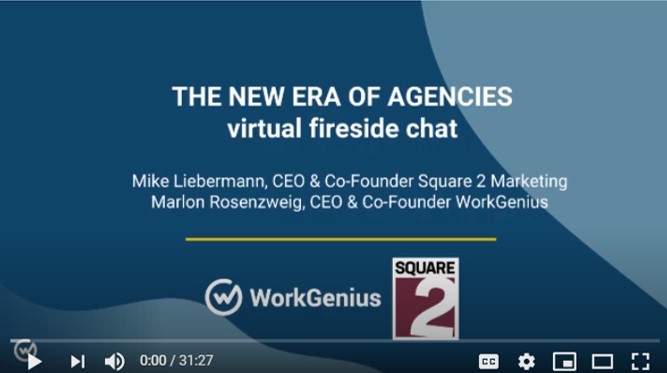 How You Want To Adapt To The Signals
If you're still with me then let's look at what you should be considering, what you should be planning to do and what you should be doing now.
I think the most important point here is that you can grow your agency with a model other than full-time team members.
I think the next most important takeaway is that it can be difficult to make money month over month. Yes, you can have some very profitable months, but then give that back when the business slows and you still have a big full-time team.
For years, we didn't want to let good people go because we didn't close that big new client. While a ton of agencies work like this, laying off and bringing back people, it wasn't the culture we wanted to create for our team.
By rethinking your team structure, you can create a business that produces much steadier, predictable, and consistent profit—month over month.
Next, you'll have to look hard at your relationships with people who are not full-time team members. They can't be second class citizens. You can't dump work on them, ask for unrealistic timetables, pay them slowly, or be inconsistent with the work you send out.
Instead, you'll want to create a process for onboarding new contractors. You'll want to create and communicate payment processes that get them paid fast. You'll want to create touch points that keep these people close to your organization. You'll want to look at how you communicate project details and how you include them in your client work.
All these new motions will start to turn your old freelancer relationships into new extended team member relationships.
The final consideration is about the network. With millions of freelancers available, how do you narrow that universe down to the manageable subset of people who you want to and like working with?
This, on its own, is a big lift. This means sifting through resumes and online portfolios, talking to contractors, explaining our model and even interviewing them.
Yes, we interview potential contractors. We talk to them the same way we talk to our full-time team member candidates. We're looking for long term relationships with these people and we want to get to know them well before we start working together.
We actually have targets for all our roles in the agency. We want to make sure we have enough extended team members to be responsive to client needs, flexible when new clients want to get started and keep an understanding that not everyone is going to be available when we're ready for them.
In fact, it has worked out better than expected. Yes, we've had some bumps along the way but right now our extended team is about the same size as our core team, making Square 2 a 40 person agency with a payroll that supports 20. That's how you make money in the agency business in 2020 and beyond.
Start Today Tip – It's all on you now. Major model shifts are big initiatives. One of my agency clients is working to change his roles, align his team, and get them into focused positions. That's taking him a few months to work through the issues. Changing from full time to full time and contractor took Square 2 a few months and left some scars for sure. Perhaps an easier Start Today Tip is just rethinking the relationship you have with any of your existing contractors. If you can enhance those relationships and bring them closer to your agency, then doing something bigger won't be as challenging. This might also give you some time to get over the paradigm that agencies have to grow by hiring full-time team members.
Agencies 2 Inbound – Helping You Grow Your Agency Beyond Your Expectations!