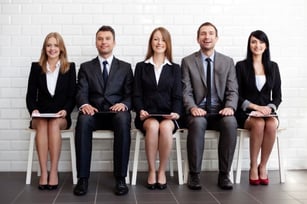 Earlier this month I spoke at Inbound 2015, HubSpot's annual love fest for everyone who knows anything about Inbound. One of the topics I spoke about is hiring people for your inbound agency. Today, I'll spend a bit more time talking about how important it is to hire and how hiring (or not hiring) might actually be holding you back.
If you read anything about running a small business or entrepreneurialism, one of the first things you lean is about boot strapping and making it hurt before you add expenses to your business. It makes sense on paper, but maybe not so much in the real world.
Here's why.
You're Doing Everything As Best You Can
I don't need to know anything about your business to know you're doing too much. You're hiring, paying the bills, taking care of clients, selling new clients, planning, coaching team members, and probably 10 other things. You're doing your best, but you're probably not doing exceptionally well at anything.
Hiring people to help you with those things you don't like doing, or those things you're not great at gives you time to do more of what you love and what you're great at. This helps the company, your client and your team members.
There are probably a few things you should be doing that you're not doing because you don't have enough time. How valuable would it be for you to spend more time getting better at inbound? How valuable would it be for you and your team if you could spend more time selling? How important would it be for your company if you had time to do some strategic planning?
It's time you started focusing on what you're great at and hiring people to do those things that you don't like and are not great at doing.
No One Can Sell And Service
Your Inbound marketing agency has two major functions. Adding new clients and taking care of current clients. These two functions need 100% focus and someone to focus on them 100% of the time. Owners cannot do both effectively. If you love and are great at taking care of clients find someone who loves and is great at taking care of prospects. If you love working with prospects and you're regularly bringing in new clients for the agency then find someone equally passionate about taking care of your clients.
Once you make this move, you'll find your clients are getting more attention and receiving a much better experience, maybe even getting more leads from your programs. You should also see a much more focused effort on driving your own inbound marketing, your own inbound sales effort and you should have plenty of new clients to practice your inbound marketing.
Focus Team Members On What They Do Amazingly Well
When you look to apply some of the same thinking to you team, look at the work they do on a weekly basis. For instance, if your marketing consultants are also writing content for clients, writing might not be what those consultants were trained to do or what they're great at doing. They might be fine, but a professional writer would surely do a better job than someone you consider a good writer.
Having those consultants NOT writing means they have more time to do what they are great at, taking care of clients, evaluating program performance, making marketing recommendations and executing marketing tactics for clients.
This happens over and over again within inbound agencies. Project managers who are doing consulting. Consultants who are trafficking work through the shop. Interactive people who are also doing social media. Situations like this need to be resolved and people need to be focusing on areas where they can excel, day in and day out.
Get People To Do Low Pay Off Activities
There are a ton of lower pay off activities in an inbound agency. Posting, research, moving work across the company, even social media maintenance can be considered lower pay off activities. Start looking at pulling these away from your higher paid, more professional team members and giving these to lower paid, entry level or virtual assistant people. Immediately you'll be giving your smartest people more time to be smarter with your clients.
This article isn't about interviewing, screening, compensation or onboarding new team members. All of these elements are very important for hiring. This article is about your perspectives, opinions and attitudes about hiring. Hiring isn't an expense, it's a strategic decision you make to help your business grow.
Every time you hire someone, you're freeing you or someone up on your team to do their job better. This is how you need to think about hiring and when you change your thinking to match this approach you'll quickly see your team growing, your company growing and the experience you give your clients becoming something you can be very proud of.
Start Today Tip – Hiring quickly requires a bench of pre-screened and pre-approved candidates. Go through the entire hiring process, even if you don't need the new team member today. Be honest with the candidate. People who really want to join your team will appreciate the candor and be willing to wait for something to open up. Once you're ready to pull the trigger, do it quickly and don't wait until the house is on fire. The slower and more methodically you can bring new team members up to speed, the better chances they have to succeed.
Agencies 2 Inbound – Helping Agencies GO ALL IN On Inbound!