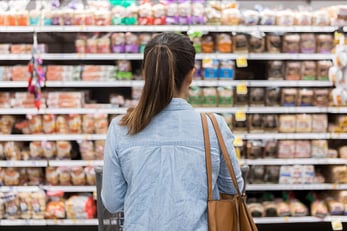 I hate to say it, but I believe it's true. Most of the services now provided by digital agencies are commodities.
Don't get me wrong, there are strong digital experience and digital transformation agencies working with Fortune 1000 companies who have effectively positioned their companies to drive significant value for high dollars, but most agencies are not in that space.
Almost every agency (at least at the top of the HubSpot partner network) have decided to low ball their retainers to win business, come in with small projects or start with training and that has caused everyone to be viewed as having similar services. In those circumstances history has shown we're now selling a commodity where lowest price generally wins the business.
Sad, but true!
You can give up, reduce your price, make less money and continue to slog through it, or you can keep fighting to position your agency as different.
Here's what I recommend.
Don't Give Up on Differentiation but Deploy It Creatively
I'm a major believer in being remarkable. I feel strongly that if you do this well you can charge full value for your services. But today, truly differentiating your agency from other agencies is very challenging. Client's don't care, only partially understand the importance of what makes you special and are barely listening. Don't give up but look to apply that thinking in different places.
Try to keep it simple. Telling a highly technical story to differentiate the agency isn't likely to work. Making the agency remarkable in areas that are not valuable to your client isn't likely to work. Telling the same stories in different ways, is also not likely to produce the desired results.
Make sure what makes you special is equally important to your prospects and clients. For example, if their most important objective is results, make that part of what differentiates your business. If their hot button is getting things done, then make sure they know how and what you'll get done and how much you'll get done over what time period.
Reduce Cost of Delivery and Client Services
Having expensive, experienced and senior people is not going to cut it. It's challenging to be cheap and good. You also can't have teams of people working on your client engagements. This means you'll need to step up training, onboarding new team members, refining your systems and processes and you (as the owner) will likely need to be more involved in watching over your client engagements.
If you're looking for insight, guidance and a ton of practical experience around delivery, consider the Operations Manual and Playbook for Agency Growth plus 11 Videos.
Reducing the cost of delivery might also mean off shoring some of the basic development, technology and production related work. This presents an entirely new set of challenges and might mean you have to step up the QA function in the agency as while the work is cheap, it usually needs some additional oversight.
All in all, cheaper delivery and cheaper client services means rethinking structure, management, configuration and the entire client experience.
Rethink Your Retainer Structure
Lowering your cost structure is fine, but you should consider how commonization also impacts your retainer policies. As an example, we're not locking clients into any set figure.
This means they can raise their investment to move faster and lower it if they want to move slower. Your team structure and fixed costs have to align with a more variable cash flow.
However, there are ways to provide clients flexible retainers and minimize the risk of them lowering their investment. In fact, these same practices, if designed properly, can encourage them to grow their retainers, not reduce them.
One of those tactics is to regularly recommend above and beyond what can be accomplished within their budget. Your team is being proactive and it's 100% up to your client whether they expand their investment or not. But if your ideas are good, they will want to try them.
Work Harder to Develop Stronger and Longer Client Relationships
It's hard to keep clients for years and years. Even some of our best client relationships end when they make the decision to take the program in-house. But there are ways to build connectors into the engagement methodology that encourages continuation.
You must have clear communication, monthly progress reports, defined cycling like 30-day work planning and 90-day strategic planning. Working hard with the client to define measurable success every 90 days and then resetting those expectations every 90 days is essential.
Once you string together enough positive months and quarters you have a client who is very comfortable working with you, no matter what the situation or challenge.
Enhance Your Sales Process to Focus on Value
Look, it's easy to sell stuff and clients are comfortable buying stuff from you like a 10-page website, four blogs a month, one email campaign a month, 20 social posts and one eBook every quarter. This kind of engagement won't produce any measurable results in any reasonable timeframe.
While this might be easier to sell, it's not going to produce a long-term happy client.
Try harder to get your prospects to understand the value of this stuff and how it contributes to lead generation, growth of sales opportunities and ultimately the growth of their company. They don't really want this stuff. They want results. Just like the person who buys the drill, doesn't really want the drill, they want the hole—the drill is just a means to an end.
While it might be a challenging conversation to have but it's the right conversation and its one the smarter agencies are already having with prospective clients.
If you heard me speak at Inbound 17, I did try to warn you all that this was a potential outcome of continually under valuing the services you provide and continually selling low end retainers. I still think the work we're doing (and you're doing) is worth much more than the $5,000 to $7,500 everyone is charging.
I also think the plan to work to upsell clients who come into underfunded programs is the wrong approach. But the market for agency services has significant downward pressure on pricing. You can ignore it, or you can embrace it and work it to benefit you.
Everything you knew last year about the agency business is changing again.
Start Today Tip – As bigger HubSpot agencies start charging less, smaller agencies are going to find it even more difficult to compete. This makes your relationships, your sales process and what makes you different even more important. Focus on those aspects of your business today. How do you make your clients your friends? How is your sales process more remarkable than other agencies? How is your agency dramatically different than other even bigger shops? Make sure you have the stories you need to share with your prospects to help position your agency. Make sure you've operationalized your ability to create strong relationships. What happens in your sales process to help you stand out? You can't ignore this stuff anymore.
Agencies 2 Inbound – Helping You Grow Your Agency Beyond ALL Expectations