Forget The Jargon, You Want To Help Your Clients Close The Leads You're Getting Them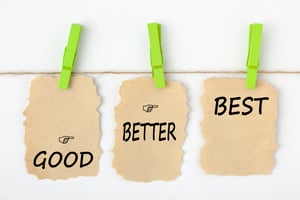 There are now at least three or four labels for helping companies close leads. The ones in the title and a few more; sales consulting, sales coaching, sales training and maybe a couple of others.
The bottom line isn't what we call it or how good we are at confusing the clients but what you do in these engagements and the value you bring to your clients.
The key for me is what we're including in our sales optimization work for clients, how much we charge for it, the value it delivers and how this translates into lifelong clients.
Here's what you should be thinking about if you're planning on helping your clients with sales.
Strategy
If you've been following along for the past few years, then you know my position is that we all do way too much tactical stuff without any strategy or thinking. You can say you do strategy for clients but personas are not a strategy.
I see way too many clients coming to us from other agencies with little or no strategy work on their marketing or their sales. It's like building a house without any blueprints. Silly!
Sales is no different. You shouldn't install a CRM unless you have a locked-down, tested and performance-based sales process. You shouldn't create any email templates or videos unless you know what stories to tell and you shouldn't be anywhere near sales unless you have a prospect buyer journey map that identifies every touchpoint for sales and produces a remarkable experience for your clients' prospects.
If you want to get even more strategic, I don't think you should even be talking to prospects unless their marketing and sales are completely aligned. By that I mean the CEO is on board with alignment, they have a single Chief Revenue Officer or a distant third option is both marketing and sales leaders are at the table and the relationship is highly cooperative.
This too is part of the strategy. If you can't check these boxes, you're probably going to have a failed engagement and a non-referenceable client. Why even bother?
But if you do have it, here's what strategy should look like.
A prospect buyer journey map with every touch associated with sales

A documented and

visual sales process map

A documented list of questions at each stage in the prospect's buyer journey

An asset list of everything sales needs to answer a prospect's question or proactively help their prospects feel safe along the sales process

A gap analysis of what sales has and what's still missing

An SLA between marketing and sales, if necessary and more than likely it will be

A set of agreed-on metrics and a dashboard or dashboards for sales

A tech review of what they have and what they need
With that in hand, you can move to create the tactics that fill in any blanks identified in the strategy work and you can start adding upgrades to existing sales execution to move then from their current state of performance to their desired state of performance.
Tactics
You're probably familiar with the hundreds of marketing tactics that can be deployed for clients to help them generate more leads but are you equally adept at rattling off the sales execution tactics required to help them close those leads?
There is an equal number of sales execution tactics, upgrades and improvement tools that can be applied to sales. Going through all of them here won't be helpful but I'll go through a few of the more obscure ones to give you a better idea of the range. If you want more check out this article on selling sales execution services to clients,
In the category of tools, I'd consider reviewing, redoing and relaunching a client's contract, pitch deck, and proposal tools. These three are all late-stage buyer journey tools that often help close new customers.
Fix these tools and you'll see an immediate lift in close rate which drives a huge amount of value with clients.
Let's look at each of them separately.
The Contract – We're not lawyers, so this isn't about the legal jargon in the contract, but in a roundabout way, it is. Do you need it? Do you really need all that legal? When a business contact gets a legal contract their first move is to send it to legal. That extends the sales cycle, makes for a difficult negotiation and gets the relationship kicked off in a combative nature. Try to help them make their contracts "agreements" and pull out as much legal as possible.
The Pitch Deck – We ask every client to see their pitch deck. 90% of them are ALL about them. Their history, their clients, their products, their services, their team…blah, blah blah. About 10% of the deck is about the prospect, how they're going to help them, what the business outcomes will be and why this makes sense for them to do this immediately. We get the client to switch that around. Slide one, "we're going to save you $1 million dollars!" The rest of the deck is how and then the last few slides are the here's who we are content.
The Proposal – Some of the same rework from the pitch deck applies here but this doc also needs to be created with the prospect. No one likes surprises and when you surprise your prospect with pricing and recommendations they've never seen before there is too much risk involved. Instead, work WITH the prospect in the creation process. We call that co-creation so the proposal nails all their concerns, wants and needs. When they get it, they should say, "yep this is exactly what we need and exactly what I expected."
Each stage of the buyer journey being managed by sales needs a review of the tactics they're using in the execution of the sales process.
This includes emails, phone scripts, content their sharing, company-produced video, sales rep produced video, references, reviews, sample documents, and most importantly the stories they're sharing and telling.
All of these, and more need to be considered tactics as part of a sales improvement engagement.
A New Advanced Agency Cohort Is Launching In December, Don't Miss It - Click The Button and Select Advanced Agency Cohort To Get Included In The December Launch.
Analytics
Sales has been historically strong when it comes to analytics. They are one of the more metrics-driven departments in the company, but their metrics are always historical and backward-looking.
The number of new customers signed, revenue generated, close rate, average revenue per new customer, and actual revenue vs. revenue goal are the traditional set of analytics sales have been measured on since the beginning of time.
Today the science of sales has come along way. Here's an article with 12 key sales metrics that you've never even heard of before. All designed to drive productive insight into the sales execution and sales operations aspect of accelerating the sales cycle and improving the close rate.
Some of the more interesting metrics include pipeline velocity, close rate by lead source, number of referrals monthly, percent of sales qualified leads that turn into sales opportunities, and the percentage of website visitors to sales opportunities. The last one is a true marketing and sales alignment metric for those of you following along at home.
Technology
You can't run a business without financial software, even the smallest company uses QuickBooks. The same holds true for marketing and sales tech today. You need a marketing automation platform and you need a CRM for sales.
In my experience, there are still a fair amount of people without marketing automation but when it comes to CRM, even the smallest company generally has something. It might not be great, it might be old, it might be industry-specific or homegrown but it's something.
Your sales engagement has to have a technology element included in the deliverables. An assessment of their current tools. A review of the usage patterns within the sales teams. A gap analysis between what their current tools do and what benefits would come from an upgrade. These need to be part of what you deliver.
Once you get them to make a new technology decision, they're going to need your help migrating from one system to the new system. They are going to need help setting up and configuring the new system. They are probably going to need help connecting the new system to other systems and they are definitely going to need help training their sales teams on the new technology and new tools.
This is the foundation for a big part of sales operations. Yes, this is a very specific technical and training skill set. Today there are more agencies who just do this. This means you have a decision to make. Is this kind of work we do, something we're going to be great at or is this something I bring in another partner to help with?
You know I like to control all aspects of my engagement with our clients. I always want to bet on my team, when it comes to getting clients leads, helping them close those leads and giving them a remarkable experience.
This is a decision you'll have to make. Your clients are going to need this help.
Coaching and Training
Which brings me to coaching and training for salespeople. This type of work has been what sales coaches, sales trainers, and sales consultants have been providing since the beginning of time.
Sandler, Richardson, Kurlan, and Rain have been working with companies forever. They do team training in the classroom. They do one on one rep coaching. They'll offer sales management and sales leadership on an interim basis.
Ask in your local market and you'll find 20 other individual sales coaches, solopreneurs or small consulting companies that provide similar services.
I think this is a unique set of skills and one that the agency doesn't need to offer. Coaching reps require a very specific skill set. Playing the interim sales manager requires a time commitment that most agency teams are not set up to deliver. Working on compensation plans, territory alignment, closing techniques are all better left with the professional salespeople. To me, this is NOT sales operations.
There are very clear lines where sales operations stop, and sales coaching starts. There should be plenty of opportunity for sales operations experts or agencies to work closely with sales coaches.
Start Today Tip – You must know what you're good at. There is no point offering services that you're not great at delivering. That's not going to produce a referenceable client. If you can't deliver sales operations, sales execution or sales enablement services find a partner who can. If you want to deliver these types of services hire people who have done it in the past or are great at doing it today. Don't pretend to do it because you want the HubSpot Sales Hub credit. Do it because you're passionate about helping your clients close the leads you've generated for them. That is the best way to grow your agency and create an army of happy clients.
Agencies 2 Inbound – Helping You Grow Your Agency Beyond Your Expectations