I'm Not Being Snobby, I'm Being Smart About Agency New Business Development And You Can Be Smart Too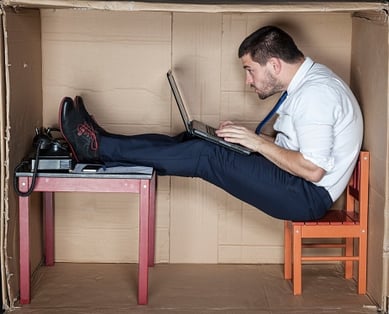 The response to last week's article has been fantastic. In case you missed it here's a link. I'm going to continue to talk about new business development for an inbound marketing agency to keep feeding you the kind of content that supports your biggest challenges.
Today I want to talk about the challenges associated with the small (under $5,000 a month) retainers. I know, they're hard to pass up when you're trying to make payroll, grow your agency or you love the gal running the company and you just want to help. Trust me, I get it.
The New Business Development Cohort has been extremely popular and enough interest to launch in June. There are a few seats left, if you're interested, click here to email me if you're interested.
But don't look at this and say, Square 2 Marketing, they can afford to pass on small retainers, but I can't. That would be a mistake. If you're trying to grow, if you're trying to get clients' results, if you're trying to hire great people and give them a great experience—you owe it to yourself to follow my thinking here.
Do You Have A Lifestyle Agency?
You might and there would be nothing wrong with that. Millions of business owners have lifestyle businesses. Entreprenuer.com describes it here. If you have one, and you're comfortable with it, congratulations! In all sincerity, that is wonderful. If you do then most of what we talk about here is probably not applicable to your situation. Just keep on keeping on.
But if you actually want to grow your business so that it makes more money, so you make more money, so you can hire more people, so you can expand your own professional skill sets and take on new and different challenges, then you want to start thinking differently. If you've run your agency like a lifestyle business for years, then you might need a little friendly push along the way and some guidance, coaching or advice on how to shift gears, just a bit.
Agencies that are run to grow require a different set of skills, tools and even in some cases a different group of people. You should know what kind of business you're running. Either way is great but the decisions you make for a business in growth mode will be different than those in the lifestyle mode.
Acorn, Anchor and Shitbox Clients
If you're planning on growing then you need to assess your current set of clients. A few years ago, I had the pleasure of spending an afternoon with Jeb Brown who was the CEO for Earl, Palmer Brown a big PR/Ad agency for 27 years. Mr. Brown explained it to me very simply.
BROWN: You have your anchor accounts that you love working with and they love you. You get good results for them, they respect you and treat you like partners. You have your acorn accounts, those that have the potential to grow into big, profitable anchor accounts and then you have your shitbox accounts. Unfortunately, most of your clients are probably shitbox clients, right?
Yes. We have a ton of shitbox accounts. A light went off. Why do we have so many bad clients? Because we took whoever is willing to pay us, no matter what. That is a mistake we stopped making back in 2011. We didn't come up with some special sauce to get clients better results, we didn't invent some special software that works with HubSpot, we just stopped working with clients who were NEVER going to be references for us—for whatever reason.
Today, if we don't think a client is going to be a good fit, going to be easy to work with, that we can get them results, and they value our insights, work and guidance—we pass. You can do that too. It's not easy and sometimes we make mistakes in judgement, but it's easier than you think.
How Do I Find Bigger Clients?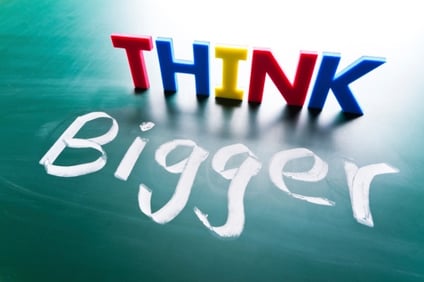 A lot of agency owners I work with say this to me. We only attract small companies to our agency with our current marketing. That might be true, then change your marketing. Do your outreach differently. Change your message. Visit the watering holes were bigger businesses spend their time.
Speak to groups were the CEOs or VPs of Marketing for bigger businesses spend their time. Find a big local business and offer to do a simple starter project for free, with the understand that if you prove yourself, they'll sign a respectable retainer. Be creative. Isn't that what you're good at?
We're not talking about landing Pepsi, Nike or AT&T. We're talking about finding and working with $100M, $200M or even $500M businesses. They are out there. They're in your community. They're local to your agency office and you already know people who work there. You just have to find a way to tell your story to the right person, disrupt their status quo and prove you can help them with their key challenge—whatever it is on that day.
Can You Service Bigger Clients?
Yes, you can. How do I know that? Because we've worked with small, medium and large clients and the dirty little secret is—we do the same thing for everyone. The process, system and methodology works for all clients the same way, size DOESN'T matter, in this case.
More transparency? The more they pay you the more you can do, the more time you can spend and the better the results. This challenge is not about you. It's about your clients. They want to spend less if they can. They don't understand that by spending less they're not saving money they're preventing you from helping them grow their businesses, from achieving their goals, from realizing their own dreams. You have to help them, in your sales process and in your own marketing, to understand that. Even a $5M company can afford $10,000 a month investment in marketing if their goal is $10M in sales.
If you believe it, they'll believe it too. If you don't they won't either.
There's a phrase called self-limiting beliefs. In this case, you're not sure how you would do with bigger retainer clients so the subconscious decisions you make actually keep you working with smaller companies and smaller retainers. Don't take my word for it, here's an article in Inc. You might not think this is true and it might not be true in your case. But it's true in a lot of cases, whether you believe it about yourself or not. If you don't think you're worth $10,000 a month, you'll never charge or even build a retainer agreement for that amount of money. I've seen it over and over again.
The reality is you are worth it. Anyone reading this blog is worth $10,000 a month because of the value you'll be providing that company. It might not be monetary value every month, but it's intrinsic value in what you're teaching them, what you're building for them and what you're doing for their business. If along the way you generate leads and they close those leads, then good for you. Bonus!
I'm no smarter and no better equipped than you. When people say not everyone can get $10,000 a month retainers like Square 2 and then opt to sign a bunch of $2,000 a month starter accounts. That's the kind of self-limiting beliefs I'm talking about. Anyone can get a $10,000 account, you just need the confidence and the stories to get your prospects to feel safe with you and trust that you can do what you say. I'm telling you—you can do it.
Start Today Tip – It's easy. Offer it. Tell one of your existing prospects that for you to get them to their revenue goals next year, it's going to cost them $10,000 a month. Let's agree that for the sake of this example, that's actually the right advice. I thought that was obvious, but perhaps I should mention it. What's the worst outcome from that conversation? You have to come back with a more budget conscious set of recommendations and the readjusted results that go with it. At least you're having a strategic partner oriented conversation instead of a vendor conversation about what they can get for $2,000 a month. Try it, try it again and keep doing it until you get one. One $10,000 engagement is worth five small ones. It takes the same time to get and the same time to service the $10,000 a month client as it does the $2,000 a month client. Come on, let's all start being smart about who we bring on and what we can actually do for them.
Agencies 2 Inbound – Helping You GO ALL IN ON Inbound!