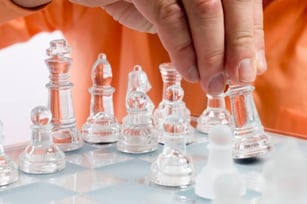 It sounds irresistible. You don't have to hire a single person. You don't have to pay any taxes, healthcare or benefits.
You get people to help you do your work, deliver your client engagements, build your inbound marketing agency and all you have to do is select them from a pool and pay them a fair fee for their contribution. If you like them you continue, if you don't you never have to speak with them again. If only it was that easy.
I know plenty of agency owners who don't have a single employee, they freelance out everything. I also know for them, it works. It works primarily because they're running a "lifestyle" business. They don't want employees, they want to leave at 3PM to watch their child's softball game and they want to take 8 weeks of vacation every single year. I applaud their focus, resolve and their ability to create the perfect business for their personal goals.
But for those of you who want to grow a business, for those of you who want to create something special, for those of you who might be interested in creating an asset with real value that one day might be sold (allowing you to sail off into the sunset) – freelancing might not be right for you.
Let me illustrate some of the benefits of having full time team members vs. using freelancers to deliver your engagements.
Full Time Team Members Are Part Of Strategy Too
Freelancers get paid for the work they do. Some get paid hourly, some on a project basis, but there are times when you should be including these people in other elements of your business.
They should be part of the client strategy work. They should be listening to the clients talk about their challenges, their prospects and their competitors. They should be participating in research and inbound marketing strategy creation. They should be brainstorming with the team.
How much would this cost if you put your current freelancers on this type of project or asked them for this amount of time? Would they even be interested? Building processes that include full time team members in all of these important meetings results in better work, more engaged clients, better client results and more client referrals.
Train Them, Teach Them and Grow Them Professionally
You're going to want to invest in your team. You should be working to train them, to educate them on the latest and greatest innovations in marketing and helping them get great at inbound marketing. Let's face it, there are hardly any inbound marketing people, so growing your own is something you're going to have to address eventually.
You're also going to have internal processes, procedures, systems and methodologies that you've tested and you want them to follow because it produces predictable results. Once you start dictating how your people deliver the work, you might need to hire them as full time team members to remain compliant with the law. I'm not a lawyer and this isn't legal advice. But keep it in mind.
They Become Assets To Your Business
Whoever scored a major new client engagement because of their freelancers? The answer is no one. Your prospects want to meet the team they're going to be working with and if they don't work for you, the prospect isn't going to feel safe. We know we're working hard to get prospects to feel safe and freelancers don't make anyone 100% comfortable, no matter what you say about your relationship with the freelancer.
Perhaps even more important, if your team is doing their job right, they're going to have an intimate relationship with your clients. Do you want to own that, or rent it? When your client tells you they love your writer, don't you want to be able to control whether that writer stays on the team or not. I sure do. Freelancers make this control much more difficult.
They Live And Breathe Your Core Values
Your culture and core values are critical aspects of your business and full time team members join you with this in mind, they've selected to be part of your team because of your culture and they're attracted to their fellow team members because they share a common set of beliefs, values and ideals. This kind of team isn't easy to build, but when you have it—you can accomplish almost anything.
You just don't get this kind of team with freelancers. Sure they might get work done on time and the clients might love the work, but your relationship is likely to end there. They don't have to subscribe to your values or culture, they're hired guns. It's the nature of freelancing. You're not going to change that, no matter what you think.
They're Not As Economical As You Think
This is what most people see when they consider freelancers, cheaper options to deliver the client work and there's no long-term commitment. "If we don't have the work, we don't have to pay." Doesn't this sound a little self-defeating? You're going to have plenty of work because you rock! You're going to have plenty of work because you're investing in your team and they're going to get your clients amazing results. Hire people to handle this work. Let hiring trail revenue and get paid upfront so hiring isn't an issue.
Build, don't rent your team. It's one of the most important assets you'll ever have and you should be thinking about the team as if it's an asset—not an expense to be managed.
Let me say one more time that I understand the allure of freelancers. But I think you have to look beyond the financial and focus more on your desire to deliver a remarkable experience to your clients, to be their inbound marketing expert and to get paid handsomely to provide that expertise. Once you change that perspective, the allure of freelancers becomes less intoxicating.
Start Today Tip – Freelancers might not be as cost effective as you think. Look at what it's costing you. Can you transfer that expense and hire someone who will work 40 to 50 hours a week for you, who will think about your business and your clients even when they're not working, who will bleed your corporate colors, who will help make your business better? What is the value of one amazing team member? Once you start looking at this situation from this perspective, you should see things much differently. Now look at your business and find a freelancer or two who you can part way with in exchange for that one remarkable new team member. Go do it today!
Looking for help with your inbound marketin agency? Our second Cohort is launching soon, if you want to reserve your spot, click the button below.
Agencies 2 Inbound – Helping You Go ALL IN ON Inbound!