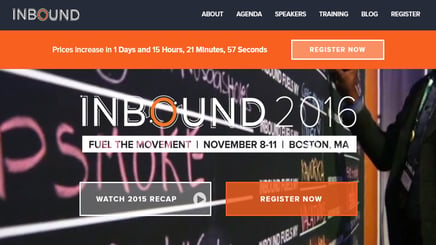 If you Google "marketing conferences" there are a ton of pages that appear, but if your agency is an inbound agency, if you're considering offering inbound services and if your clients are asking about inbound marketing or inbound sales, then there is no better conference out there than Inbound 16.
Having attended this conference for the past five years and seeing the conference grow from 300 people to 15,000 people last year this event is the premier inbound event on the planet. By attending It can fast forward your progress, efficiency and expertise in days instead of typically taking months or even longer. If you run an inbound marketing agency, this even is for you.
Here are 20 reasons why you NEED to attend Inbound 16!
You'll learn enough in four days to keep you busy for the entire year.
You'll get to meet other agency owners just like you with the same challenges.
You'll get access to industry experts that will help you, right there onsite.
You'll get to hear celebrities relate their careers in marketing terms.
You'll get tips and tricks that help you gain efficiencies using HubSpot.
You'll learn how to market your agencies better.
You'll learn how to help your clients with their inbound marketing.
You'll learn how inbound sales fits into the entire inbound experience.
You'll learn how to close more deals faster.
You'll meet HubSpot clients who just might need help with their inbound marketing.
You'll meet HubSpot clients who definitely need inbound sales help.
You'll get to speak with HubSpot team members directly.
You'll get practical tools you can take away from the conference and start using when you return to your office.
You'll get to sample a variety of software tools that integrate seamlessly with HubSpot.
You can probably snag a nice discount on conference tickets, if you ask nicely.
You'll learn new techniques that allow you to impress your clients and drive more leads.
You'll be invited to an amazing celebration of everything Inbound.
You might just get to say "hi" to Brian Halligan or Dharmesh Shah
You'll get plenty of exercise walking from session to session, there are so many sessions to attend.
Boston in the fall is amazing and you won't be sweaty when you walk from the hotel to the conference.
All kidding aside, this event offers a lot of value for the price. Plus, this year HubSpot is offering pre-registration so you'll be guaranteed to get into your most important sessions. This year they're letting you can go through the entire list of sessions and pick those that directly relate to your most pressing issues. I'd wait another week or so to make sure they have ALL the sessions available on their website but then jump in and start creating your customized agenda.
Start Today Tip – Your agency is not going to be inbound experts without help. Conferences, workshops, group coaching and consultants provide a very important stream of education and insights that help you move forward and grow your agency. You should start the year with a budget for these types of resources and make sure you use that budget every year. Skimping on education is the fast track to flat or even declining growth.
If you're planning on heading to Inbound 16 this year, click on the link or button and let's schedule time to chat. I'll help you with your challenges and give you some options on how you can continue your education after the conference is over. Looking forward to seeing you in Boston.
Agencies 2 Inbound – Helping You Go ALL IN ON Inbound!