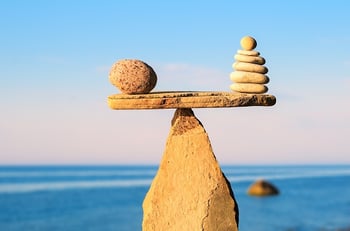 Drift, Crayon, Terminis, Accelo, or Yext. You might have heard of some, working with others and unfamiliar with the rest. There are now 125 HubSpot Connect Partners for you to work with. Click here to check out the visual representation of the Connect partners.
How can you possibly make heads or tails out of so many technology options? How can you organize them, prioritize them, provide services around them, sell them to prospects, learn them, train clients on them, install them and most importantly use them to produce better results for your clients?
Maybe you only work with a handful? But which ones? What does that mean for your agency? How do explain it to clients?
Technology is changing the face of the agency business and you have to make it core to what you do every day with clients. You have to leverage it to make more money and you have to operationalize it to produce better results for your clients.
Here's how to do it.
Understand Your Story
Who are you? Knowing who you are, what you're good at and what you want your agency to do for clients is key. Today more than ever.
Are you a HubSpot shop? A Marketo agency or are you technology agnostic and help clients with all the marketing automation tools? These are big, strategic decisions that will either help you chart your course or cause you massive confusion if you don't know the answers.
At Square 2, we always aspired to help clients with a wide variety of technology but moving from HubSpot to Marketo was problematic. Teaching the team an entirely new software platform, training them, operationalizing it and selling it was a major initiative and potentially distracting.
We had years and years of HubSpot experience and very little Marketo experience—hence the acquisition of Blue Bird Strategies two years ago. This gave us the Marketo and additional technology experience we needed without having to stress the rest of the team.
Knowing what direction we wanted to go, made the decision to acquire BlueBird easy. Technology is a part of the agency business now, how you plan to use that technology is a non-negotiable. You have to use it and you need plan around it.
Start With Platform Solutions
We think about technology in two ways. Platform solutions like HubSpot, Marketo, Pardot, Eloqua, Salesforce.com, SharpSpring, Infusionsoft and other marketing automation or CRM software are what we consider platform solutions. They deliver a broad set of capabilities.
Then there are tactical solutions like those software tools that help with specific tactical execution. Some examples would be Wistia for video, Seventh Sense for email, Databox for reporting and Atomic Reach for content.
It actually doesn't matter what they do, just that they do only a small part of everything you and your clients need to do to be successful. Even integration tools like Zapier or Bedrock are tactical solutions because they do one thing and do that one thing well.
Now that you know the difference between platform software and tactical software solutions you should be able to look through the portfolio of the 125 HubSpot Connect Partners and the over 7,000 MarTech tools on Scott Brinker's MarTech Landscape graphic and decide which ones are the ones you want to support for your clients.
Since you can't support everything, and you can't be an expert at everything, picking your preferred platform software solutions and your recommended tactical software tools gives you the focus you need to blend software with more traditional agency services.
More on that next.
Add Platform Services
Once you have your platform software solutions selected, then add services around those solutions. If you're a HubSpot shop, then you help clients install, onboard and use the HubSpot tools—all of them. Marketing, Sales and Services Hub should all be included in your offering.
You can have technical services like installation, training, configuration, ongoing support and maintenance. But you also have more traditional services that you're already delivering. Services like email marketing, web, search, paid media, social media and content marketing. These services fuel the machine that the software needs to product results.
Strategy, tactical execution and the software are the three elements required to produce results for clients.
Include Advanced Tactical Technology
Once you have your selected platform software solutions you're ready for the advanced tactical tech. You're going to meet clients along the way who want more sophisticated tech around specific tactical execution.
We've already met clients who want to apply advance email technology on top of their platform software. We've met clients how need to apply advanced content marketing tools, advanced video tools, advanced data cleansing processes, account-based marketing on its own requires an entirely new set of technology tools added to either HubSpot or Marketo.
Today there are advanced software technology tools for almost every single area of tactical execution.
There's software for social media, content, email, search, paid social, paid search, conversion optimization, website user experience, data analytics, reporting and almost all of these can be deployed on top of your platform software.
Add Advanced Tactical Services
Once you have your tactical software solutions identified you can start adding advanced services to go with that technology.
Here are a couple of examples.
Advanced Email Marketing Services
For clients with advance email requirements, we deploy Marketo plus Seventh Sense.
Our engagement includes all the standard Marketo set up, configuration, ongoing support and advanced email marketing services that include using Seventh Sense.
These services could include advanced list segmentation, advance send strategy, advanced personalization tokens, multiple emails based on personas, advanced reporting, insights and analysis.
Advanced Video Marketing Services
Another example might be video services. We deploy HubSpot marketing and CRM tools and then use Vidyard or Wistia for video.
The client needed a library of video assets for both marketing and sales. Those video services include strategy and planning, scripting, recording or shooting the video, editing, positioning the videos within the buyer journey, training sales on how to use the videos, installing the videos into the sales process, analyzing data around the video, tracking for conversion, configuration, copy and posting for SEO and more.
Marrying software and services is the future of the agency model. Whether you're an inbound agency, demand generation agency or website shop—you're going to need to be comfortable recommending, deploying and supporting technology.
How To Operationalize New Technology
What I described above might make sense but taking what's on paper and making it a reality in your shop is easier said than done.
Here's how you can operationalize new technology into your agency.
Create training protocol for your team – when you add new tools, your new partners are almost always willing to train your people. Make sure that's part of your partner agreement and make sure its ongoing training, not one and done.
Start using it for your agency – the easiest way to get your team comfortable is to be a power user yourself. By using your shop as the lab, you can find out issues, challenges and correct those before you start working with clients. You also get a sense of the results and if you don't see results, delay deploying for clients until you see the results.
Build playbooks for all your new tools – just like you have playbooks for how your agency does email campaigns for clients, you should have playbooks for how to use software tools too. This is the best way to make sure everyone at your agency uses a system or methodology when it comes to clients. Whether its software or services, you know your clients are getting the designed experience.
Track the performance of your campaigns pre-software and post software - these tools are supposed to make it easier to execute, produce better results or deliver enhanced execution capabilities. These should come together to produce lift. Track that lift and make sure its as significant as advertised.
Looking at software and services together give you a methodology for designing the right configuration for your clients.
It gives you a compelling story to tell your prospects and it gives you a system for building a team, training your team and keeping them up to date on the most recent and accelerating changes going on in our industry.
The Opportunity
There is an opportunity here to build in passive income streams, push up monthly retainers and get clients better results. These are all very positive outcomes for agency owners willing to double down on software as part of your services offering.
Be thoughtful in your approach. You can't possibly be an expert in all 125 Connect Partner tools. You can't possible use all 125, deploy all 125 and convince your prospects and clients that you know everything about all 125. You also can't get your team comfortable and trained around every single partner offering.
Select your platform, add individual campaign or tactical software tools, one for each of the tactics you regularly execute, then start using them for your agency, offering them along with advanced services to clients and you'll see your commission stream growing, your retainers increasing and your clients seeing better and better results.
With a little work, you can position your agency as one with a special approach, with a special set of skills and special relationships with key partners. This can be a big step in differentiating your agency from all the other agencies.
Start Today Tip – If you're like most agencies, you probably have some type of platform software already in use. Leaning into one or positioning the agency as technology agnostic is one of the first important steps. Then prioritize the services your agency excels at and map the technology tools that align with each of the tactical services. Those tactics that make up a bigger part of your revenue stream is where I would start by adding the advanced software tools that go with those tactics. Start selling the two levels of software and service to prospects and leverage the alignment between results and investment. This is the key to selling software and services.
Agencies 2 Inbound – Helping You Build Your Agency Beyond Your Expectations!