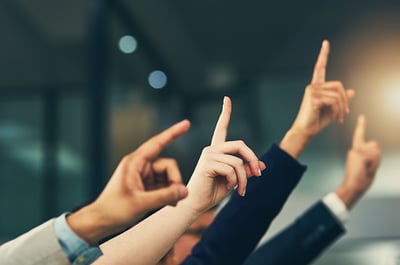 Besides the 30 or so agency owners I'm actively working with right now, I talk to roughly another 10 to 15 agency owners each month who reach out with basic questions. The time I spend with them gives me insight into the specific challenges facing agency owners today.
Anyone who has talked to me in the past or has taken the time to get to know me is aware that I'll give any agency owner 30 minutes to talk shop, help them with challenge and share any insights I've gained over the past 17 years running Square 2.
Working with other agency owners is one of my passions. Over the past few months, I started noting the questions people ask and its crystal clear to me that everyone has very similar challenges.
Here are the top five questions agency owners ask me and the answers to those questions. I'm sure most of you have similar questions and will benefit from the answers.
Question 1 - Who Should I Hire Next?
By far, the most frequently asked question. When do I hire and who should I hire? The good news is agencies asking this question are feeling growing pains.
The answer is going to be specific to each agency but there are ways to make this question easy to answer. First, you can't answer any hiring questions if you don't have an agency growth strategy. This means you need to know what you want your agency to look like in six months and in 18 months.
My agency clients are all asked to create an org chart for today's agency and then two more org charts. One for what the agency will look like in six months and one that shows what the agency will look like in 18 months.
This exercise forces you to think through how you want to grow. It also forces you to answer some important questions like, do you want to add more bandwidth by hiring more consultants or do you want to give your team more bandwidth by helping your existing team focus on core competencies.
One of the best ways to grow and to clearly answer this question is to look at roles that you've combined. For example, if your consultants are also project managing their client programs you could consider adding a PM and letting your consultants spend more time consulting with clients.
In some agencies, consultants are also writing for clients. If you hired a writer, your consultants would have more time to consult with clients, and you'd have a professional writer to elevate the quality of your content.
It's likely that you need both roles. By creating the org charts, you'll see which one of these options is a bigger priority. This answers the question of who to hire and when. You know the answer because you know the challenges.
If you have trouble getting client work done on time, you need a PM. If you have clients spending too much time giving you feedback on the copy; you need a professional writer. It just comes down to which one you need first.
Question 2 - How Do I Find Enough Leads To Grow The Agency?
This is always a little shocking to me. After all, isn't this what you are supposed to be doing for your clients. Over the past 17 years, I've had several agencies hire us to help them get leads. In most cases, it's not about ability and all about bandwidth. You all know what to do, now its time to do it for your own agencies.
The best answer to this question is for you to do exactly what you do for your clients. Start with strategy and take your agency through the same process and methodology you do with your clients. Assign one of your consultants to work on your own agency's marketing. As soon as you can, hire a marketing director to work ONLY on your agency.
Start working on your inbound campaigns as soon as possible. While this is the best advice, I can give you and inbound does work, it's going to take time. The sooner you start the sooner you'll get enough leads from inbound to drive the agency growth.
This means you'll have to create enough content to fuel your inbound program. Start blogging regularly, create a series of pillar pages for your website and start producing at least one video a month. Make sure you have something interesting, disruptive, and compelling to include in your content. If you don't have anything interesting to say, don't spend any time producing content. You need something remarkable to say that will attract attention to your agency.
In the meantime, you're going to have to look for other channels in addition to inbound. Despite what all the sales experts will tell you, cold calling is 100% NOT the option here. It's inefficient, demoralizing and a major distraction from your other agency roles.
Instead, look for places where you can educate potential clients. We drive a ton of leads for the agency by speaking. You can speak locally to chambers of commerce, you can start speaking to CEO groups locally and you can run a regular free workshop for CMOs, marketing people, sales leaders and business owners in your community.
This experience will give you the confidence and the program to take your speaking career to other venues. If you speak to just 20 people once a month, you'll have a steady stream of leads until your inbound program starts to produce its own leads.
Question 3 - What Should Our Teams And Agency Structure Look Like?
Another great question. This question comes up so frequently because the answer changes at different revenue levels. If you're doing less than $1 million in revenue your teams can be small, and loose. You're still doing a lot of the work on your own and it's a ton of all hands-on deck, right?
But this structure is going to prevent you from growing. Because delivery is reliant on you, you can only grow so much. To get to the next level, getting yourself out of delivery is going to be important, which means having a team structure is also important.
What your team and agency structure is dependent on what kind of agency you are. If you do a ton of website work, you might look different than if you do a ton of content marketing or PPC.
In my experience, there are generally two configurations. My answer to this question is generally you should be looking at some version of these two options.
First, you can build cross-functional teams that keep your teams together working on the same clients. Consultants, developers, writers, designers and project managers working together as a team on a defined set of clients.
The other option is the structure we use at Square 2. We have consultants assigned to clients and then we have specialists deployed to work as needed on a monthly basis. You might have heard me talk about his as my Special Forces model.
I deploy resources to client work, as needed. Just like the military deploys special forces to combat missions based on the requirements of the mission. This second model gives us the flexibility we needed and keeps us highly billable and fully allocated in the most efficient way possible.
Question 4 - How Do I Take The Agency To Agile Delivery?
Another great question. But one that has a complicated set of answers. Agile delivery is something that all agencies will be considering eventually. It just doesn't make sense to deliver based on a set of contracted deliverables or a constantly change scope of work.
Today's marketing is just too data-driven, too complex and changing too frequently to be anything but Agile.
However, moving to agile is complicated and requires commitment, training, software, and a change management effort demanding patience and leadership.
The best way to move the agency to agile is to get a coach or consultant to help. No, I'm not an Agile Consultant. While I do have a ton of experience and we've been delivering agile engagements for years, transitioning an agency to agile is a unique skill set.
To move the agency to agile you'll need very specific training to understand how to create a backlog of work for each client, how to groom that backlog with clients, how to plan a sprint, how to run a retrospective meeting, how to use points to estimate work, how to bring your delivery or production team into the estimating process. There are a ton of rituals and processes that need to be taught, ingrained into your agency and then iterated on over time.
Regardless of the work. You should do it and you should do it when you're small. The advantages of Agile far outweigh the risks and it will help you operate more efficiently. It will help your team be happier and your client will have a much better experience if you're running an agile engagement compared to a more defined and structured requirements engagement.
Question 5 - When Do I Hire A Salesperson?
The answer? Maybe never. This all comes down to what you're passionate about and where your brilliance lies. In my experience, I meet two kinds of agency owners. Those that love selling and simply take care of clients because they have to and those that love taking care of the client and sell because they have to.
Which do you love? That's the answer to your question. If you love selling, then you shouldn't hire a salesperson until you have so many opportunities that you can't keep up with them effectively. If you love taking care of the clients, then you should hire a salesperson immediately.
If this is you, then consider moving someone from client services into sales instead of bringing in a professional salesperson from the outside.
At Square 2, we've hired five salespeople with outside sales skills and all failed. We hired two internal people with more practical consulting experience and they both flourished. My theory is those people have more stories and more practical examples that help prospective clients feel safe.
We're not selling anyone anything. Instead, we're doing some preliminary consulting just like we do when they become clients. It makes sense that agency consultants moved into sales roles do better than traditional salespeople.
It's ok to have a question. It's not ok to go months without getting answers to your questions. Hopefully, these questions and answers can fuel your growth. You don't have to feel alone in your business. As I mentioned at the start of this article, I'll talk to any agency owner anytime. If you have other questions that weren't addressed here, please reach out to me via the website, email or phone and I'm happy to help. You ask, I answer.
Start Today Tip – Questions are a big part of growing your companies. It's very likely that right now your agency is the biggest it's ever been, which means you've never run an agency of this size before. But other people have. I've guided agency owners many times, find someone who has grown an agency much bigger than yours and lean on him or her to answer your questions. Lean on him or her to help you navigate the potholes and not make the same mistakes they did. Not everyone is going to be a good mentor, keep looking until you find that person who you can lean on. It's key to growing fast, growing efficiently and growing profitably.
Agencies 2 Inbound – Helping You Grow Beyond Your Expectations!