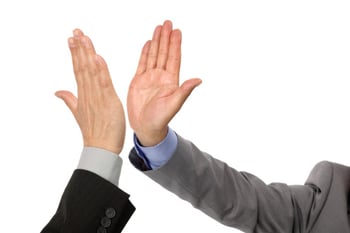 For those of you who know me (really know me), you also know that I'll talk to any agency owner at any time and anything I can do to help them with their challenges, I'm happy to do so.
Agencies 2 Inbound recently celebrated its four year anniversary. I started working with other agencies in March of 2015. Over the past four years, I've worked with over 120 agency owners. That is a much bigger number than I ever expected, and I am honored to have worked with and helped that many people.
One of the reasons I love Agencies 2 Inbound so much is the responses I get from other agency owners and the impact I've had on their companies and their lives.
As agency owners, we work VERY hard, day in and day out to keep our companies running, to keep our clients referenceable and to keep our teams happy. If I can contribute to helping other owners get better, smarter and more successful—mission accomplished.
As most of you know, I don't charge a lot to be part of Agencies 2 Inbound. Most of the modest investment agency owners pay is simply designed to keep them engaged with the group. Most of you know that if you pay for something, even a modest amount, you're more likely to attend, participate and it drives richer participation commitment for others as well.
What I do get from Agencies 2 Inbound that provides me a ton of psychic income? It's running into owners I've worked with at Inbound, at HubSpot in Boston or at other industry events and hearing their success stories.
The other day I received an email from one of the owners I've worked with over the past four years. I wanted to share that email with you in the hopes it will inspire you to continue your journey, to not get down, to realize the hard work will pay off and to keep plugging along.
I asked for his permission to share it with you and Jeremy gladly agreed.
Enjoy!
Hi Mike
I just wanted to drop you a note of thanks for the deep insight and guidance you share and the value I have and continue to get from it.
Equinet has grown by 60% over the past year to end-March and we have topped $1m with very strong profitability, especially as I continue to invest in growth. I got to be happy with that.
The implementation of Agile and the determination to push forward with an Implementor on EOS were entirely inspired by you (fully graduated now). While I think Square 2 uses a similar management methodology, the value of implementing and tracking process is what I got from you.
Everything from the amazing week I spent in Philly to the Cohorts I did with you, and now this latest and comprehensive offering has delivered true value to me.
You have been a mentor to me. I also have a ton of real nuggets that I will deploy from the Ops Manuel, Playbook and videos so I will continue to benefit.
Please let me know if I can be of any help to you.
With kind regards,
Jeremy
Jeremy Knight, Managing Director, Equinet Media Ltd
Jeremy, it's been a pleasure working with you and I know you'll continue to be successful and your agency is going to continue to grow. Great job!
What I find interesting is that Jeremy shares some very common challenges with all of the other hundred or so agency owners I've had the pleasure of working with. He shares similar challenges with all of you reading this but not yet engaged in getting outside help to continue your journey.
Everyone is dealing with some of the same growth, client, and execution challenges. It's amazing at how similar the challenges are at most of the agencies I work with.
See if these sound familiar.
Major Challenges Facing Agency Owners
Sales – How do I scale a sales process that allows me to grow my agency, participate in the sales process but still work with my team and my clients?
Marketing – How do I invest in my own marketing so I can practice what I preach, modeling it for my clients and drive more leads for my agency?
Agency Structure – How do I put in place a structure that works today, while I'm small but make it easy to grow and scale the agency?
Hiring – Who do I hire next? How do I not make a hiring mistake? When do I pull the trigger on that new hire?
Tools and Technology – There are so many products, which ones do I use besides HubSpot? How do I develop a similar relationship with them as I have with HubSpot? How do I make a commission from them?
Efficiencies – How can we make delivery more consistent? How can we get better results for clients? How can we do more with less?
Financial – How do I make more money? How do I ensure I get paid regularly? How do I compare against other agencies of my size?
I could keep going. The challenges across agencies are so similar. Yes, there are different challenges at different stages of growth. What you need when you are under $1 million in sales is different than what you need at $3 million in sales and some of what you need when you are smaller will need to be changed as you get bigger.
The Two Keys To Growth
1) Never give up, stay in the game and always keep trying. If it was easy, everyone would be doing it. It's not easy and growth comes to those who keep trying new and innovative ways to grow.
2) Get help. You might be able to do it on your own, but the agencies I've seen grow all have some outside support structure that makes it easier. Advisors, consultants, investors, or friends who have done it already. Whatever you need to help you skip the potholes and the potential mistakes—consider those resources and use them.
If you're passionate about doing what you do, and you still love helping companies figure out this great game of marketing, then follow Jeremy's lead and keep working hard every day to grow your agency and that growth will come.
Start Today Tip – The key for me has always been doing something different. If what you're doing to take care of clients, make money for the agency, sell more, market more or hire better isn't working, then stop it immediately and try something different. By having access to advisors, they can almost always identify what you're doing and how to do it better. That gives you the guidance and confidence to adjust your execution and keep plugging along. When you see better results, you lean in and do more. Over time, more and more gets fixed and the company grows. It's a marathon, not a sprint. There are NO quick fixes and even Jeremy's story has been over an extended period of time. You can have the same success.
Agencies 2 Inbound – Helping You Grow Your Agency Beyond All Your Expectations!